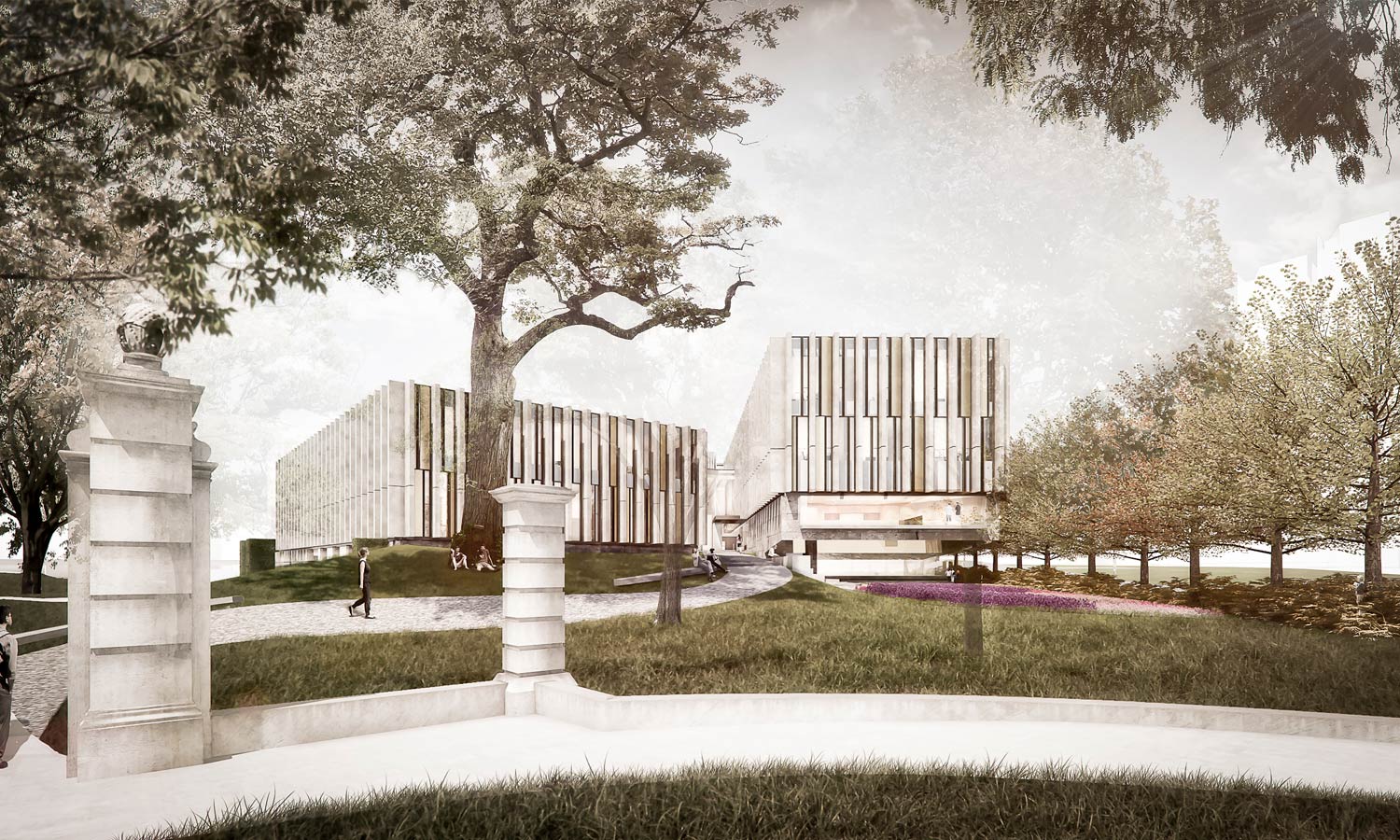 The Faculty of Law Building Campaign will help Canada's pre-eminent law school attract the world's best students and faculty.
Building the Future of Canada's Pre-Eminent Law Faculty
On November 29, 2011, the Faculty of Law celebrated the public launch of its $53-million campaign to fund a transformative new facility. This elegant, state-of-the-art building will increase space by 50 per cent and create a superb forum for our community to meet, learn, teach, research and collaborate.
Co-chaired by Clay Horner, LLB 1983, and Tom Rahilly, LLB 1969, the Faculty of Law Building Campaign will seek private-sector gifts in the amount of $35 million, combined with $18 million from the University, to fund the $53-million cost of this visionary project.
Strengthening a Great Tradition
Since 1949, the Faculty of Law has educated leaders of boundless vision. A critical global institution for study, leadership and social engagement, we educate professionals and global citizens who are fluent in addressing legal issues within an international context.
The expansion of our facilities will strengthen this great tradition and build a world-class environment that will allow the Faculty to compete for top law students and renowned faculty.
An Architectural Renaissance
Designed by Toronto firm Hariri Pontarini, the new structure will complete a cultural and architectural renaissance along Philosopher's Walk and in the Avenue Road and Bloor Street quadrant of U of T's St. George campus.
With 66,000 square feet, the new facility will include three distinct elements: a multi-storey wing on Queen's Park Crescent; an extensive interior renovation to the Bora Laskin Law Library; and a light renovation to Flavelle House.
New Synergy & Collaboration
New classrooms will permit a wider range of course offerings, more dynamic interaction between students and professors, enhanced faculty research synergies, and deeper professional and community engagement.
Additional social spaces will ensure an enhanced student experience, more clubs, meetings and events, and more opportunities for interaction among students from across Canada and around the world.
Unprecedented Support
The law community has provided unprecedented support for the campaign. Osler, Hoskin and Harcourt LLP and Torys LLP, with gifts of more than $2 million each, have set new benchmarks for philanthropic support from law firms in Canada.
The campaign has also received several individual gifts of $1 million or more from such outstanding alumni as David Asper, John Schumacher, and former U of T Chancellor Henry N.R. Jackman.
Attracting the Best in the World
With this extraordinary new facility, we will transform the teaching and learning experience for our students, our faculty members and the legal community. We will be part of a select group of globally-significant centres of legal education, scholarship, professional engagement and social outreach.
Thank you for joining us, as we prepare Canada's number-one law school for a future of boundless leadership, potential and vision.
For more information, please visit the Faculty of Law website.
Support the Campaign
To support the Faculty of Law Building Campaign, open and print the Pledge Form PDF below and mail or fax it to the address provided.
Building Campaign Pledge Form (PDF)