Jordan
Jordan has taken in more than 630,000 refugees since the Syrian civil war broke out in 2011. This influx brings the total number of refugees in Jordan to 721,000—a staggering figure considering the country's population is only 9.5 million. To make the most of scarce resources, the UN Refugee Agency in Jordan has implemented an incredibly efficient cash transfer program.
The secure program, which can be accessed via biometric data such as iris-scans or fingerprints, allows the agency to get cash assistance to refugees quickly and directly, allowing them to pay for food, rent and other vital services. The system is virtually fraud-proof and has very low overhead with almost every penny finding its way into the pockets of refugees.
Reach Project students visited the country in July 2017 to conduct interviews with NGOs throughout Jordan. The Reach Project's report will help document and share the knowledge gained on the ground in Jordan to help other aid organizations improve the lives of 22.5 million refugees worldwide.
We visited the first location to establish biometric ATMs for Syrian refugees. The town was close to the Syrian border—so close that the citizens of the town often heard the sounds of shelling and bombs flying overhead. We wondered if the town would feel threatened by the arrival of so many Syrian refugees and international aid workers. However, a deep sympathy and sense of welcoming was present throughout our fieldwork. It was a profound experience.
— Natalie Boychuk (BA 2019 TRIN)
student researcher in Jordan

Help our students explore scalable solutions to global challenges. Give now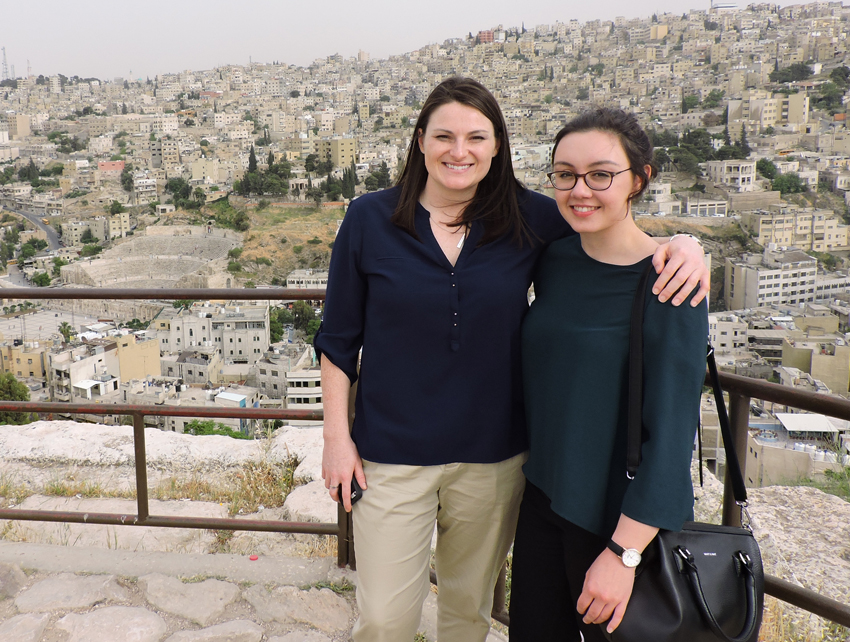 Natalie Boychuk (BA 2019 TRIN), right, in Jordan.