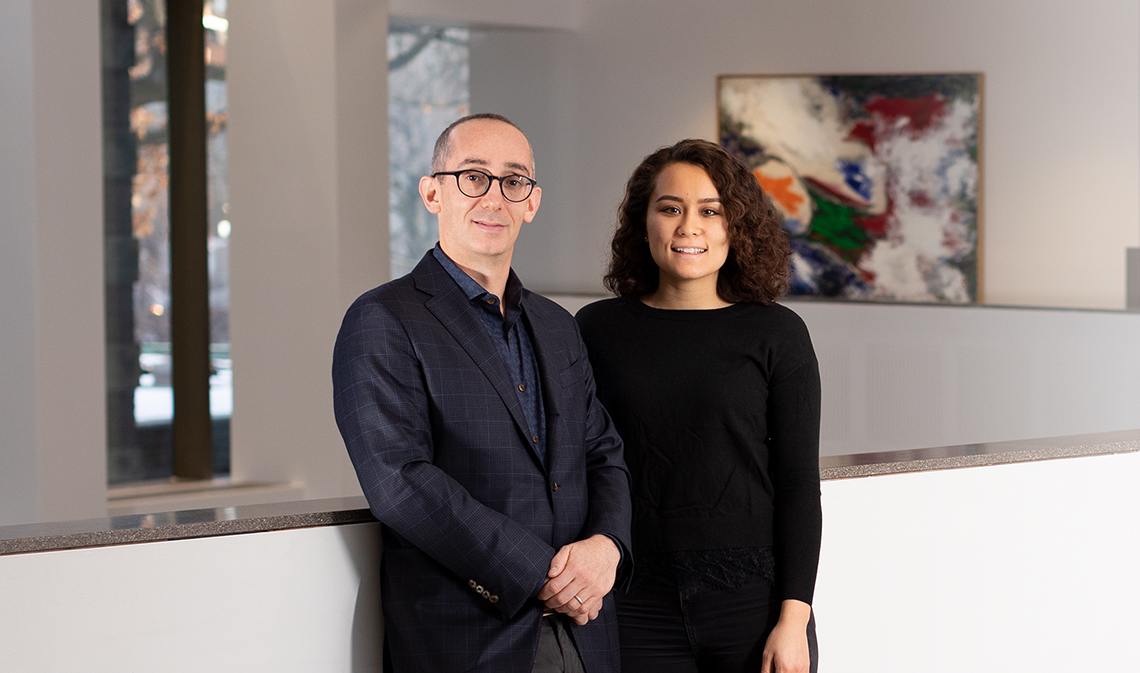 This story is one of many that reveal the extraordinary legacy of Boundless: the Campaign for the University of Toronto, which ended on December 31, 2018. Read more inspiring stories of impact and discover why more than 100,000 people came together to make the Boundless campaign an historic success.
Volunteer, mentor and philanthropist Jonathan Feldman traces his success in law to his one-of-a-kind experience at U of T Law .
In a sense, Jonathan Feldman has never left U of T Law.
After he graduated in 1999, he took his talents to New York City, joining the M&A Group of White & Case LLP to represent clients in various corporate and commercial transactions. Throughout his time there, Feldman felt incredibly grateful for the experience, which he knew he would never have enjoyed without his degree. "The Faculty of Law was great, my professors were amazing," he says. "It was an unbelievable platform for me to do what I wanted most—work in New York for the beginning of my career."
Feldman's first-hand understanding of how U of T Law can transform lives through education compelled him to offer to volunteer as soon as he returned to Toronto in 2004. "I was truly grateful to the law school for giving me that opportunity, and I really wanted to give back. One of the assistant deans, Kate Hilton, who was part of my class in 1999, reached out, and I said I was very interested in volunteering."
It's a joy to meet students and try to help them with some of their anxieties
This was the start of Feldman's long and fruitful involvement as a committed alumni volunteer. It was also the continuation of a family legacy of giving back—Feldman's late father, Stan Feldman, is also an alumnus of U of T Law (LLM 1982)  and a lifelong philanthropist who helped to fundraise for an exercise facility for Toronto's Baycrest Health Sciences.
In 2007, Feldman joined the U of T Law Alumni-Student Mentorship Program, and has been an executive member of the Law Alumni Association since 2009, taking on several roles, including treasurer, secretary and vice-president, before becoming president in May 2017. He has also served as an adjunct professor at U of T Law, where he taught the course "The Art of the Deal."
"The students are great," Feldman says of his experience helping out students who now face the same challenges he once did. "It's a joy to meet them and to try to understand how you can help them with some of their anxieties during their degree, which can be very demanding."
"He was definitely very helpful," says Alexandria Proctor, a law student who received mentorship advice from Feldman. "Earlier in my degree, I was not really sure what area of law I wanted to go into, and I felt like a lot of my peers already had it figured out. Jonathan was really helpful in assisting me to lay out long-term, big picture plans for my career."
Concern for and empathy with students also inspired Feldman to join the cabinet of the Faculty of Law's Excellence without Barriers Campaign, which has contributed to raising more than $27 million of its $30 million goal for the student experience and financial aid, to attract the best and brightest students no matter their financial situation.
"I think everybody should give back to U of T in any way they can," Feldman says. "You are surrounded by the best of everyone in Canada. It is a privilege to be here. Sometimes it's only after you've left it that you really appreciate how good a place it is."