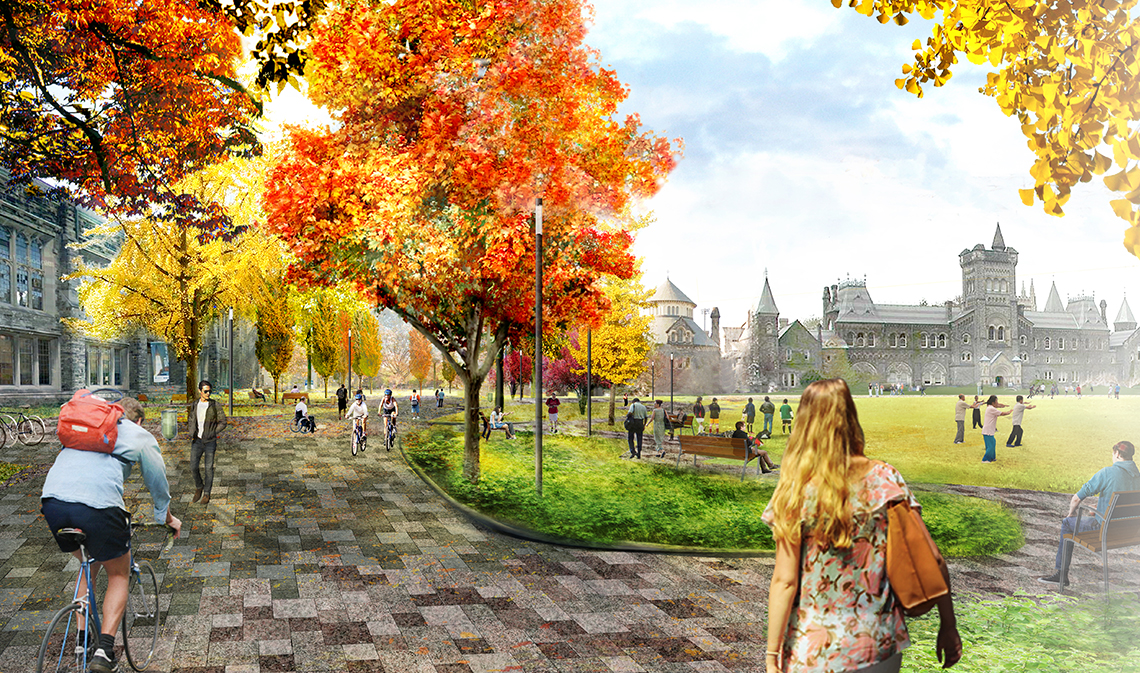 This story is one of many that reveal the extraordinary legacy of Boundless: the Campaign for the University of Toronto, which ended on December 31, 2018. Read more inspiring stories of impact and discover why more than 100,000 people came together to make the Boundless campaign an historic success.
A UTAA gift continues the century-long tradition of alumni support for St. George campus.
When the University of Toronto announced its plans to revitalize the historic grounds of the downtown campus, University of Toronto Alumni Association (UTAA) members were first in line to show their support with a pace-setting gift of $1 million to the Landmark Project.
The Landmark Project's benefits will continue to be enjoyed a hundred years from now
The generous gesture reflected a time-honoured tradition: "Alumni helped to build Convocation Hall in 1907, and more recently assisted in its renovation," notes UTAA President Scott MacKendrick (BASc 1982). "After the First World War, alumni raised the funds to build the Soldiers' Tower. Then almost one hundred years later in 2017, UTAA made the lead gift to the Landmark Project—one of the most significant open-space projects in U of T's history."
With the Landmark Project, the University is taking the bold step of returning the core of the St. George campus to pedestrians. New pathways, gardens and multi-use gathering spaces, as well as the elimination of surface parking, will transform the downtown campus into a much greener, more accessible and socially dynamic place, while preserving the intrinsic character and beauty of one of Canada's most significant institutional landscapes.
The University matched UTAA's $1-million gift, and by taking advantage of unrestricted donations to the Boundless campaign, was able to raise $2 million for the Landmark Project.
When the project is completed, U of T's historic core will once again serve as the thriving centre of campus, shaping and elevating the experience for students, alumni, faculty and staff members, and the wider Toronto community.
"There's a generational quality to this gift," says MacKendrick. "The redevelopment of the St. George campus is going to enliven student life as well as increase the sense of pride alumni have in their university. And no doubt the Landmark Project's benefits will continue to be enjoyed by students, alumni and visitors to the campus a hundred years from now."