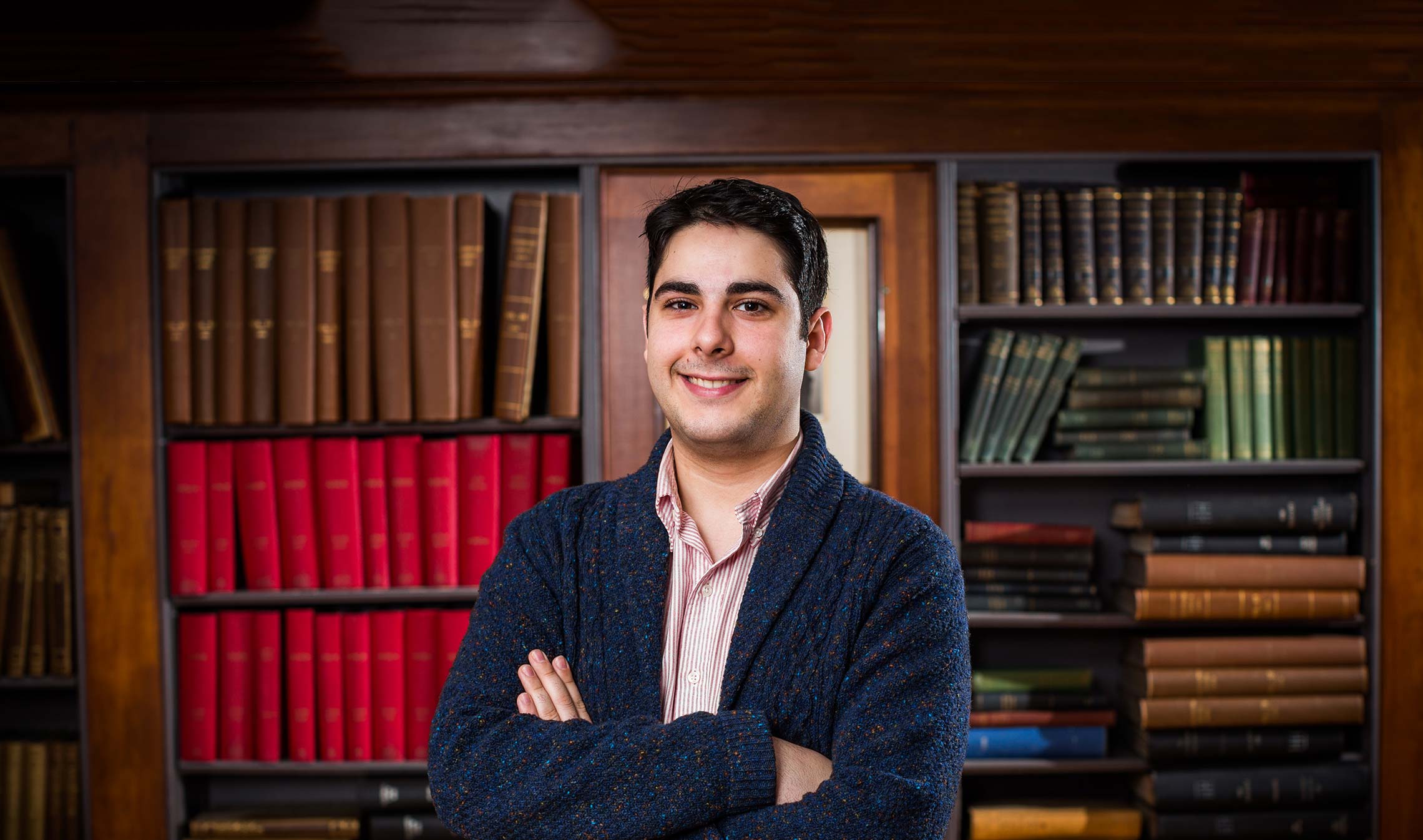 This story is one of many that reveal the extraordinary legacy of Boundless: the Campaign for the University of Toronto, which ended on December 31, 2018. Read more inspiring stories of impact and discover why more than 100,000 people came together to make the Boundless campaign an historic success.
December 2015: A U of T Rhodes scholar, Kaleem Hawa hopes to parlay his skill at dissecting arguments into helping set health and environmental policy.
Kaleem Hawa, a fourth-year student at Trinity College, is still trying to decide what to study when he takes up his Rhodes scholarship at Oxford University next fall.
"I want to do the one-year Master's in public policy, and maybe another one-year Master's in global health science," he explains.
Pursuing a career in public policy and the health sciences is not an either-or proposition for Hawa. His experiences at U of T, as a Hart House debater, as chair of the student government at Trinity College and as a volunteer with student mental health group Campaign for Community, have shaped his ambition to connect the dots between political and scientific ways of solving pressing global problems.
Critically appraising new issues at the Hart House Debates Club
At Trinity, Hawa majored in International Relations and Global Health. A keen debater in high school, he was pleased to discover that U of T debaters are top-ranked nationally and he joined the Hart House Debates Club for competitive debating.
"I like the cut and thrust of debate," he says. "But I also like that it forces you to critically appraise issues that you wouldn't normally think about or have the chance to have conversations about in your day to day life. Ultimately, it's really cool to take apart arguments and think about them critically."
Bringing inclusive mental health support to Trinity College
Hawa, who lives in residence, has also volunteered with the Trinity College student government, and with the student group Campaign for Community. "We foster those inclusive spaces that allow people to make friendships in a natural way," he says. "Hosting coffeehouses, organizing de-stressor sessions, playing fun music—I found that really fulfilling."
In related work, he joined Provost Cheryl Regehr's mental health committee, and later helped Trinity pass a levy of $5 per student towards an embedded mental health counsellor. The levy will help supplement a generous $1.5 million donation from alumna Anne Steacy (BA 1976 Trinity) supporting mental health and wellness initiatives at Trinity. "The student levy signals that this is something that students really care about," he says.
Why leaders need two key skill sets
Delivering on promises and goals is so important
Being involved in so many activities has taught Hawa about leadership. "Delivering on promises and goals is so important," he says. "Managing big events for the Hart House Debates Committee made me a better leader. Being chair of the student government at Trinity helped me learn about formal governance, which is also great preparation for my future career."
However, for Hawa, working on mental health issues has been the most rewarding experience. "It required marrying administrative goal setting and ground-up community building. The ability to straddle both is, I think, a skill that a lot of leaders will be tasked with in future."
How to translate science into effective international policy
Hawa is looking forward to applying the leadership skills he has learned at U of T to his upcoming studies at Oxford. "I believe that global health is very science-focused," he explains, "and international relations is very humanities- and policy-driven. I think policy makers oftentimes aren't having conversations with technical experts, and I want to develop a skill set that will make me be a kind of translator between the two groups."
Hawa wants to focus his studies on evidence-based policy with respect to how Canada deals with climate change and global health. "That's where I think I can have the most impact," he says.