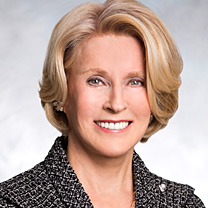 Rose M. Patten
Since 1992, U of T has welcomed hundreds of individuals to the King's College Circle Heritage Society, which recognizes alumni and friends who have remembered the University through a provision in a will or other form of future gift commitment.
Members of the King's College Circle Heritage Society lead by example. It is my privilege and honour to meet these remarkable individuals, whose boundless leadership is truly making a lasting difference to the University.
Please consider joining this special group of U of T benefactors. I look forward to meeting and welcoming you, as well as expressing my gratitude for your gift intention.
Our appreciation and recognition also include:
A membership certificate to the King's College Circle Heritage Society
The option of recognition in University donor listings
Ongoing invitations to our annual recognition event and other exclusive campus events
I hope that you will consider this meaningful way of giving back, and I also hope that you will choose to join us and become a member. Please complete the secured online form below or contact U of T's Gift Planning office.
Thank you for your generous support of the University of Toronto.
Sincerely yours,
Rose M. Patten, LLD 2009
Honorary Patron, King's College Circle Heritage Society
University of Toronto
JOIN THE KING'S COLLEGE CIRCLE HERITAGE SOCIETY
Thank you for including the University of Toronto in your estate plans. Please take a moment to complete this confidential form and submit it to us. This is a secure site and all information submitted is treated in strict confidence.
If you have any questions or concerns, please do not hesitate to contact the U of T Gift Planning office at 416 978 3846, toll-free at 1 800 463 6048, or by email at gift.plan@utoronto.ca.
I/We accept your invitation to become a University of Toronto King's College Circle Heritage Society donor, and confirm the following information: