HOW DO WE SWITCH OFF CANCER?
SUPPORT OUR LIFESAVING RESEARCH
Tweak, test. Tweak, test. Tweak, test. Our challenge today is to refine our most promising cancer-fighting molecules. To make sure they will kill cancer cells not just in the lab but in the human body, without harmful side effects. This is time-consuming, labour-intensive work – and there are no shortcuts. But with your help, we can speed up our research. We can hire more staff and run more experiments. We can get new cancer treatments into clinical trials sooner, and start saving lives.
IN THE COMMUNITY
Students for Research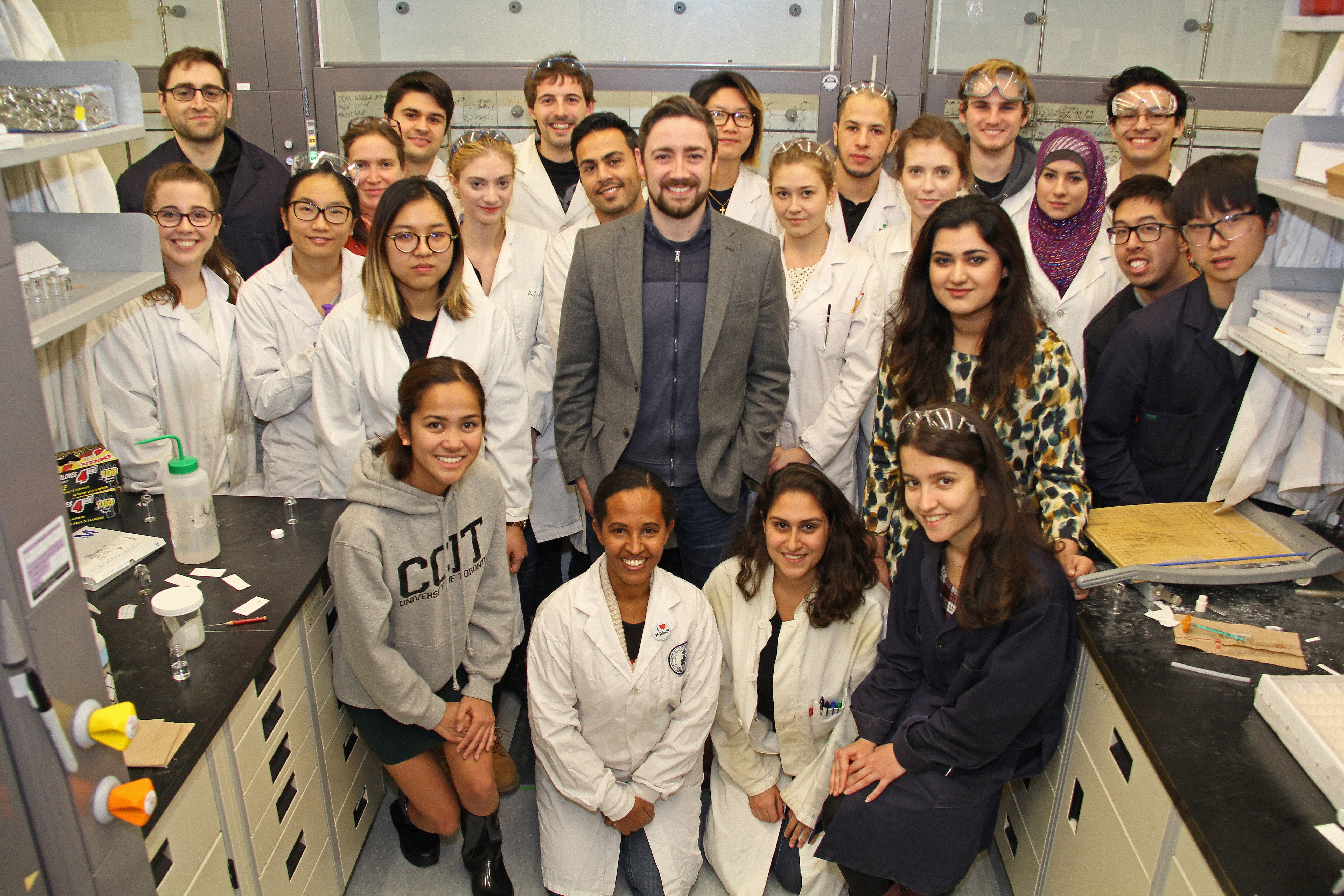 UTM's student-led Business Consulting Association and the Institute of Culture, Communication & Information Technology Council raised $600 in support of the UTM Gunning Group Fund through a student-organized charity movie night and bake sale in honour of October's Breast Cancer Awareness month.
"While planning corporate social responsibility events for October, we were researching organizations that work to fight cancer and have made huge breakthroughs in recent years," explains UTM student Noor Hafeez, corporate social responsibility director of the of the Business Consulting Association. "We were pleased to choose the Gunning Group at UTM!"
VIDEOS
Watch interviews with Professor Patrick Gunning about his innovative cancer research
SUPPORTING THE GUNNING LAB'S RESEARCH
An interview with donor Joy Cunningham.
BREAST CANCER
A profile of two scientists funded by the Canadian Breast Cancer Foundation Ontario.
LEUKEMIA AND LYMPHOMA
Gunning's research on less invasive treatements for blood cancers.
RESEARCH2REALITY
Targeting master regulators of rare and lethal cancers.
STAY UP TO DATE
Be the first to get news from the Gunning Group, and follow our quest to find an answer for "untreatable" cancers.
RECEIVE UPDATES ABOUT
PROFESSOR GUNNING'S WORK:
Subscribe
---
FOLLOW PROFESSOR GUNNING: