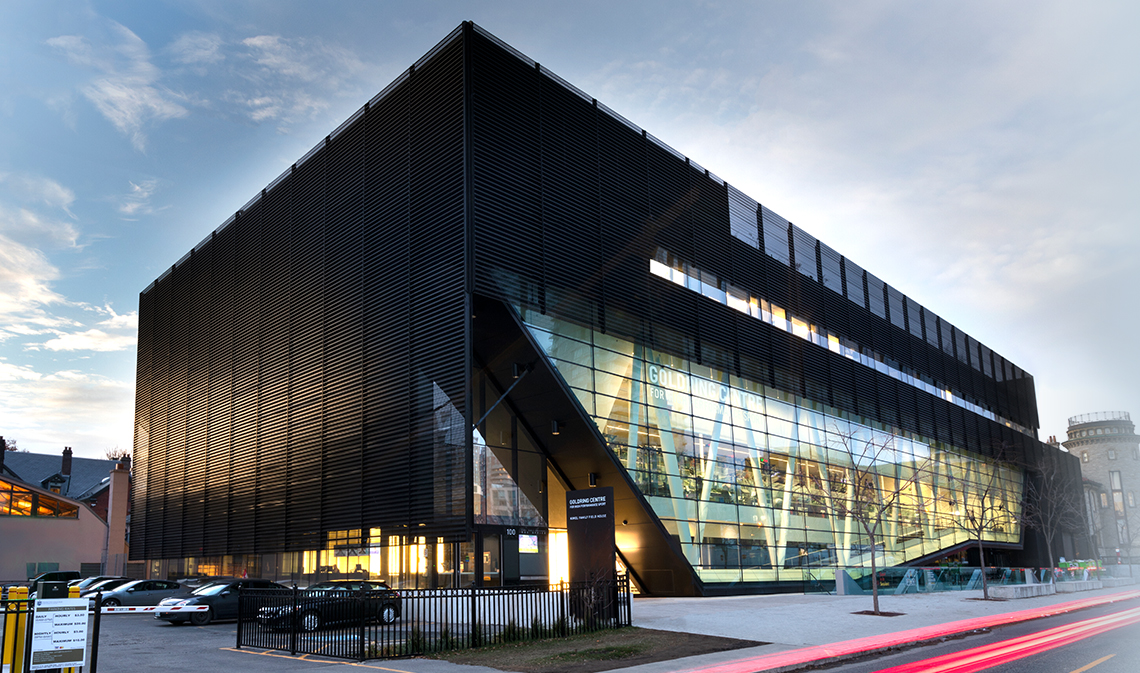 This story is one of many that reveal the extraordinary legacy of Boundless: the Campaign for the University of Toronto, which ended on December 31, 2018. Read more inspiring stories of impact and discover why more than 100,000 people came together to make the Boundless campaign an historic success.
Launched with an $11-million gift from the Goldring family, U of T's Goldring Centre for High Performance Sport has revitalized student athletes and provided new opportunities for sports researchers.
In 2012, U of T alumna Rosie MacLennan (BPHE 2011, MSc 2018) was hard at work training for her second Olympic Games—and her first gold medal. But she was also planning a dinner for 100. Inspired by the Goldring Family's $11-million gift toward a state-of-the-art athletic facility for the University, Rosie wanted to do her part. With her 2008 Beijing Olympics teammate Sarah Gairdner (BPHE 2009, MSc 2011, PhD 2015), she hosted a gala event that raised more than $36,000.
Four years later, with the Goldring Centre for High Performance Sport newly opened, Rosie praised her fellow donors' vision: "I can truly say the Goldring Centre stands out as one of the top facilities in the world. It will make a huge difference. It's a place where someone with aspirations of competing at the highest level can get every resource and support they need to excel—without leaving the country or even the province."
Thanks to you, students of all interests and abilities can train side by side
And she wasn't the only donor inspired by the gift initiated by the late Warren Goldring (BA 1949 UC, Hon LLD 2003), and perpetuated by his children Blake (BA 1981 VIC), Jane, Bryce and Judy (BA 1988 VIC). In addition to alumnus Ron Kimel (BA 1966 UC), whose $10-million gift supported the Kimel Family Field House, the late A. Gordon Stollery (MSc 1972) as well as the Province of Ontario and many other individuals and corporations also played a role in the successful community fundraising effort.
From the very beginning, the 140,000-square-foot building received enthusiastic reviews. Its unique bridge-like steel truss design allowed the architects to incorporate soaring, column-free ceilings—and earned the 2015 Toronto Urban Design Award of Excellence.
The Goldring Centre integrates research, training, treatment, competition and classrooms in one facility, creating synergies between sport, science and community. Professor Greg Wells, for example, collaborates with athletes who train in his "wearable lab" mask, providing detailed information about physiological responses such as oxygen uptake.
The new facility is also a boon to the wider community, notes Ira Jacobs, Dean of the Faculty of Kinesiology and Physical Education. "Thanks to you, U of T students of all interests and abilities can now work out and train side by side in a state-of-the-art centre. And the spectacular 2,000-seat Kimel Family Field House is host not only to Varsity Blues games and practices, but to some of the most exciting events happening in our city."