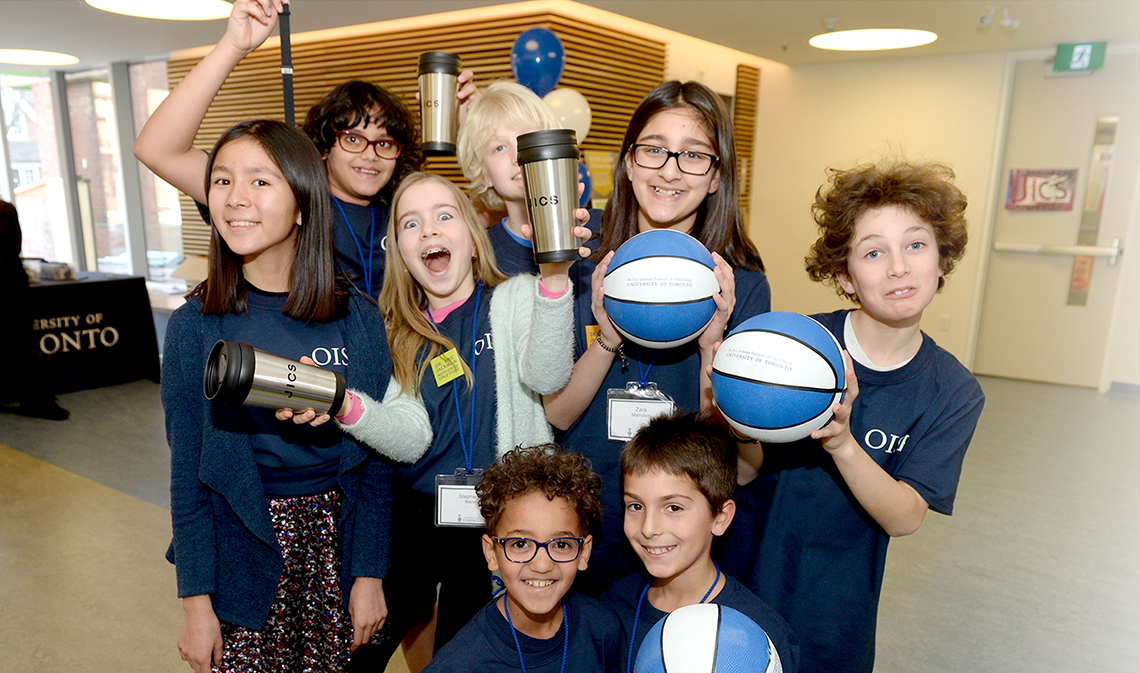 This story is one of many that reveal the extraordinary legacy of Boundless: the Campaign for the University of Toronto, which ended on December 31, 2018. Read more inspiring stories of impact and discover why more than 100,000 people came together to make the Boundless campaign an historic success.
The generosity of Eric Jackman, Margaret and Wallace McCain and an anonymous donor helps reinvigorate and expand one of the world's leading lab schools and teaching research centres.
In January 2018, after months of waiting for construction to end, a group of excited students from junior kindergarten to Grade 6, as well as a cohort of educators and researchers, entered their brand new gymnasium/auditorium for the first time and began the next chapter in their school's nearly century-long history.
They were welcomed by Elder Nancy Jones of Nigigoonsiminikaaning First Nation, who helped officially open the Dr. Eric Jackman Institute of Child Study (EJICS) at the University of Toronto. The historic expansion of the school, teacher education program, and research centre was made possible through the tremendous generosity of Eric Jackman, who gave $5 million, along with Margaret and Wallace McCain, who gave $3 million, an anonymous donor who gave $1 million, and many other friends and supporters of the Institute.
Healthy, happy, educated children become confident, productive adults
The expanded facility includes a new gymnasium and auditorium, the J. Fraser Mustard Assembly Hall, as well as updated classrooms that further cement EJICS and U of T's status as a leader in research-based early human development and childhood education.
"With our new space," says EJICS Director Rhonda Martinussen, "we are able to showcase exemplary teaching and teacher education, connect with the community through the J. Fraser Mustard Assembly Hall, and provide our graduate students, professors, and expert educators with an optimized, functional and accessible environment for collaboration in the service of education, research and teaching."
The award-winning lab school is considered to be one of the best of its kind in the world. Under the auspices of the Ontario Institute for Studies in Education (OISE) at the University of Toronto, the Jackman Institute is a leader in pedagogical research and early learning. In 2016, the school received the Outstanding Laboratory School Award from the International Association of Laboratory Schools.
"Sara and I are so pleased to support this remarkable place," said Jackman at the official opening. "EJICS is devoted to the understanding of early child development, and to enlightening educators and parents alike to the very best child-rearing and educational practices. Healthy, happy, educated children become confident, productive adults. What EJICS does is so important for the children, their families and society."
Margaret McCain echoed Jackman's comments: "The collaborative research at EJICS that involves students, teachers and scholars will continue to contribute so much to better programming and policies across Canada and beyond."