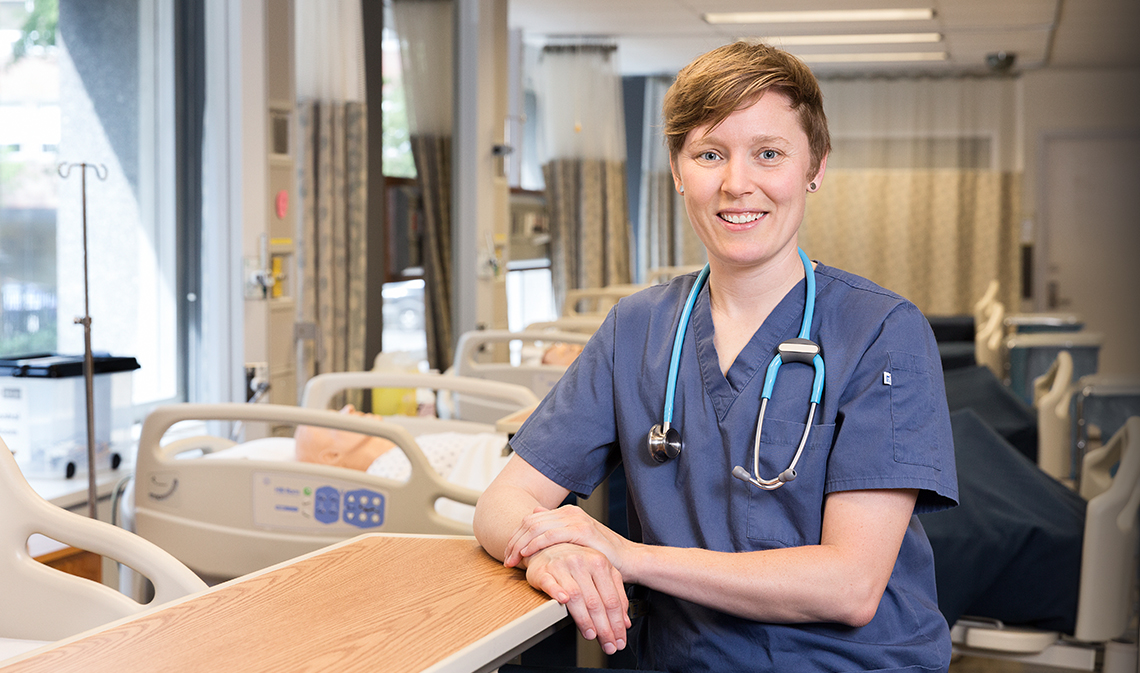 This story is one of many that reveal the extraordinary legacy of Boundless: the Campaign for the University of Toronto, which ended on December 31, 2018. Read more inspiring stories of impact and discover why more than 100,000 people came together to make the Boundless campaign an historic success.
The Lawrence S. Bloomberg Faculty of Nursing is Canada's premier nursing school, and a principal factor is the faculty's emphasis on experiential learning, where the cutting-edge Simulation Lab plays a major role.
Bloomberg Nursing's state-of-the-art Simulation Lab allows students to treat patients, work in teams, evaluate patient histories, identify and assess risks, make diagnostic and therapeutic decisions, delegate tasks, and communicate effectively with patients and family members—all in a high-pressure environment.
It creates a level of realism that you can't find from just reading a textbook
"The most important thing about the Sim Lab is that it just creates a level of realism that you can't find from just reading a textbook or doing an assignment," notes Alice Heisey, a pediatric nurse at SickKids Hospital who has also taught at the Sim Lab. This creative realism includes an advanced patient simulator, SimMan 3G, generously donated by the James H. Cummings Foundation. SimMan 3G is designed to deliver the most realistic training possible to every Bloomberg Nursing student who practices in the Sim Lab.
But the Sim Lab is far more than a physical simulator. "It helps you learn important nursing skills such as how to prioritize, how to delegate," adds Heisey. "Different students play different roles, so it's not just the nurse that's there. You have the doctor, or you have a student. You have a physiotherapist. You have family members. And you have to learn how to interact with all of them to provide the best kind of care you can."
The Simulation Lab is a critical component of the world-leading education provided at Bloomberg Nursing, and a direct result of the legacy of Lawrence and Frances Bloomberg's $10-million donation to U of T's Faculty of Nursing in 2007. This generous gift has helped advance the science and scholarship that underpin nursing education locally, nationally and globally.
At the time, the Bloombergs' contribution represented the largest private investment in a Canadian nursing faculty, and has already provided a generation of students and graduates with a vital skill set that transcends that of their peers. It bespeaks the tremendous impact the Bloombergs have had—their generosity has helped expand student scholarships and recruit and retain a world-class faculty. Dean Linda Johnston attests to this phenomenon: "Dr. Bloomberg's visionary investment has elevated the Faculty's global reputation as a leading destination for nursing education and research."