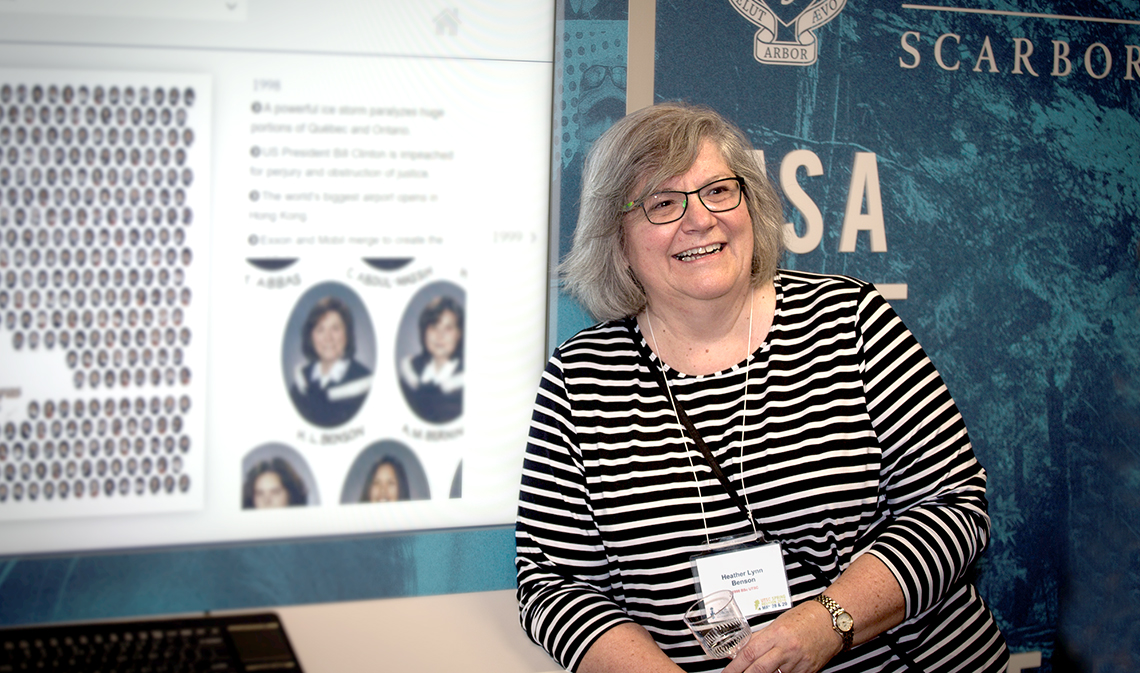 This story is one of many that reveal the extraordinary legacy of Boundless: the Campaign for the University of Toronto, which ended on December 31, 2018. Read more inspiring stories of impact and discover why more than 100,000 people came together to make the Boundless campaign an historic success.
Returning students are pursuing their goals at U of T Scarborough thanks to support from a generous alumna.
Though Heather Lynn Benson (BSc 1998 UTSC) could afford to go back to school, she knows there are others who are not so fortunate. Benson met several of these struggling mature students at the University of Toronto Scarborough, where she resumed her studies in cognitive science and psychology after 25 years in the workplace. "I saw others who were making sacrifices to continue their education," Benson says. "Single moms with children at home, or people who had to keep working while pursuing their education."
It was my dream to earn a degree from U of T
That's why Benson established the Heather Lynn Benson Scholarship in Biological Sciences & Psychology. One of the award's first recipients was Nibaydita Biswas, who arrived from Bangladesh with her family in 2010. "Another degree wasn't easy for me, as a mother of two who was oceans away from my social support structure," says Biswas. "I had always been a high achiever academically, but I felt a world away from my former self." Not giving up, she returned to university in 2011 while her husband worked part time. "It was very hard bearing all those expenses and studying full time."
Then in 2012, Biswas received the Heather Lynn Benson Scholarship, established as an annual award for returning students. Not only did the scholarship offer financial support, it provided a morale boost for Biswas as well. Having graduated from U of T Scarborough, Biswas is now pursuing her passion—preparing a life-saving cancer medication at a pharmaceutical firm.
"Before coming to Canada, it was my dream to earn a degree from U of T," she says. "So I'm very grateful to U of T Scarborough and Heather Lynn Benson."
Like many donors, Benson has shown her generosity in more than one way. In addition to establishing the scholarship, Benson set up an endowment in her estate to inspire and support more students like Biswas. "I hope that the proceeds will encourage students to stay in school and complete their education," she says. "I only wish I had been encouraged to complete my university education sooner."