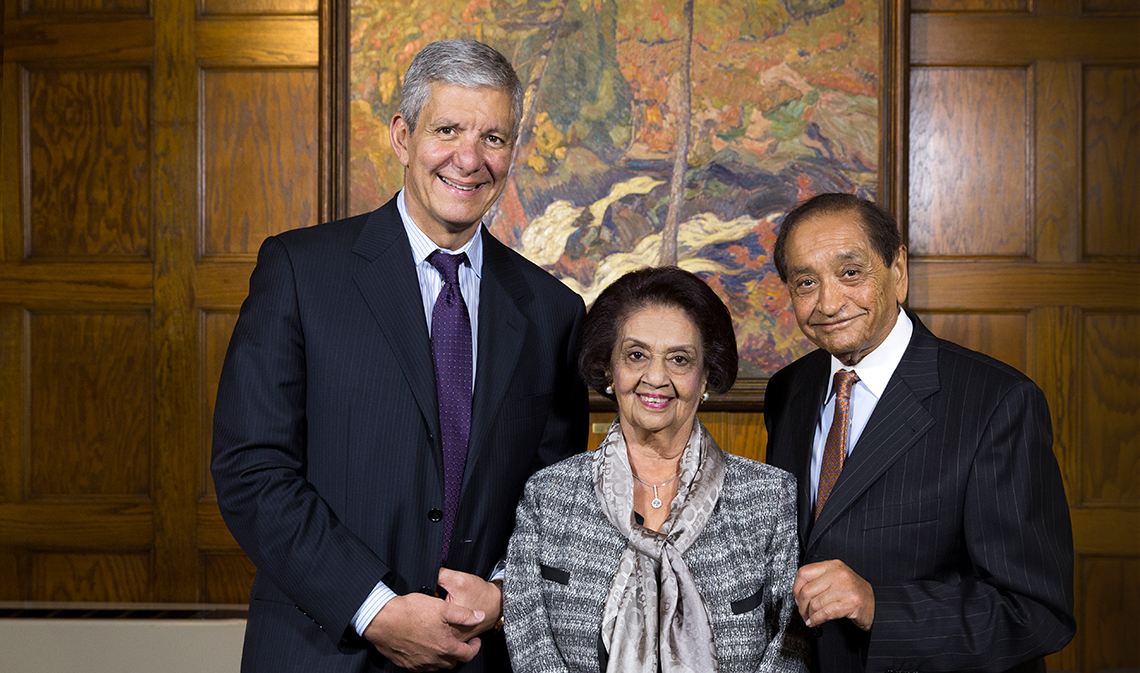 This story is one of many that reveal the extraordinary legacy of Boundless: the Campaign for the University of Toronto, which ended on December 31, 2018. Read more inspiring stories of impact and discover why more than 100,000 people came together to make the Boundless campaign an historic success.
Through an extraordinary donation establishing the five-year-term Nanji Family Chair in Ophthalmology and Vision Sciences, Toronto's Nanji Family has brought vital new resources to eye surgery at U of T, restoring vision to those in need of care.
Following their arrival in Canada from Uganda in 1972, the Nanji Family—Pyarali, Gulshan, and their four young children—have been on a 45-year journey of giving back to their adoptive community through inspirational gifts supporting a variety of causes close to their hearts.
U of T was a beneficiary when, in 2017, the Nanjis generously established a five-year term chair at U of T's Department of Ophthalmology and Vision Sciences, a significant enhancement that has helped the department support key academic priorities and also strengthen their global health efforts.
All our senses are important, but vision is critical in allowing us to maintain autonomy
The Nanjis' commitment has also inspired eye-care initiatives throughout the developing world. Through their support, faculty members—including current department chair Dr. Sherif El-Defrawy, a celebrated eye surgeon, researcher, teacher and Nanji Family Chair—have embarked on medical missions to Uganda, Kenya, Ethiopia, Ghana, Haiti and other locales to treat severe eye-health conditions in patients who would otherwise have no access to advanced eye care.
Intensive and often life-changing procedures such as cataract and corneal transplant surgery can restore the gift of sight to those who have lost it or even those born without it, while also enabling regional surgeons and health-care professionals to better serve their communities as they learn from the visiting scholars.
"All our senses are important, but vision is critical in allowing us to maintain autonomy," El-Defrawy affirms. "When vision is lost, individuals become unable to work and provide for themselves. And because in most of the countries we work in there is no social safety net, vision loss often leads to destitution. Cataract surgery means people are able to prepare their own food again, and in many cases go back to doing constructive work. It relieves a burden on the whole family."
After seeing the profound impact of their gift—locally and globally—the Nanji Family generously donated additional funds for scholarships to bring young eye surgeons from low-income and middle-income countries to the University of Toronto to receive additional training.
"We really wish, from the heart, to give people the gift of sight," says Pyarali Nanji. "So they can see the light of the whole world."