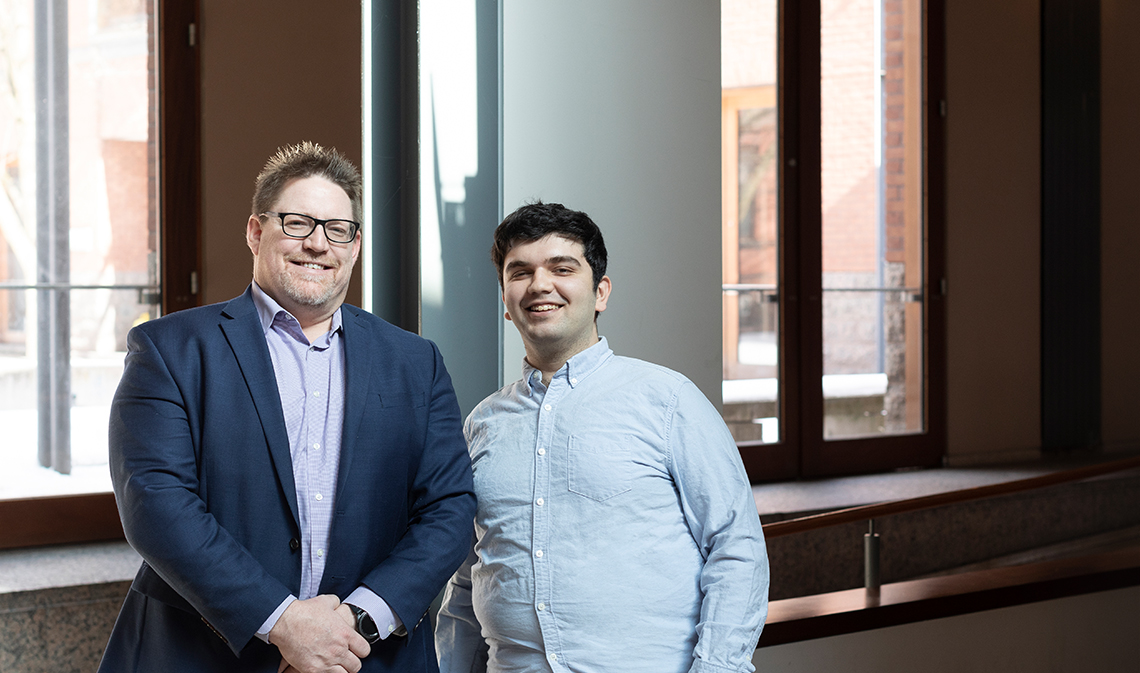 This story is one of many that reveal the extraordinary legacy of Boundless: the Campaign for the University of Toronto, which ended on December 31, 2018. Read more inspiring stories of impact and discover why more than 100,000 people came together to make the Boundless campaign an historic success.
Woodsworth College alumni have helped more than 200 students determine their career direction through one-on-one mentorship pairings.
For Jeff Beleskey (BSc 2000 WDW), giving back permeates his life. A lawyer in Barrie, Ontario, Beleskey sits on a hospital research ethics board, has served on the Ontario Bar Association and Canadian Bar Association Executive council, hosts articling students and helps local schools with mock trials. "We're a small firm, but we're pretty adamant that we should give back to the legal community," he says.
So when Beleskey got an email from Woodsworth College seeking alumni to mentor students, he knew it would be a good fit. "They were looking for lawyers," he recalls, "since they had students who were interested in that."
You really have to try to focus on someone outside yourself
One of those students was Ali Aghaeinia, now in his third year of a double major in criminology and ethics, society and law—a deeply committed student who is the equity director for the Woodsworth College Students' Association. Ali had career questions. "There are myths about being a lawyer," he says, "like working from 5 a.m. to 1 a.m. the next day. And I felt I didn't want to be in the courtroom, but the only other option I knew of was corporate law. I wanted someone who's in the field right now to tell me what it's actually like."
And that person was Beleskey, who had the inside scoop. "Jeff's been great," says Aghaeinia. "He reassured me that you can still have a life after becoming a lawyer. And he introduced me to way more options than I thought existed. There's no need to be limited to criminal or corporate law. Going to law school is, if anything, more of a plan now than before."
Woodsworth's Alumni-Student Mentorship program, now in its sixth year, focuses on career exploration and has paired 227 students with alumni mentors. Both mentor and mentee benefit: the mentee reflects on a profession, while the mentor hones leadership skills.
What's more, says Beleskey, a mentor can provide a stable relationship and be an anchor for a young student who has just left home. He's never forgotten those at U of T who had time for him—such as history professor Robert Fraser, who once even returned the young Beleskey's long-distance call on New Year's Eve to answer questions about a project. "It's always stuck with me that he would do that," says Beleskey. "Not just in law, but across society, people are too focused on themselves. You really have to try to focus on someone outside yourself. It's important to give back."