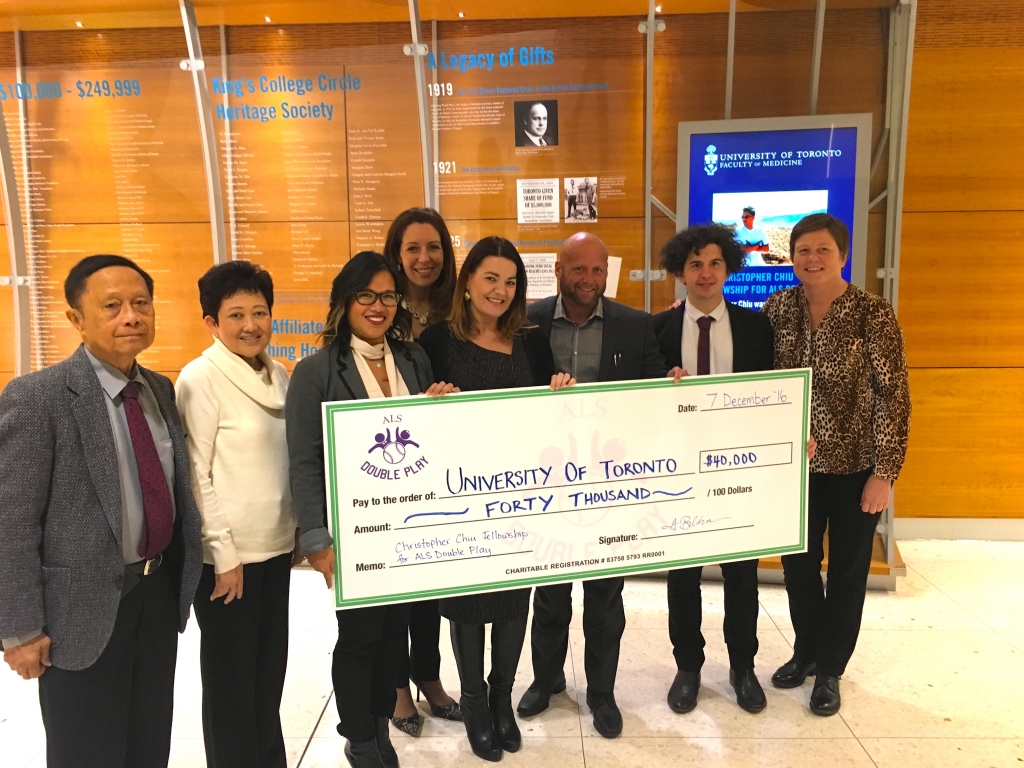 ALS Double Play committed $150,000 to create The Christopher Chiu Fellowship for ALS Research at U of T.
Posted on May 1, 2017
When Cherrie Chiu's brother was diagnosed with Amyotrophic Lateral Sclerosis (ALS) in November 2011, her family's life turned upside down. Long committed to community service, Chiu made it her mission to raise awareness for and advance research into ALS. Her charitable organization, ALS Double Play, recently committed $150,000 to create The Christopher Chiu Fellowship for ALS Research at the University of Toronto. The organization recently named its inaugural fellow, Philip McGoldrick, who will receive $40,000 to support his research at the Tanz Centre for Research in Neurodegenerative Diseases. Chiu spoke to McGoldrick about his work.
Cherrie Chiu: What's special or unique about the research lab you're in, and about research at U of T?
Philip McGoldrick: Professor Janice Robertson's lab is great. There's a wealth of knowledge and expertise and I love the opportunity to work on a disease with other scientists who are as passionate and interested as I am. The lab works very closely with the ALS Clinic at Sunnybrook hospital, so we're really at the intersection of laboratory science and the clinic. This gives us a unique ability to study the disease from different perspectives. The University of Toronto is one of the top universities in the world and a place with so many great researchers, facilities and ideas — it's brilliant.
Read more about Professor Janice Robertson's research
Chiu: What's the coolest thing you're working on right now?
McGoldrick: I'm interested in what's causing motor neurons — the cells that are affected in ALS — to stop working. There are three main theories as to what's going wrong and contributing to the most commonly known cause of ALS. The coolest thing is to work out whether those things are occurring separately or working together.
Chiu: Where do you see ALS research going in 10 years?
McGoldrick: There's so much more known now about the causes of ALS compared to five or even 10 years ago. In the next 10 years, we're going to learn so much more and hopefully be able to develop treatments to help those affected by ALS.
Chiu: What does the Christopher Chiu fellowship mean to you?
McGoldrick: Professionally, the fellowship gives me support and the chance to develop myself as an independent ALS researcher to have my own lab one day. On a personal level, it's an incredible privilege and I'm going to work hard to honor Christopher's memory.
Through The Christopher Chiu Fellowship for ALS Research at the University of Toronto, ALS Double Play is supporting key work in ALS at the Tanz Centre for Neurodegenerative Research. World-leading ALS researchers, including Professors Janice Robertson, Lorne Zinman and Ekaterina Rogaeva along with research trainees and collaborators, have established Canada's only comprehensive clinical database, blood and tissue sample collection.