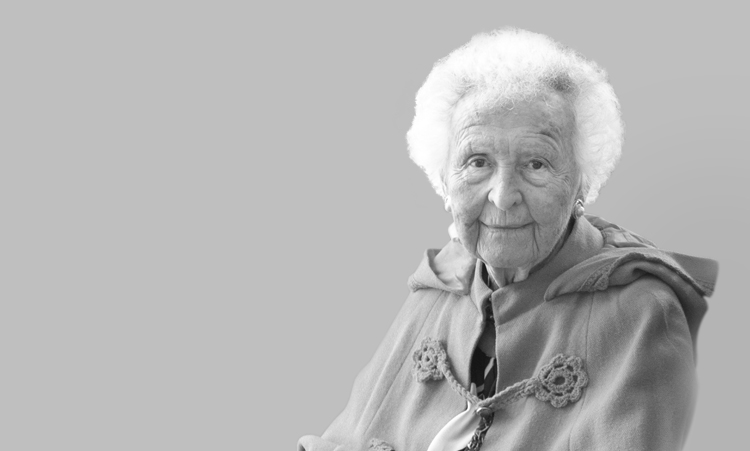 Geraldine Heffernan's lifelong connection to U of T began as a student during the Second World War and continued through her generous benefactions.
Posted on September 27, 2018
Distinguished U of T alumna and long-time supporter Geraldine Heffernan (DPT 1943, BA 1973 WDW) passed away on September 15, 2018, at age 95. Together with her husband Gerald, she has been closely involved with the University of Toronto for more than 40 years. In particular, the couple, affectionately known as "the two Gerrys," were leading supporters of the Faculty of Applied Science & Engineering.
"The University of Toronto community is deeply saddened at the loss of Geraldine Heffernan," says University of Toronto President Meric Gertler. "She will be remembered fondly, as an engaged alumna, generous benefactor, and inspirational role model. We extend our heartfelt condolences to Gerald and the Heffernan family in this difficult time."
Born in Toronto's Parkdale neighbourhood, Geraldine's connections to U of T run deep. She arrived on campus as the Second World War was raging in Europe. She decided to study physiotherapy. Gerald, who first met Geraldine on a blind date in 1938, recalls her having a "big smile and a serious love of books."
The couple married in 1943 and went on to build a life together. They shared a love for skiing, tennis, golfing and dancing. They raised eight children, and despite a busy household, Geraldine returned to U of T to earn an honours degree in history in 1973.
Buoyed by Gerald's success in the steel industry, "the two Gerrys" emerged as leading philanthropists in Canada. At U of T, they supported medicine, management, music, chemistry and, most significantly, engineering. The Heffernan/Co-Steel Innovation Post-Graduate Fellowships and the Entrepreneurship Hatchery at the Heffernan Hatchery Suite are prominent examples of their generosity.
"The Heffernans have left an indelible mark on our community," says Cristina Amon, Dean of the Faculty of Applied Science and Engineering. "Their support of entrepreneurship is not only benefiting our students, but also enhancing innovation in this country. We are deeply grateful for Gerald and Geraldine's philanthropic vision, which continues to fuel our highest ambitions. I will miss the many enjoyable conversations Geraldine and I shared on diverse topics, both personal and professional."
In addition to her philanthropic legacy, Geraldine's profound connection to the University lives on through her family. Four of her children and one of her granddaughters are U of T alumni. The University planted a tree on the St. George Campus in honour of her daughter, Shelagh Heffernan, who passed away in 2010. Geraldine is survived by Gerald, seven children and their spouses, and eight grandchildren.
"While we grieve the loss of one of U of T's brightest supporters and friends, we are heartened by the knowledge that Geraldine Heffernan's legacy will endure for many generations to come, in the lives of our faculty, staff and students," says David Palmer, Vice-President Advancement.