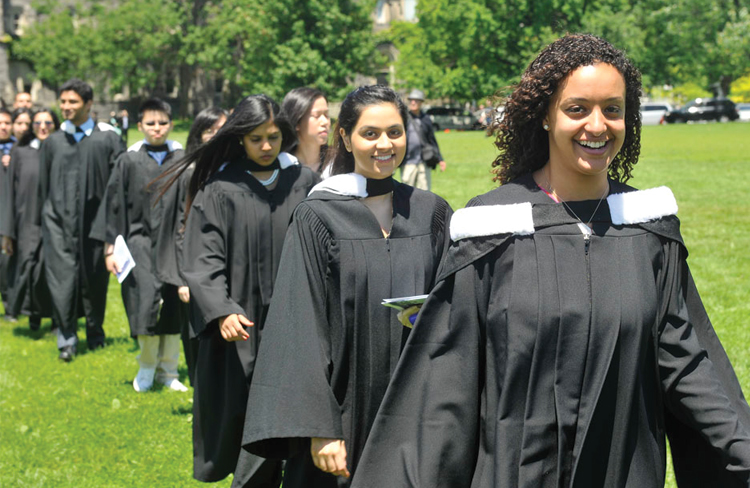 When it comes to the world's most esteemed institutions of higher learning, Canada's leading research university continues to shine, especially when it comes to its renowned academic reputation.
Posted on October 6, 2016
In September, QS World University Rankings placed U of T in the 32nd spot — up two places from last year — out of the almost 1,000 universities it surveyed for its 2016 annual report.
To compile its results, software company Quacquarelli Symonds uses six factors, ranging from academic and employer reputation to citations and the ratio of students to faculty.
The 15th strongest academic reputation in the world
In terms of academic reputation alone, QS ranked U of T 15th worldwide with a score of 99.8 per cent.
That's no surprise to Isha Chaudhuri. It's what drew her to the St. George campus. The resident of Georgetown, ON, is entering her first year studying history and political science. When deciding where to attend, U of T's reputation, its faculty, alumni network and the downtown location made all the difference.
"I just feel like U of T's reputation is unparalleled in the country," said Chaudhuri as she perused the university branded hoodies at the U of T Bookstore during frosh week. "I feel like there are so many opportunities for me, especially as an arts student, and that was really important.
"I signed up for the Vic[toria College] Pearson Stream as well to take advantage of the great faculty U of T has and the … connections I can possibly make on campus … I don't think anyone could ever go wrong with picking U of T. I think my education is in really good hands."
Quality and reputation clinch the U of T choice for students
Her thoughts were echoed by her friend Nadia Shaban, who is going into her first year at Rotman Commerce. After debating between Rotman and the Schulich School of Business at York University, Rotman won out because of the U of T reputation factor, she said.
"U of T has such a good reputation worldwide and [that's] important to me because I do want to end up travelling and maybe working all around the world," said the student who hails from Richmond Hill, ON but lived most of her life in Dubai.
First-year life sciences student Ava Meade has medical school in her future plans. The clincher for her in choosing U of T was all about "the quality of education I'm going to get and what it will look like when I'm applying to my medical school and what I'll be learning."
Leading excellence in Canadian universities
In addition to U of T, there were four Canadian universities in the top 100, including U of T, McGill University (30th), University of British Columbia (45th) and the University of Alberta (94th).
"Our faculty, staff and students at the University of Toronto have been striving to achieve excellence for 189 years. The international rankings, which have each have their own methodologies and data sources, consistently place us among the very best universities in the world," said Vivek Goel, U of T's vice-president of research and innovation.
This is the second of several high-profile higher education rankings coming out over the 2016-2017 academic year. In August, U of T was once again named the top university in Canada and 27th in the world by Shanghai Jiao Tong University in its annual Academic Ranking of World Universities.
The various independent ranking systems use different criteria and weigh them according to their own rules and standards. Last year, QS changed its methodology to equalize citation performance across disciplines. As a result, institutions with strong life sciences and medicine programs, such as U of T, now tend to fare a little lower on this ranking.
By Jennifer Robinson