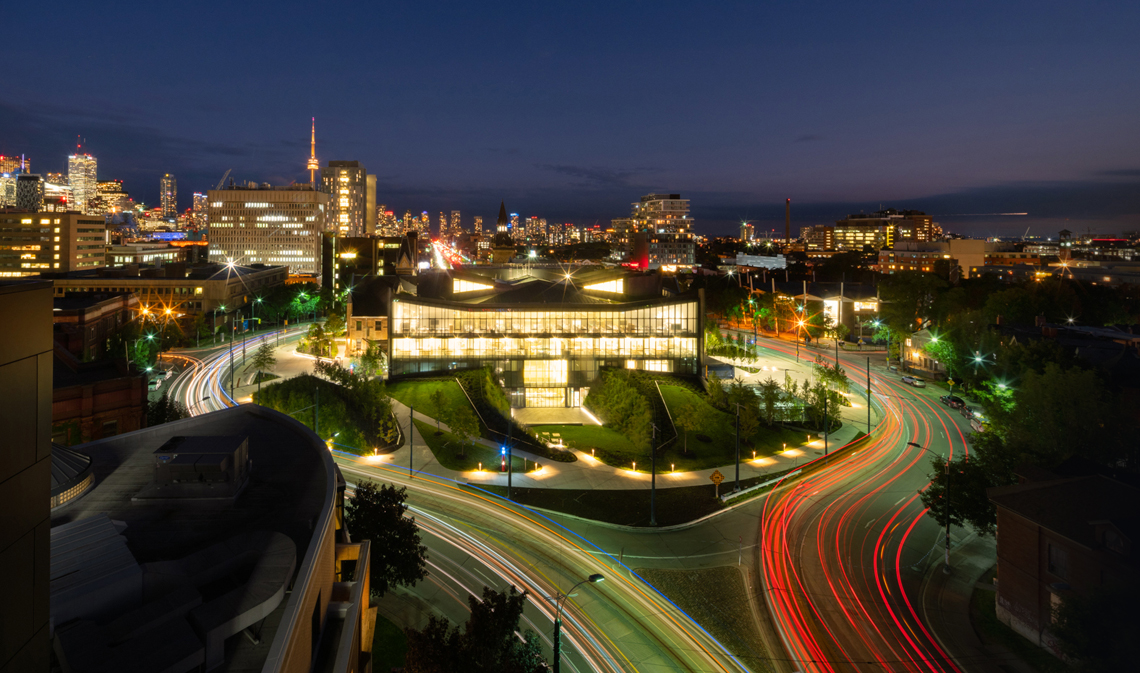 This story is one of many that reveal the extraordinary legacy of Boundless: the Campaign for the University of Toronto, which ended on December 31, 2018. Read more inspiring stories of impact and discover why more than 100,000 people came together to make the Boundless campaign an historic success.
John and Myrna Daniels' transformative philanthropy establishes the award-winning Daniels Building at One Spadina Crescent for the John H. Daniels Faculty of Architecture, Landscape, and Design.
Through a remarkable $30 million in gifts to the Boundless campaign, John and Myrna Daniels, along with the John and Myrna Daniels Foundation, have given the University of Toronto's John H. Daniels Faculty of Architecture, Landscape, and Design a home that fully matches its ambitions: One Spadina Crescent.
In a sweeping, visionary transformation, the neo-Gothic structure has undergone extensive renovations, resulting in vastly increased design studios, fabrication labs, lecture halls, public galleries, classrooms and common spaces. The building serves as a new platform for design education and outreach, and the project inspired the Daniels Faculty's pioneering research initiatives, such as the Global Cities Institute and Model Cities Theatre and Lab, which were conceived to catalyze improvements to the public realm, health and well-being, social and physical mobility, and the livability of modern cities.
It heralds a new era of local, national and international impact on the part of our professors and students
In addition to these groundbreaking initiatives and others like them, One Spadina provides the Daniels Faculty with space to accommodate its unique undergraduate programs in architectural studies and visual studies and to expand its enrolment to more than 1,400 students. Gifts from John and Myrna Daniels also support $11 million in graduate and undergraduate scholarships that will attract top international talent and, in turn, the attention of the world's leading architecture firms.
Designed by the acclaimed firm NADAAA — in collaboration with architect-of-record Adamson & Associates, landscape architects Public Work, and heritage architects ERA — the beautifully revamped facility has garnered a host of prizes from prestigious industry publications and awards panels, including top honours from the American Institute of Architecture, The Architect's Newspaper, and Interior Design Magazine.
U of T President Meric Gertler said: "This global standing ovation for the Daniels Building is contributing to U of T's reputation as a world-leading centre for the study of architecture, landscape architecture, and design, as one of the world's greatest universities, and as a city-building institution of the first rank. And it heralds a new era of local, national, and international impact on the part of our professors and students, whose work is already helping to redefine urbanism in the 21st century."
The Daniels Building stands as a model for a new generation of Canadian architects, landscape architects, artists and urbanists, as well as a symbol of how the Boundless campaign has reshaped U of T, integrating its storied past with bold ambitions for the future. At a time when Toronto is commanding the world's attention for its artistic, cultural, athletic and educational achievements, One Spadina has exponentially increased the city's potential to be a nexus of design innovation that will help redefine global architecture for the future.