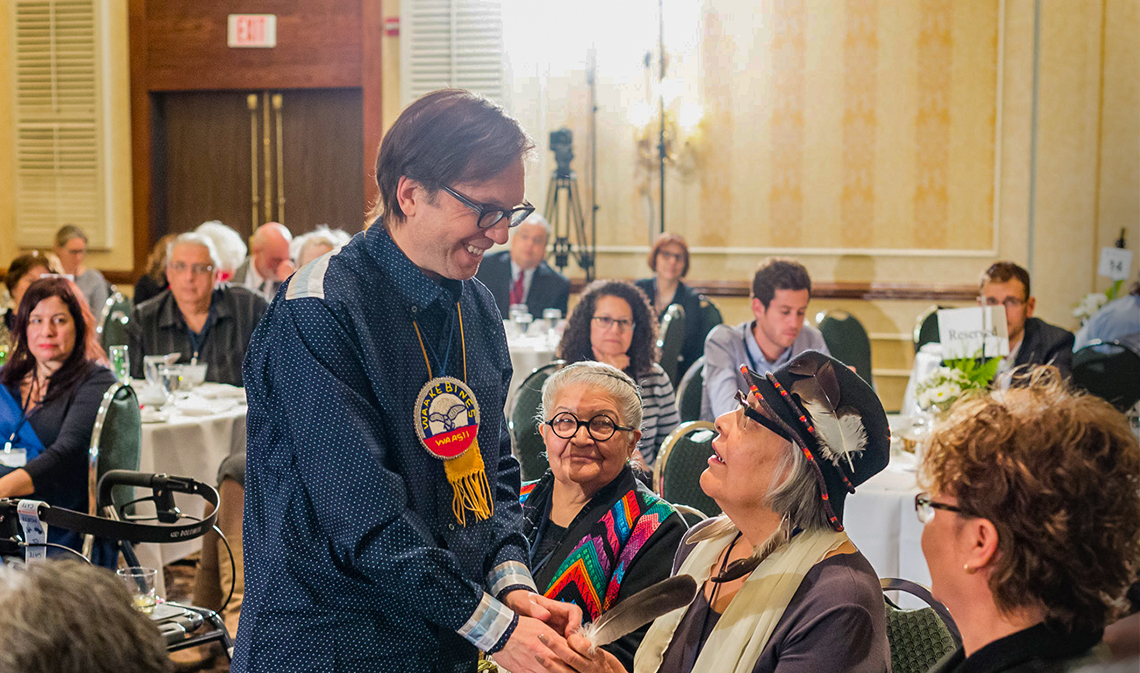 This story is one of many that reveal the extraordinary legacy of Boundless: the Campaign for the University of Toronto, which ended on December 31, 2018. Read more inspiring stories of impact and discover why more than 100,000 people came together to make the Boundless campaign an historic success.
In 2015, a $10-million gift from philanthropists Michael and Amira Dan to the University of Toronto created a world's first: a privately funded, university-based centre for the study of Indigenous health.
Today, the Waakebiness-Bryce Institute for Indigenous Health (WBIIH), based at the Dalla Lana School of Public Health, is moving ahead expeditiously, led by a dynamic director, psychologist and academic Suzanne Stewart.
Stewart is a member of the Yellowknife Dene First Nation and holds the Canada Research Chair in Aboriginal Homelessness and Life Transitions. In 2017, she left the Ontario Institute for Studies in Education (OISE), where she had been Associate Professor of Indigenous Healing in Clinical and Counselling Psychology, to take up her new role at the WBIIH.
It will be a hub for teaching and research excellence around Indigenous health
Two years later, the WBIIH has already attained an impressive list of achievements: a new master's of public health degree program in Indigenous health, the launch of two international journals, and 22 ongoing research projects run by post-docs and graduate students—plus hosting an elder-in-residence and a program of regular cultural activities. But, the interdisciplinary projects that Stewart is most excited about are yet to come.
Among these is a collaborative Indigenous women's shelter laboratory that will function much like a research and education unit. "It will be run on the same model, but instead of medical care, it will be delivering shelter support services, and wraparound health and mental health support for Indigenous women in Toronto," explains Stewart. "Equally, it will be a hub for teaching and research excellence around Indigenous health for students."
In addition to serving one of Toronto's most marginalized groups, the shelter laboratory will train students from five U of T divisions—the Dalla Lana School of Public Health, the Factor-Inwentash Faculty of Social Work, OISE, and the faculties of Medicine and Dentistry.
Stewart and her colleagues are also working on launching a PhD program in Indigenous health, in partnership with two universities in Sydney, Australia and the University of Hawai'i.
And, all of this has become possible, thanks to Michael and Amira Dan's visionary gift. "They provided the autonomy and self-determination to create the WBIIH without having to rely on funding from the University for its infrastructure," says Stewart. "It also gives us the leverage to apply for more funding, so we can expand and grow and do even more."
Stewart's vision for the future: "My hopes are to see the WBIIH maximize its ability to train future researchers and to engage in research that actually benefits communities, so that we can show the impact of improving Indigenous health, while at the same time meeting the immediate needs of Indigenous communities."