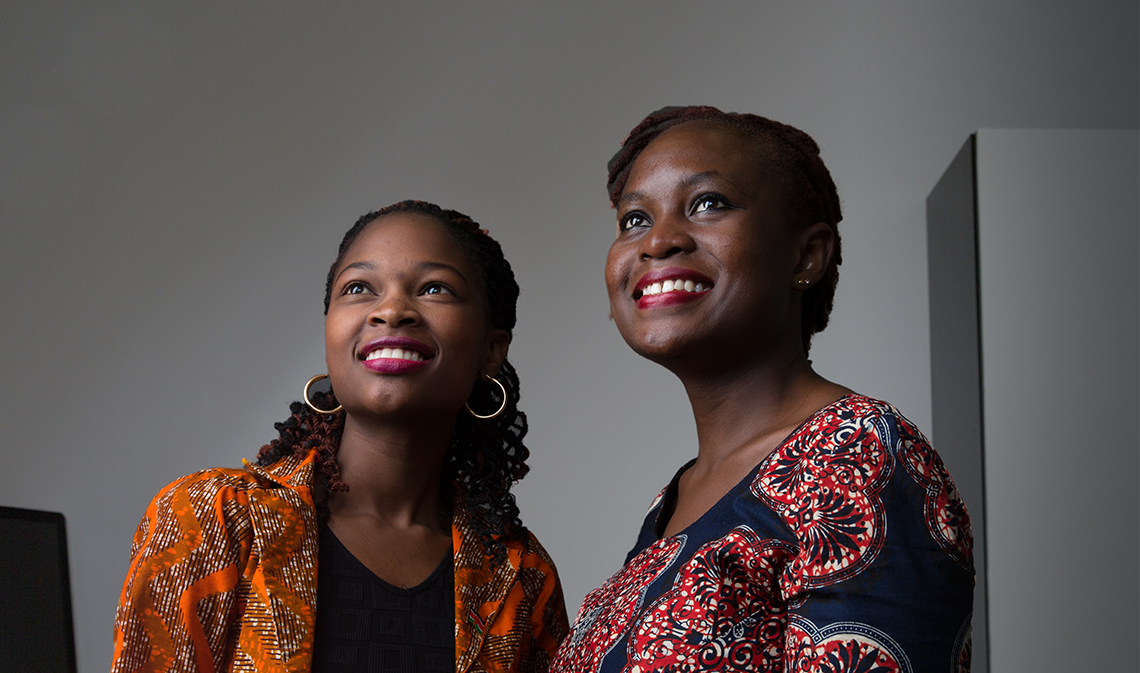 This story is one of many that reveal the extraordinary legacy of Boundless: the Campaign for the University of Toronto, which ended on December 31, 2018. Read more inspiring stories of impact and discover why more than 100,000 people came together to make the Boundless campaign an historic success.
Emmanuela Alimlim was one of 67 students who were able to come to Canada and study at U of T through a Mastercard Foundation scholarship.
After completing high school in Kenya, Emmanuela Alimlim worked as a bank cashier while applying to attend university abroad. Acceptances from the American colleges to which she had applied started to come in, but they might as well have been inviting her to fly to the moon. "There was no way I could even afford a bus ticket to Nairobi," she says with a laugh.
And then one day she got an e-mail from the University of Toronto. You've been accepted, it said, with full funding from the Mastercard Foundation, covering tuition, the cost of books, living expenses and airfare. "I screamed—I literally scared every person in the bank," she recalls.
And that's how this young woman, who'd been born to teenage parents in a tiny village in northern Kenya, came to study at U of T, and graduate in 2018 with a degree in commerce and environmental studies.
I think young people have the power to transform their communities and their countries
Alimlim had benefited from the Mastercard Foundation's donation of US$22.5 million to U of T to fund a program bringing 67 disadvantaged students from sub-Saharan Africa for undergraduate study—a "full ride" at one of the world's top-ranked universities.
It's part of a broad effort by the foundation to support youth across the African continent, beginning with educating young leaders and now focusing on providing employment. Alimlim says she was the first woman in her village to go abroad to study—an accomplishment she hopes will inspire others to work hard. "For them to have somebody who has broken the cycle of poverty, who has gone outside to study and embrace education, they see that as something they should also aspire to," she says.
At U of T, Alimlim initially struggled but quickly became a leader. After going through a period of depression and anxiety, she became an advocate for mental health, and made a documentary about students living with mental illness called Invisible Despair. She also co-founded the Eastern Africa Students Association, which quickly grew from three members to 250.
Today, Alimlim is still in Toronto, working for the Mastercard Foundation on youth engagement in sub-Saharan Africa. "My aim is to support young men and women, to bring their voices to the work we do," she says. Nonetheless, she hopes to return home and make her mark in Kenya. "I think young people have the power to transform their communities and their countries. For me, it will be an honour to be a part of that."