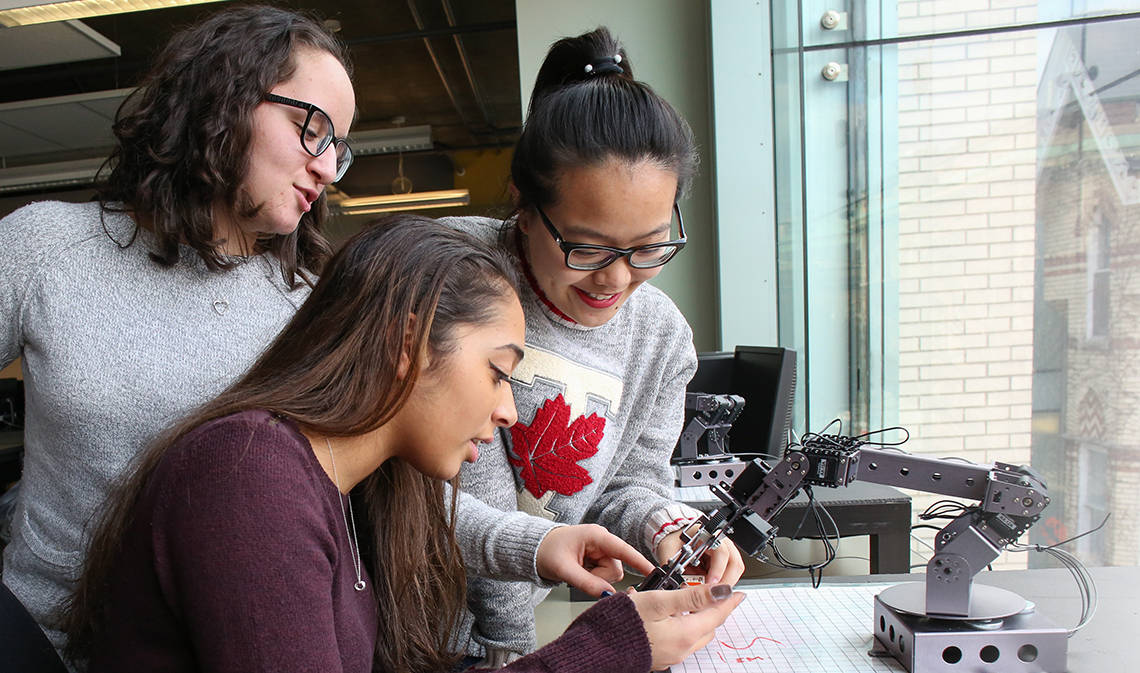 This story is one of many that reveal the extraordinary legacy of Boundless: the Campaign for the University of Toronto, which ended on December 31, 2018. Read more inspiring stories of impact and discover why more than 100,000 people came together to make the Boundless campaign an historic success.
Generous donors created scholarships to honour the first five women graduates in civil engineering—and to celebrate those following in their footsteps.
The first woman to graduate with a U of T civil engineering degree was Marcia Lamont Scott (BASc 1947). Her success fulfilled a childhood dream inspired by her grandfather. "I used to play with his drafting equipment," she told The Civilian in 2015.
Although there were challenges—she had to find a chaperone to attend the required surveying course at Gull Lake—Scott says her trail-blazing was a positive experience. She had great support from those around her, and recalls that "my professors, my classmates, and the people I worked for all wanted to see me make it."
Thanks to those pioneers, I never saw engineering as something unattainable
Despite that positivity, it took another generation before civil engineering could count five female graduates. First came the trio of Hanna Wejtko De Angelis (BASc 1960, MASc 1963), Marlene Metzger (BASc 1960, BEd 1975, MEd 1980) and Margaret Kende (BASc 1960), later an active U of T volunteer who won an Arbor Award for her efforts to promote and support women in engineering. Sue Joel (BASc 1965) earned her degree five years later.
Since then, especially in recent years, the number of women studying and leading in the Faculty of Applied Science & Engineering has grown considerably. So to honour those first five, generous Boundless campaign annual giving donors set up five scholarships in the Department of Civil & Mineral Engineering.
Third-year student Marie-Sophie Wint won the Margaret Kende (CIV6T0) Scholarship in 2016. She says the equality it represents means the most. "I never really saw engineering as something unattainable because I was a girl," she explains. "It was thanks to those pioneers that I grew up in an environment like that."
"And when I arrived at U of T, it was great to see so many professors who were women. Some semesters, I actually had more female professors than male, which really shows that to be a female engineer is no longer something out of the ordinary."
Today, the first-year class is more than 40 per cent women. "We're in a really good place," says Wint. "We should keep going. Just as much as men, women want to work and succeed—there shouldn't really be any social obstacles."