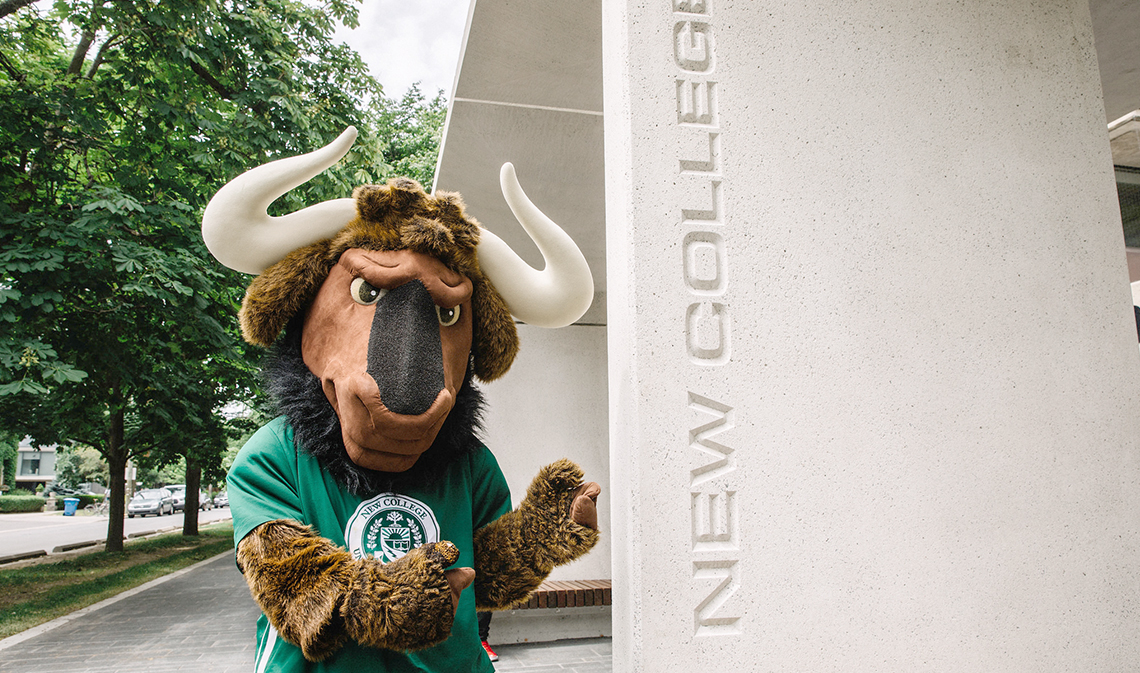 This story is one of many that reveal the extraordinary legacy of Boundless: the Campaign for the University of Toronto, which ended on December 31, 2018. Read more inspiring stories of impact and discover why more than 100,000 people came together to make the Boundless campaign an historic success.
Students and alumni banded together to fund a beautiful outdoor space. Now the bustling plaza makes the ties between them even stronger.
The New College community has built a beautiful outdoor plaza thanks to the Boundless campaign, creating a friendly meeting space for visitors and residents alike. Fittingly, a friendly student-alumni connection made the project possible, long before shovels hit the ground.
As the campaign was about to begin, New College students voted to pay a supplementary fee for a future beautification project. At the time they did not know what that project would be, but they were nonetheless willing to invest their own money in the college's future.
When New College administrators suggested creating a landscaped plaza at the college entrance on Willcocks Street, the students knew they'd found their project—and collectively pledged $150,000 immediately. "It is an honour to work hand in hand with people whose goals align with ours: to better serve our students," declared then-student council president Ashkan Azimi.
We're building an ever better college for the next generation of students
That sentiment, and the students' generosity, in turn inspired alumnus Richard Rooney, President and CIO of Burgundy Asset Management and a 1977 graduate from the college, to donate, on the spot, the remaining $650,000 needed.
"The best people to assess the importance of any project are the people who will live with it every day," says Rooney. "I was proud to invest in New College alongside them."
When the plaza opened in June 2018, it immediately became a busy hub—the active site for convocation selfies of graduating students and guests alike. Benches invite conversation, plants brighten the view, and a series of spotlights keep the area well lit at night. Having a place to foster this sense of connection is particularly important as community engagement is a significant part of New College's mission and programming.
And the students are, understandably, delighted.
"Some of our greatest achievements as a community have emerged from close collaborative efforts with the administration and alumni to ensure that we build an ever better college for the next generation of students," says Madison Hoenig, student council president. "It is a great honour and pleasure for the current council to present the materialization of this vision."