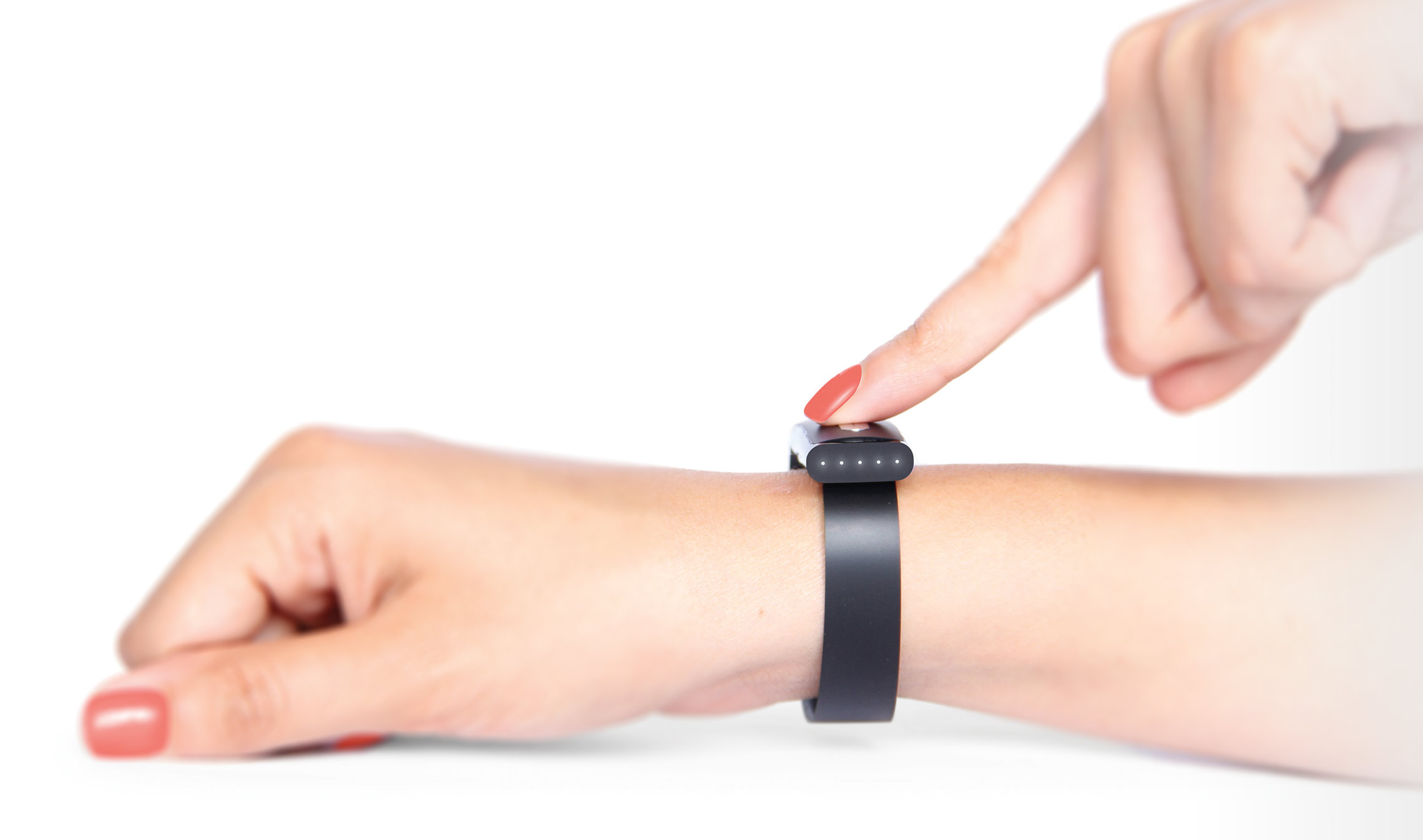 This story is one of many that reveal the extraordinary legacy of Boundless: the Campaign for the University of Toronto, which ended on December 31, 2018. Read more inspiring stories of impact and discover why more than 100,000 people came together to make the Boundless campaign an historic success.
U of T startup Nymi Inc. has created a wristband that uses a person's unique cardiac rhythm to unlock devices and open applications without resorting to passwords.
When U of T alumnus Karl Martin and Foteini Agrafioti founded Nymi Inc. they envisioned a wearable technology that would seamlessly and securely make your identify known to the things you interact with. It wasn't just about building a better mousetrap but a chance to completely redefine what identity means in the modern world.
A simple wristband to authenticate your identity
The result is the Nymi wristband, which acts as an electrocardiogram that consistently authenticates your identity to turn on smart phones, computers and applications without the need for passwords.
"The basic principle is that it acts as a trusted device that works when it is on you and doesn't work when it is on someone else," Martin says. "How does it know you?  It monitors the electrical activity of the heart which is unique for each person."
More secure than other biometric options
Martin says the wristband is more secure than passwords, keys and swipe cards—even other biometric solutions, such as fingerprint, iris and face recognition, which require careful body positioning for an accurate scan.
To activate the Nymi band, you simply press a finger to the top of the wristband to create what Martin calls a "loop circuit," which verifies the wearer's electrocardiogram (ECG). Once authenticated, the system communicates via Bluetooth to the Nymi software app operating on a designated device.
While wearing the wristband, you can seamlessly unlock and use your smartphone, tablet or computer; removing the wristband automatically locks linked devices. Future versions may unlock cars or homes, control smart home appliances and facilitate online transactions.
Why instant access is ideal for the workplace
The company is now focusing on enterprise and getting the device into the workplace. For example, a sales representative sitting in a meeting could securely open up applications containing sensitive information without having to use more than one password or PIN, which often slows them down. "This instant access has massive value," says Martin.
"Companies also spend a lot of money on security measures," says Martin. "Because ECGs are extremely difficult to imitate, the Nymi provides strong protection against intrusions and falsification."
Following a tradition of U of T innovation
Nymi Inc. is a good example of a startup that benefited from U of T's flourishing entrepreneurial ecosystem. Both the Banting and Best Centre for Innovation and Entrepreneurship and the Creative Destruction Lab at the Rotman School of Management played instrumental roles in getting the company off the ground, according to Martin.
Today Nymi Inc. has 35 employees and has delivered more than 800 Nymi Band Discovery Kits to developers to create their own applications. The company also attracted $14 million in venture capital in 2014.
"We're establishing the Nymi as the de facto platform for persistent, trusted identity," says Martin. "Whether you are making a payment or getting into the door at home, the Nymi will ensure convenient access to all of your personal devices and services, without sacrificing security."