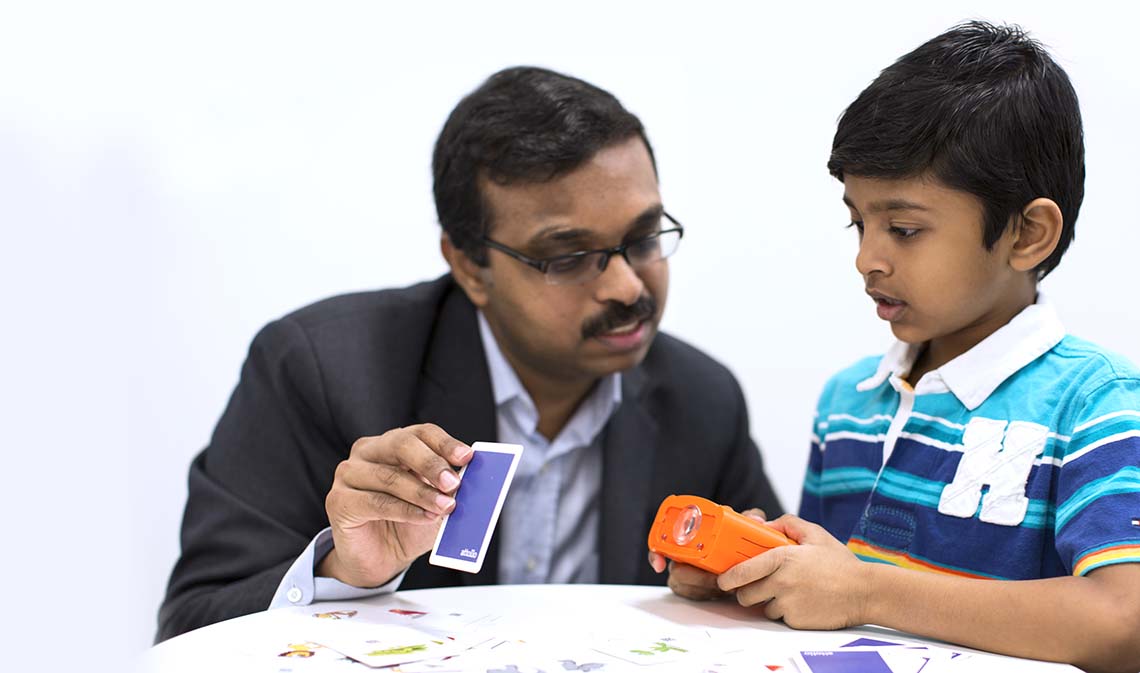 This story is one of many that reveal the extraordinary legacy of Boundless: the Campaign for the University of Toronto, which ended on December 31, 2018. Read more inspiring stories of impact and discover why more than 100,000 people came together to make the Boundless campaign an historic success.
The Hult Prize helps launch entrepreneurial solutions to the world's most pernicious social problems. U of T's Team Attollo made the finals with a plan to teach young children in urban slums the vocabulary they need for a better life.
Every year, the Hult Prize holds the world's largest competition for teams of students to tackle a global problem with "sustainable and scalable social enterprises." The idea is that profitable business startups can "disrupt" problems like hunger and poor access to health care. Finalists are mentored in "incubators" to help them launch their ventures and the annual winner receives US$1 million in seed funding to realize their vision. The 2015 competition, Solving Early Childhood Education in the Urban Slum, focused on giving impoverished kids six years old and under a chance to learn and thrive.
The Hult Prize is a lightning rod for the University of Toronto's entrepreneurial spirit and an opportunity to foster students driven to launch successful ventures for social good. For the 2015 competition tackling the early education problem, the Rotman School of Management entered four teams in different regional competitions around the world. One of them, Team Attollo, won the Regional Final in Dubai and was a runner-up at the Global Final held at the Clinton Global Initiative Annual Meeting in New York City.
Good ideas happen when U of T alumni brainstorm
Team Attollo members, Peter Cinat, Aisha Bukhari, Lak Chinta, and James Austin, all graduated from Rotman. "Collectively," Chinta says, the team holds "three engineering degrees, two PhDs in neuroscience, and four MBAs, all from U of T." This is in addition to experience actually developing products. Chinta adds, "demonstrating that the concept works in real world conditions greatly increased our odds of taking home the prize."
To prepare for the Global Final, Team Attollo spent the summer of 2015 developing their prototype and testing it in disadvantaged communities in Hyderabad, India and Mombasa, Kenya. Team members also attended an incubator at the Hult International Business School in Boston, where they received mentoring and strategic advice.
How kids and parents can make stickers talk and sing in any language
Team Attollo's idea uses affordable technology to help improve children's vocabulary and language skills. With a simple, low-cost Attollo reader, young children will be able to scan quick response (QR) codes on "talking stickers" to foster early brain development and expand their vocabularies. The stickers can be placed on common household items and can transform any object into a fun, educational toy. The Attollo reader can be customized to talk, sing and read in any language, and promises to bring words to life for children across the globe.
We believe our product can change lives
Talking Stickers specifically aims to disrupt the notorious "word gap." At three years old, children living in poverty have been exposed to 30 million fewer words than wealthier children. This word gap not only limits a child's readiness for school, it also profoundly affects their long-term success and well-being. In developing countries, more than 100 million children under six fall behind in their cognitive development, inhibiting their potential and the communities and nations in which they live.
Team Attollo's social entrepreneurs are so committed to Talking Stickers that they have all resigned from their day jobs to focus full time on the startup. "Every member of our team wants to make a difference in the world," says Austin. "The social enterprise aspect of our work is very important to us. Talking Stickers will be a business that makes money, but more importantly, we believe our product can change lives."