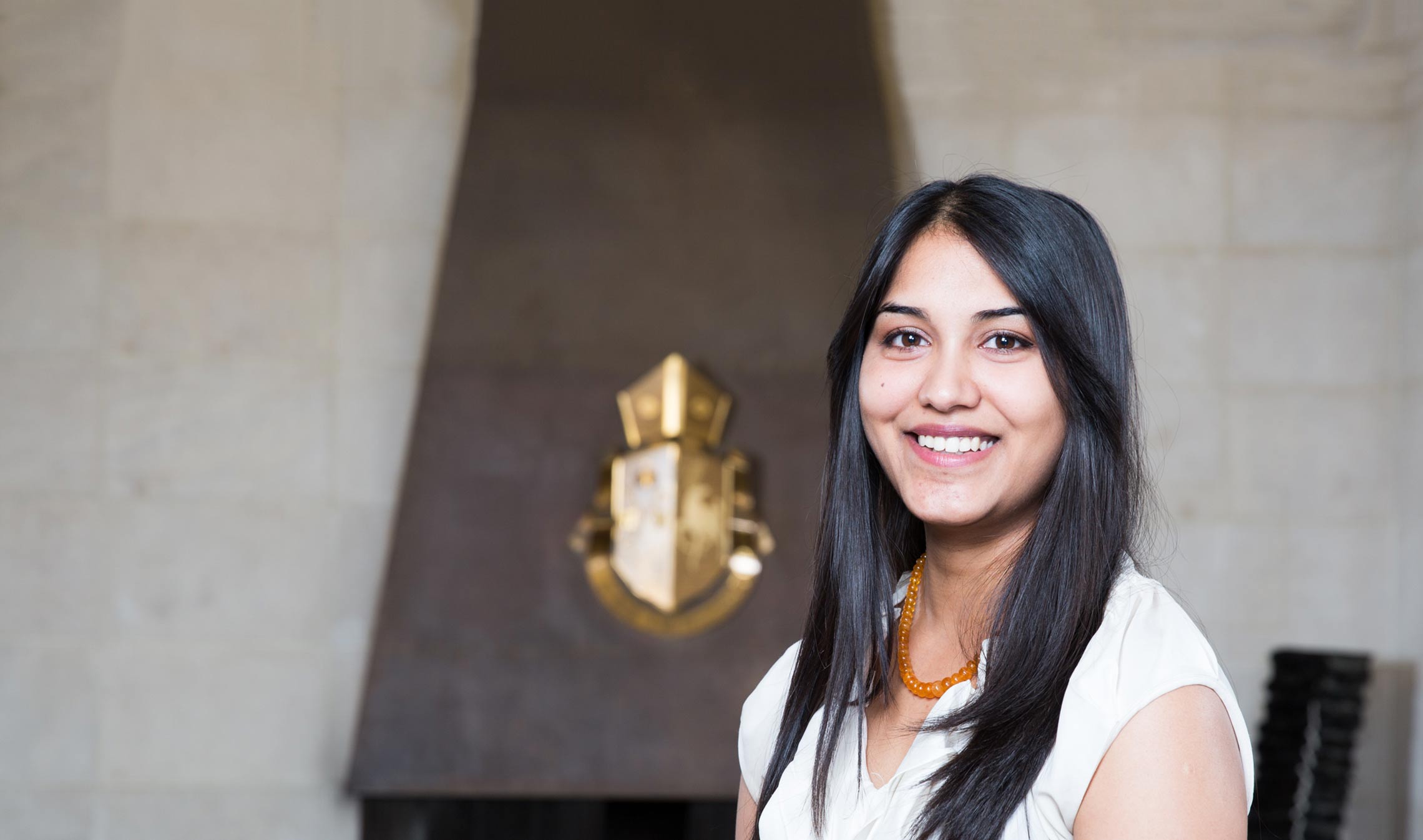 This story is one of many that reveal the extraordinary legacy of Boundless: the Campaign for the University of Toronto, which ended on December 31, 2018. Read more inspiring stories of impact and discover why more than 100,000 people came together to make the Boundless campaign an historic success.
International relations student Shreya Nayak is gaining crucial real-life experience in an innovative U of T classroom experiment.
In her second year at U of T, Shreya Nayak represented India at the G20.
"It was a simulation," explains the third-year international relations student, "but the topic we spoke on was real—Nigeria's entry into the G20, which at the time was still open to debate. It's difficult to get some tangible experience in international relations we can apply when we reach the workforce. That's why the G20 simulations was so valuable."
Turning classroom expectations upside down
The G20 simulation was part of "Ordering International Relations in an Age of Empire," a unique course offered by Trinity College that turns normal classroom expectations on their head. Lectures are posted online and studied on the student's own time. Scheduled classes are devoted to one-on-one discussions and workshops. The concept, called the "inverted classroom," is proving a big success at U of T.
The format allows the professor to invite experts to class frequently, says Nayak. "You're being taught by the industry's most brilliant minds. It was amazing to have that kind of exposure."
The spin-off effects on Nayak and her fellow students are much bigger, however. "An educational institution where you spend four to eight years of your life plays a crucial part in developing your character," she points out. "And I feel like U of T is constantly shaping my perception and perspective about my place in the world. It really plays a pivotal role in where I see myself going in the future."
Accessing the resources to make a global impact
Nayak is a gold-medal winning Varsity tennis player and a student ambassador for Enrolment Services. She has ambitions to be a future Rhodes Scholar. Nayak also joined the executive of Enactus, a campus club that helps students develop and launch social enterprises. Her team's startup, Lumifi, recycles old routers and loads them with educational materials – everything from basic literacy handouts to pre-law curricula. The routers, when installed in a resource-poor school, become a digital library.
"We piloted it in three elementary schools in Jamaica last year," she says. "And in just six months, their literacy rates went up 70 per cent." Nayak and her team are taking the project to Northern Ontario and next year to India.
"I always wanted to make an impact on the world," she says. "But I think the resources and capability for me to do so only came once I joined university."
A sense of urgency about changing our world
Nayak has already landed an internship at the US Consulate General in the Political and Economic Affairs Section, and plans to work in international policy once she graduates. She also hopes to run for public office one day.
"U of T has given me that sense of urgency to get out there and do something," she says. "It gives me every single tool that I need to gain a more global understanding of what's happening around me."