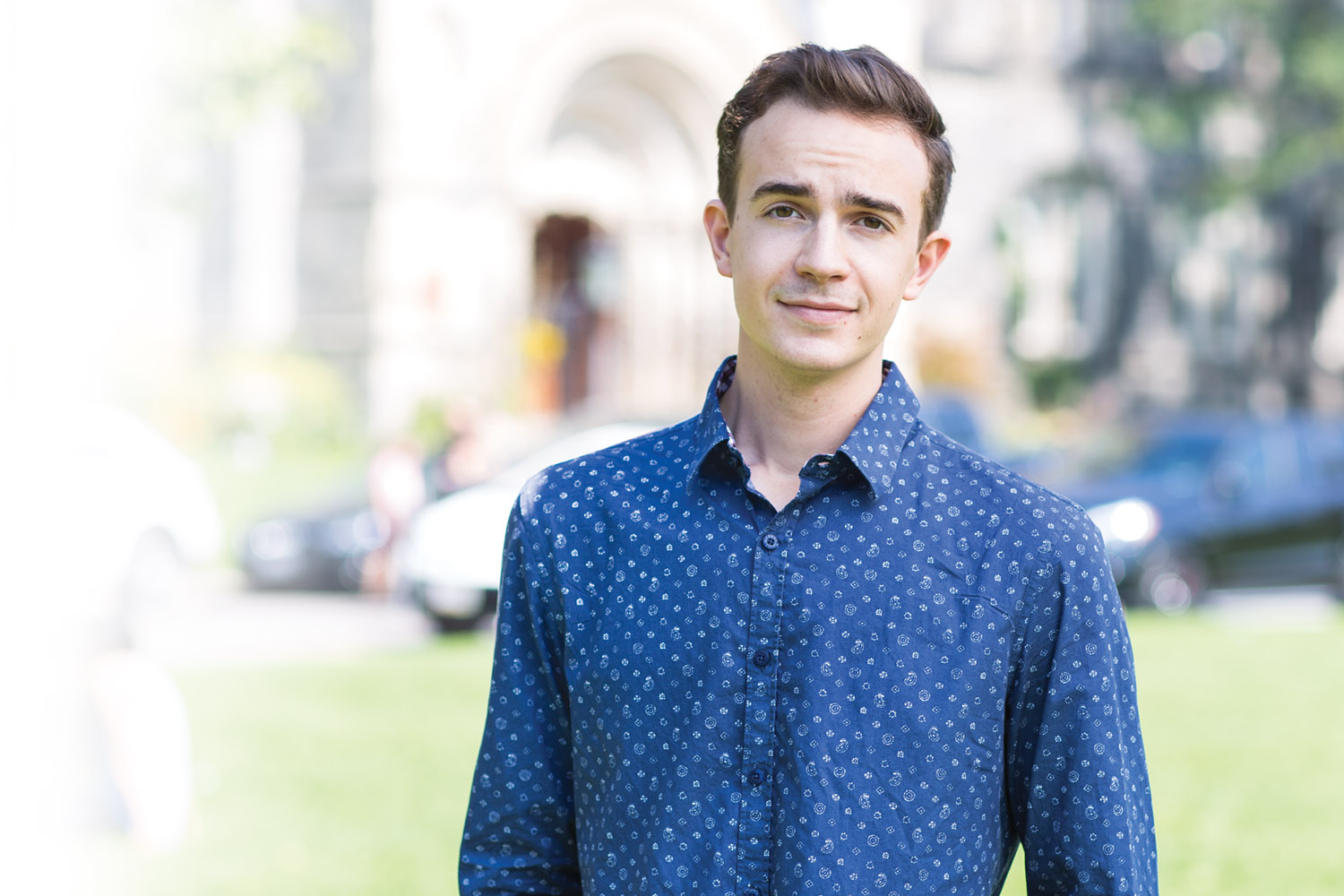 This story is one of many that reveal the extraordinary legacy of Boundless: the Campaign for the University of Toronto, which ended on December 31, 2018. Read more inspiring stories of impact and discover why more than 100,000 people came together to make the Boundless campaign an historic success.
Multi-talented student Elliot Jarmain is succeeding in physics, mathematics and music, thanks to a scholarship bequest from University College alumnus William Beverly.
One wonders if William Beverly knew the impact his estate gift would have over time. Beverly, a 1949 University College grad who died in 1982, left a simple instruction in his will —to donate $100,000 to the University of Toronto to endow a scholarship fund at University College in honour of his parents, Anna and Alex Beverly.
The Anna and Alex Beverly Scholarship fund started paying income in the spring of 1984, and since then, the fund has generated thousands of dollars per year in student awards, while the endowment has maintained its value, adjusted for inflation.
If I could speak to Mr. Beverly, I would tell him how much he has helped me and so many others
By leaving the details of his award to the discretion of the college, Mr. Beverly allowed University College to direct the funds to where they were needed most, including establishing a generous annual admission award, an annual fellowship for graduating students, and in-course scholarships awarded on academic merit. In the more than three decades since the creation of the Beverly Scholarships, just under $275,000 has been distributed to nearly 300 deserving students.
Elliot Jarmain is a third-year UC student studying physics and math and a Beverly Scholarship recipient who is deeply grateful for the support. "The Anna and Alex Beverly Scholarship ensures I do not have to look for part-time work during the school year," he says. "The scholarship helps me put all my efforts into succeeding in my classes."
Elliot is also an accomplished piano player, studying music outside of his university courses and performing professionally. "Without the financial support from the scholarship, I would not have the dedicated time that I need to be successful in my studies and also to continue my passion for piano."
Whichever field Jarmain eventually chooses to pursue, he will always be grateful for the support provided by the Beverly Scholarship. "If I could speak to Mr. Beverly, I would tell him how much he has helped me and so many others. He has done a lot for the University." William Beverly would be pleased to hear this, as well as how a simple instruction in a will can make such a difference for so many young students.