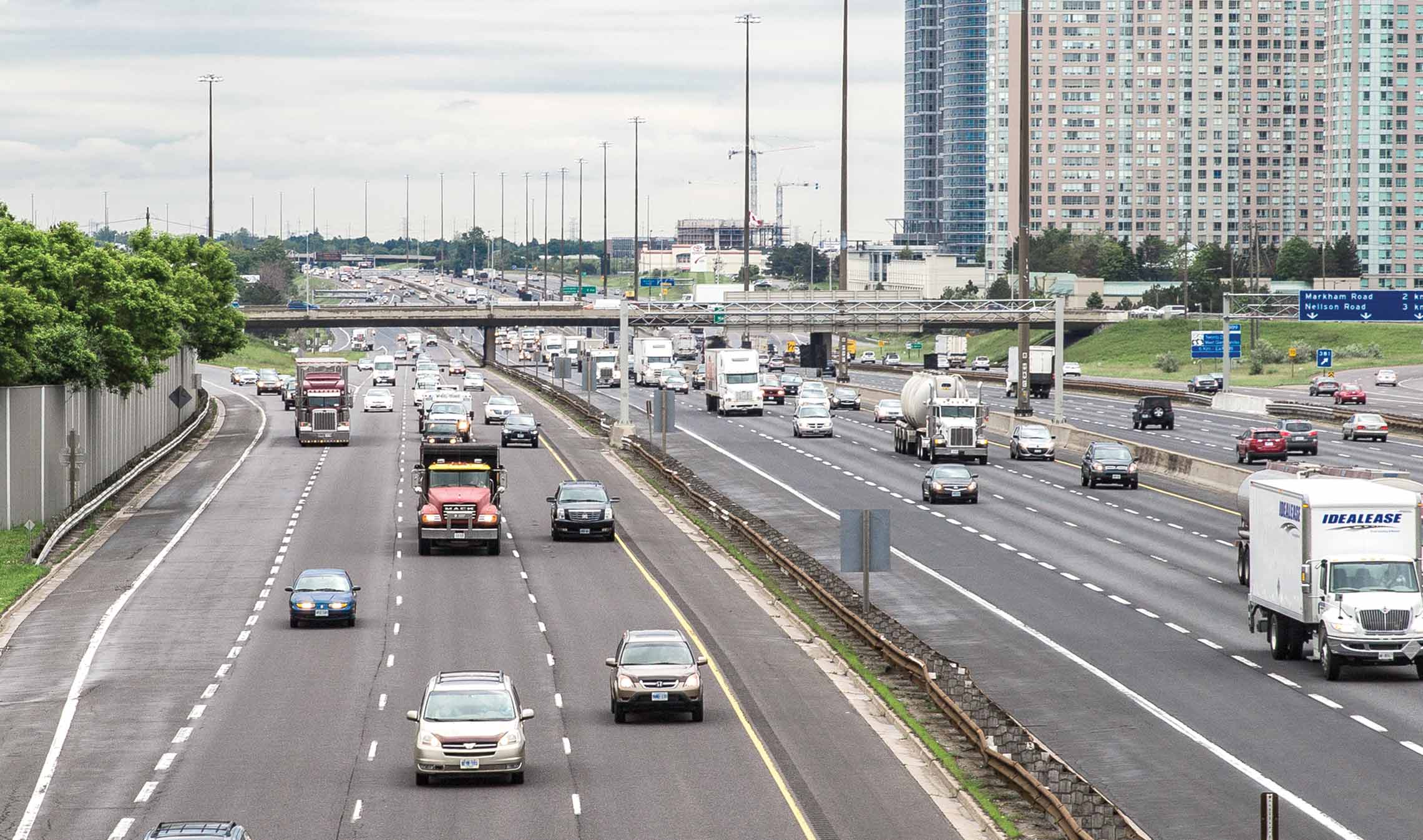 This story is one of many that reveal the extraordinary legacy of Boundless: the Campaign for the University of Toronto, which ended on December 31, 2018. Read more inspiring stories of impact and discover why more than 100,000 people came together to make the Boundless campaign an historic success.
Debates about public transit are empty without empirical evidence. By researching urban redevelopment, Professor André Sorensen and his students at the Cities Lab at UTSC are informing the discussion of transit options for Scarborough, the Greater Toronto Area and cities across North America.
Scarborough needs better public transit, but the debates about what to build have gone on for years. Will it be better served by new and extended subway lines, or by above-ground light rail transit (LRT), or should we use existing heavy rail corridors for a new cross-town commuter service dubbed SmartTrack? How do we decide? The best balm for a heated public debate is data comparing the benefits of one approach over another.
Why light rail offers greater benefits for Scarborough
Professors André Sorensen and Paul Hess, aided by students at UTSC's  Cities Lab and the graduate program in planning, have researched this question. In a 2014 study of Scarborough's transit options, they concluded that high-capacity LRT lines make more sense for Scarborough because they would promote redevelopment and ensure that more people live within walking distance of the transit stops.
The study found that LRT lines are cheaper and faster to build than subways and offer greater potential for spurring much-needed reinvestment in redevelopment along their routes. By comparison, a subway extension from Kennedy Station to Sheppard Avenue would cost more, carry fewer people from the surrounding neighbourhoods, and would travel through areas with far less potential for redevelopment.
"LRT offers a longer set of lines and is a much better fit with the existing landscape in Scarborough, including where the population is, where the jobs are today and where they will likely grow in the future through redevelopment and intensification," says Sorensen.
There is considerable pressure to just start building something, but it's more important to get these decisions right
The report has helped to shape the debate concerning the relative merits of light rail, subways and SmartTrack for Scarborough and the GTA. "There is considerable pressure to just start building something, but it's more important to get these decisions right," says Hess. "These projects will cost billions of dollars and will profoundly shape the future of urban development and potentially improve the quality of life for many who live in this area of the city."
Students were key to the transit study
Students at the Cities Lab were integral to Sorensen and Hess's transit study. The multidisciplinary lab, housed in the UTSC Library, brings UTSC's departments of Human Geography and Sociology together to support teaching and research into urban trends and transformations. Cities Lab projects focus on urban growth and development, social and spatial differentiation of populations, processes of socio-spatial change, and their relationships to social inclusion, exclusion and environmental risks.
Cities Lab students—some of whom participated in the Scarborough transit study—continue to investigate transportation options in urban settings, working with Sorensen and Hess on a comparative study of transit and urban redevelopment potential in a variety of urban corridors with different urban forms.
UTSC's commitment to community
The students are also conducting research in collaboration with East Scarborough Storefront, a community-based hub that helps Scarborough residents find and access social services. To this end, they map the kinds of enterprises, jobs, development opportunities and social networks that exist in the neighbourhoods of Kingston Galloway and Orton Park, and around U of T's Scarborough campus. Their results will help agencies working with East Scarborough Storefront to provide services to their clients more effectively.
Cities Lab is an integral part of UTSC's broader commitment to its surrounding community. "I think Human Geography at UTSC is a real leader in community engagement work and community outreach," Sorensen says. But as Cities Lab research informs the debate over Scarborough's transit options, everyone in the Greater Toronto Area stands to benefit from their work.