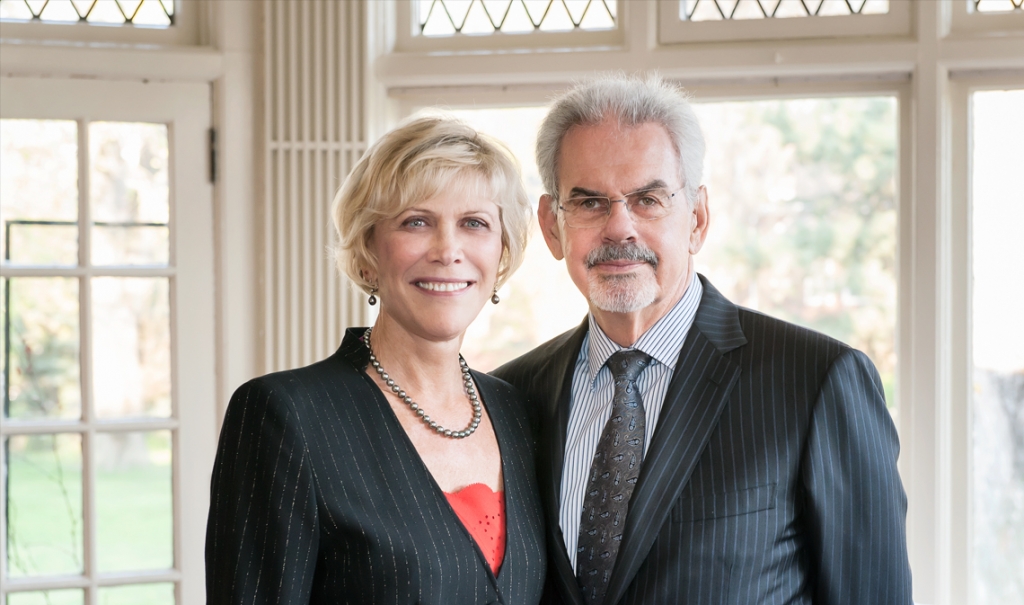 This story is one of many that reveal the extraordinary legacy of Boundless: the Campaign for the University of Toronto, which ended on December 31, 2018. Read more inspiring stories of impact and discover why more than 100,000 people came together to make the Boundless campaign an historic success.
Inspired by an award he received as a student, Bill and Kathleen Troost have donated $1 million for engineering scholarships.
Money was tight when Bill Troost (BASc 1967) was growing up. "We immigrated to Ontario from the Netherlands in 1960," he remembers. "My dad was a farm labourer, so we didn't have a whole lot in terms of financial resources."
So it was a more-than-welcome surprise when Bill's Grade 13 teacher, Mr. Morrison, secretly nominated Troost for a J. Edgar McAllister Foundation Admission Award and the chance to attend U of T.
"I knew nothing about these awards!" says Troost. "Professor Breckenridge, head of the chemical engineering department, came to talk to me about it. It paid for most of my tuition, and residence at what was then Devonshire House for four years. Without that award, I probably couldn't have gone to university. So it had a tremendous impact on my life."
One million dollars to generate scholarships in perpetuity
Half a century later, Troost, now CEO and founder of Peel Plastics, a successful Ontario packaging company, wants to give other students that same leg up that he received. "I was fortunate," he says. "And whatever success I've had in business, I certainly wouldn't have gotten there without that kind of financial support."
That's why Bill and Kathleen Troost have donated one million dollars for student support in the Faculty of Applied Science & Engineering. The endowed funds have been invested to generate annual scholarships in perpetuity. And under the Boundless Promise program, which matches donations of $25,000 or more for needs-based awards, the University has pledged to match the endowment's income each year.
The new awards are distributed under the University of Toronto Advance Planning for Students program, which helps students whose full financial needs aren't covered by government aid, fulfilling U of T's promise that no student admitted to the University will be unable to attend for lack of funds.
Paying it forward by educating future leaders
The new awards have been named after both of the Troosts as well as the man who helped make Bill's U of T education possible—J. Edgar McAllister, an 1895 U of T graduate who left the University a legacy when he passed away in 1959.
"We called it the J. Edgar McAllister Foundation – Troost Family Award because without his award, I wouldn't have been here," says Troost. "I didn't know much about McAllister – in those days you couldn't Google – but I was definitely grateful. So the name is a tribute to the man."
Six inaugural students received the award in 2015-16. They are studying a range of specialties offered by the Faculty—civil engineering, electrical engineering, computer engineering. Like Bill Troost, they are have big dreams—designing green buildings, inventing quantum computers, transitioning the world to sustainable energy sources. Also like Troost, they needed help to finish their studies.
"I am moved by donors like Mr. Troost," says Yuan Ming, a third-year computer engineering student who is one of the first recipients of the new award. "As a young adult, receiving support from strangers means that there are individuals in society who care about engineering students. They care about the education of Canada's future."
Ensuring effective education for the real world
Troost cares very deeply. He's volunteered extensively at U of T, including serving on the Board of Advisors for the Institute for Leadership Education in Engineering, where he champions not just engineering education in general, but the kind of effective training that helps graduates make a real impact. "That is tremendously important," he says. "It's not just making engineers technically competent, but competent in society and competent in teams, competent in being able to get things done. You can know all the equations, but that doesn't mean you can generate positive change." (The Troosts also recently made a $1-million gift to support ILEAD's Curricular Leadership Training program.)
The kind of change, perhaps, that saw a young immigrant get a university degree and become an employer of hundreds in his adopted country. Troost also is grateful to Canada, he says, "and I think the country needs good engineering schools, and good engineers. It feels good that these young people are getting support."