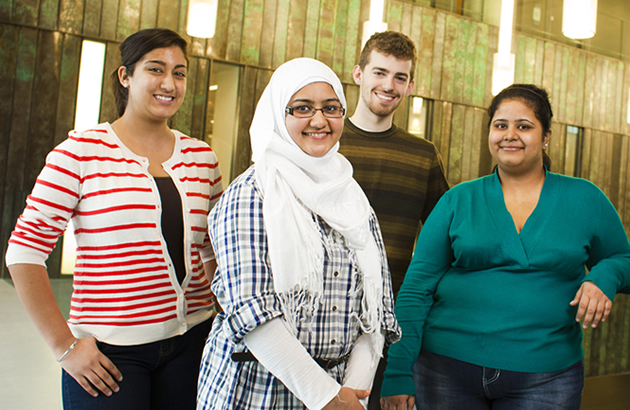 The University of Toronto has initiated a visionary matching program to boost the financial support available to its undergraduates.
Posted on June 26, 2012
U of T will match, in perpetuity and on a 1:1 basis, the annual income generated by new endowments established with a minimum of $25,000. The program has already sparked great interest in our generous community.
Through the Boundless Promise program, U of T will match—in perpetuity and on a 1:1 basis—the annual income generated by new endowed donations of $25,000 and up, which are designated toward undergraduate needs-based financial awards. To be eligible for the match, new awards must support full-time undergraduate students who are Canadian residents. The program will continue until December 31, 2015.
As Canada's leading public university, U of T has a longstanding commitment to both excellence and access. Since 1998, the University's policy on student financial support has been that no student offered admission to a program at U of T should be unable to enter or complete it due to lack of financial means. This dedication to accessible excellence sets U of T apart from peer public universities in the United States and elsewhere around the world.
Our donors have helped make this remarkable commitment possible. Over the past 20 years, a combination of donor support, government matching programs and University operating funds has increased student financial aid disbursements from $8-million to more than $147-million per year. We are proud that U of T supports more students from lower-income households—and allots more dollars from our operating budget to bursaries and scholarships—than any other Ontario university.
However, the need is great. Over the past two decades, U of T's undergraduate enrolment has increased by 41 per cent and needs-based financial support has grown six-fold. Over the next five years, the demand for needs-based awards is expected to grow by 34 per cent.
Ontario receives the lowest per-student government funding of all Canadian provinces, and U of T operates on less than half the per-student funding available to U.S. peer public universities. Over the past 15 years, programs from the Province of Ontario have matched millions of dollars in private donations toward needs-based awards—but these programs have now been eliminated due to economic constraints.
The University has stepped in to cover this void with the Boundless Promise program. These matching funds, drawn from our operating funds, go above and beyond what we already commit on an annual basis to student financial aid. When you choose to endow a new undergraduate needs-based award with a minimum gift of $25,000, your donation is invested in the University's endowment, which in turn generates a permanent annual payout for the student award that will be matched in perpetuity.
The Boundless Promise program is an exciting opportunity to double your impact in support of the next generation of global citizens. By establishing a needs-based undergraduate award today, you will help ensure that our best young minds can fulfill their boundless promise—now and far into the future.
For more information: