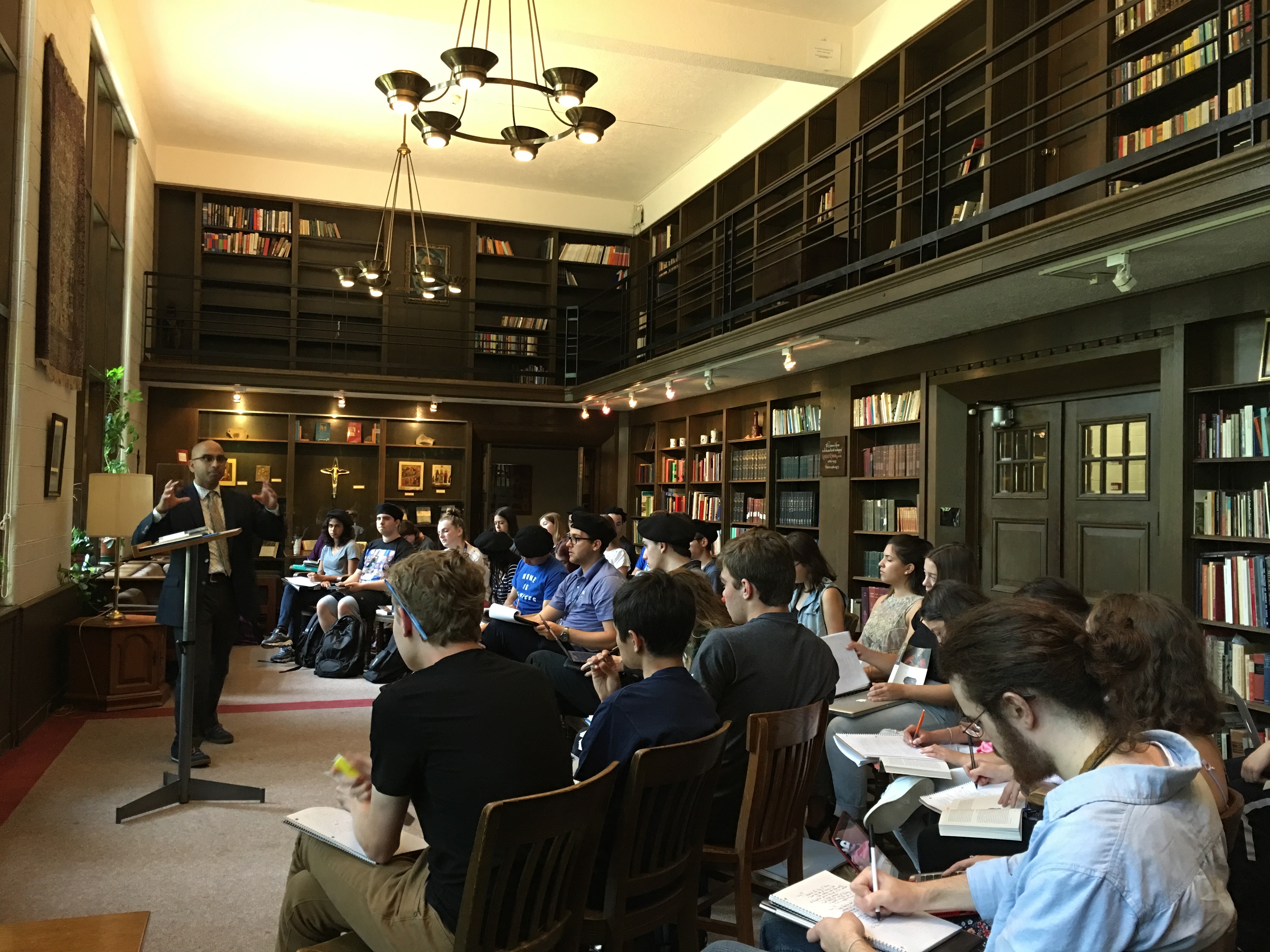 Students have the unique chance to explore exciting topics, combined with opportunities to study abroad.
The University of St. Michael's College has developed a new suite of exclusive seminars for first-year students, drawing on the academic traditions of the college and enhancing the classroom experience with opportunities to study abroad. Additionally, scholarships are awarded to the successful applicants to these programs, so enrollment is limited.
While the college has secured the support to establish these programs, thanks to the generosity of donors, further philanthropic support is essential in order to offer the courses in perpetuity.
The Gilson Seminar in Faith and Ideas
This course, started in Fall 2017, was one of the most popular first-year seminar offerings at the University of Toronto. St. Michael's College offers first-year students the chance to join an exclusive seminar that explores the intersection of faith with today's most important questions. This course features a two-week international learning experience in Rome that explores the roles that the Catholic Church and Vatican have played in ecology, science, literature and politics.
The Seminar features lectures, small-group discussions, community events, and guest speakers. The Seminar is taught by New York Times contributor, novelist, and St. Michael's Principal Randy Boyagoda.
The Boyle Seminar in Scripts and Stories
New in Winter 2019, the Boyle Seminar will bring first-year students to the intersection of Celtic and mediaeval cultures. Inspired by the legacy of Fr. Leonard Boyle (1923-1999), one of the preeminent mediaeval scholars of the 20th century, this seminar will introduce students to university-level studies through an interdisciplinary exploration of Celtic influences in the mediaeval world. Students will analyze manuscripts and take language instruction in Latin or Irish. They will also pursue intercultural dialogue, language acquisition, and manuscript studies.
The Seminar, co-taught by assistant professors Máirtín Coilféir (Celtic Studies) and Alison More (Mediaeval Studies) will feature lectures, seminars, language instruction, workshops, guest speakers and the review of both ancient and contemporary texts. Participants will also be invited to travel to Ireland with the course instructors for an out-of-course international learning experience the following summer.
The McLuhan Seminar in Creativity and Technology
New in Winter 2019, the McLuhan Seminar is inspired by the innovative thinking of Marshall McLuhan (1911-1980), one of the most charismatic and wide-ranging thinkers of the 20th century, and former faculty member at St. Michael's College. First-year students will explore how the humanities relate to other fields of thought and research in addressing the individual, social and cultural experiences and effects of technological innovation.
The McLuhan Seminar will be taught by assistant professor Paolo Granata (Book and Media Studies), and will include a one-week trip to Silicon Valley, California.