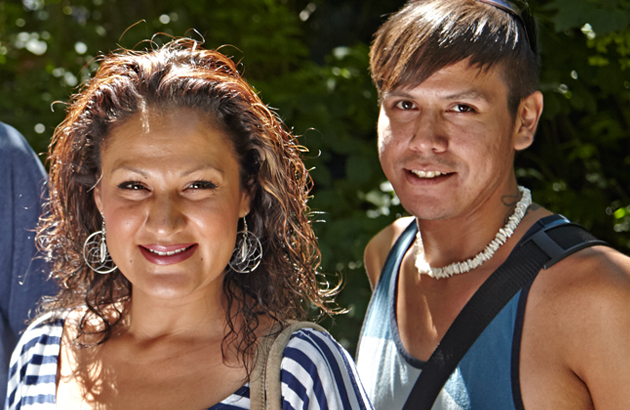 A $5-million gift from an anonymous donor will support deserving students, primarily those with Indigenous backgrounds, or those whose parents did not attend university or college.
Posted on June 17, 2015
A portion of the scholarships for Indigenous students will be awarded in partnership with Indspire, a charity that invests in the education of Indigenous people.  The gift will also go toward assisting those students with parents who did not attend university or college, and will overall help ensure that deserving students who qualify to enter U of T will be able to do so regardless of their financial circumstances.
As Canada's leading public university, U of T is deeply devoted to the principles of access and excellence. In fact, the University has pledged that no qualified undergraduate will be forced to decline admission or withdraw from his or her studies due to financial circumstances.  A portion of the scholarships will be matched by the University's Boundless Promise Program.
"This exceptionally generous gift underlines the important role of philanthropy in supporting the University's commitment to all deserving students," says David Palmer, Vice-President Advancement. "And by improving access to an elite post-secondary education, philanthropists are also playing a larger role in promoting equity throughout our communities.  The importance of supporting post-secondary education for Canada's Indigenous young people is growing across the country, as is the recognition that education can play an important role in creating better outcomes for marginalized or at-risk communities.  This visionary gift also further underscores the University's values of openness, inclusiveness, accessibility."
This gift represents an additional major donation made recently toward the University's Indigenous and Aboriginal initiatives. Last year, another $5-million gift from an anonymous donor was made towards the Ontario Institute for Studies in Education (OISE) to help researchers explore the educational needs of Indigenous people and pursue vital avenues of inquiry that will benefit education worldwide. It also established the prestigious William A. Macdonald Q.C. Fellowship in Indigenous Education. Chief Shawn A-in-chut Atleo was appointed the first Distinguished Fellow. Also last year, U of T alumni Michael Dan (MD 1984) and Amira Dan (MA 2004) helped establish the Waakebiness-Bryce Institute for Indigenous Health at U of T's Dalla Lana Faculty of Public Health.