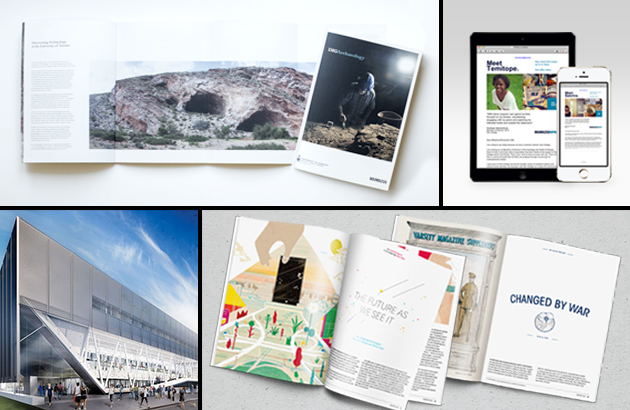 Advancement projects conducted across the University have resulted in three gold medals and one silver at the annual CCAE Prix d'Excellence awards, as well as a gold from CASE.
Posted on June 15, 2015
"These honours speak to the creativity of our staff and their passion for promoting the mission of our university," said David Palmer, the University's Vice-President of Advancement. "I am very proud of the dedicated development professionals who earned these medals."
The CCAE's Prix d'Excellence recognizes outstanding achievements in alumni affairs, public affairs, communications, marketing, development, advancement services, stewardship, student recruitment and overall institutional Advancement. This year U of T won gold for Best Development Event, Best Fundraising Initiative and Best Writing in English.
The best development event was the opening of the Goldring Centre for High Performance Sport as organized by the Faculty of Kinesiology & Physical Education. Thinking big was the secret of the Goldring success, according to Rachel Keeling, manager of alumni relations and advancement campaigns for the faculty. "The challenge was to find a way of honouring all the stakeholders on one day," she said. "It was not feasible, so we decided to hold the opening over six days and invite our community of supporters to help us complete the campaign."
Another CCAE gold went to Annual Giving's "Follow a Student" campaign, which featured a series of personalized communications from U of T students from all three campuses about their experiences during the course of the academic year.
U of T won both gold and silver awards for Best Writing in English. "The Future as We See It," by Patchen Barss, examined the practical possibilities of computer science research, while "Changed by War," by Alice Taylor, portrayed the many ways in which U of T was involved in the First World War. Both stories appeared in U of T Magazine as edited by Scott Anderson.
Meanwhile, the Council for Advancement and Support of Education (CASE) has awarded the Faculty of Arts & Science a Circle of Excellence gold award for "DIG Archaeology: Invest in the Future of Archaeology at U of T," a 52-page publication written by Barrett Hooper and designed by Caley Tessier that combined magazine-style storytelling with original photography taken by faculty and students at excavations across Canada and around the world. The case competed with 40 other entries from across North America.