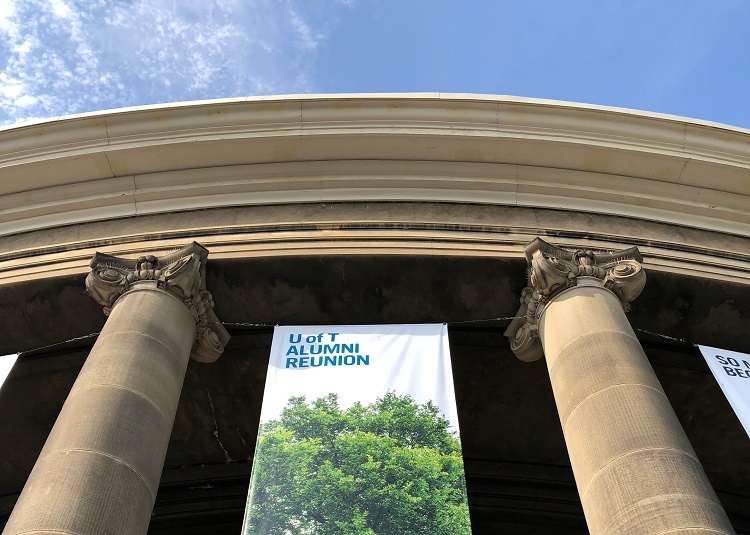 U of T's biggest annual alumni gathering welcomed nearly 9,000 graduates back to campus to celebrate old friendships and memories and create new ones.
Posted on June 7, 2018
U of T's biggest annual alumni gathering was a resounding success, welcoming thousands of graduates back to campus to celebrate their university days, reconnect with old classmates, and create new friendships and memories. The 2018 reunion attracted almost 9,000 alumni and guests to more than 130 central and divisional events across each of our three campuses.
Alumni Reunion 2018 kicked off on Wednesday, May 30 with Spring SHAKER at Canada's Wonderland. Hundreds of adventurous young grads spent a thrilling evening mixing, mingling and braving the rides at Canada's premier amusement park. "This was my first SHAKER," said Rumbi Mugwagwa (BA 2007 UC). "The atmosphere at the park was fantastic. It was fun and informal, which made people open up and feel more comfortable than at typical networking events. I'll definitely be going back."
President Meric Gertler was on hand Thursday night to welcome alumni and friends to the LGBTQ+ Spring Soirée, the University's annual start to Pride month. "Having the President there was a full-circle moment for me," said Leon Rudanycz (BASc 1978). "As an engineering student in the late '70s, I really wanted to go to a meeting of the U of T Homophile Association because I knew I'd find others like me there. However, I was scared my classmates would find out and I would be ostracized. Forty years later I'm at an LGBTQ+ alumni event and the president of U of T is speaking."
The 50th Anniversary Ceremony and the Chancellor's Circle Medal Ceremonies for 55th to 80th anniversaries were particularly memorable occasions this year. Dr. Dormer Ellis (BASc 1948, BA 1958 WDW, ABEd 1959, MEd 1962, DEd 1968), a pioneer in the field of engineering, celebrated an unprecedented three special anniversaries—50th, 60th and 70th.
Alumni of all ages eagerly returned to the classroom for the weekend. The Stress-Free Degree Lecture series featured more than 20 engaging talks by noted U of T professors on topics ranging from artificial intelligence to brain health to Canada's opioid crisis.
Bright and early on Saturday morning, children and their families paid a visit to more than a dozen divisions around St. George campus. Kids' Passport in hand, intrepid young travellers "flew" to a newly discovered planetary system, dressed up in stage costumes, journeyed back to the age of dinosaurs, concocted elephant toothpaste, and more!
Other weekend highlights included the Alumni Celebration, which featured the rousing keynote address "Win, lose or draw: Housing in 21st-century cities" by urbanist Jennifer Keesmaat, followed by the annual BBQ, where alumni were invited to post their most memorable U of T moments to the Alumni Reunion Experiential Wall.
"Alumni Reunion demonstrates the incredible engagement, loyalty and pride our graduates have for their alma mater," says Barbara Dick, Assistant Vice-President, Alumni Relations. "We're celebrating memories and reflections on the past, but this is just half of the picture. Alumni Reunion is also about new beginnings, new friendships and celebrating the impact of our graduates' involvement with U of T today and in the future."
"There was just a great energy," said Robert Patrick (BA 1967 INNIS, BEd 1972, MEd 1979). "It was so much fun to see my classmates, many of whom came from across Canada to be at Reunion. All those memories came back when everyone was together, talking about our time at U of T and looking at old photos of the people and places that meant so much."
Let Robert tell you about his memorable U of T moments.

View event photos and hear more stories from U of T alumni.