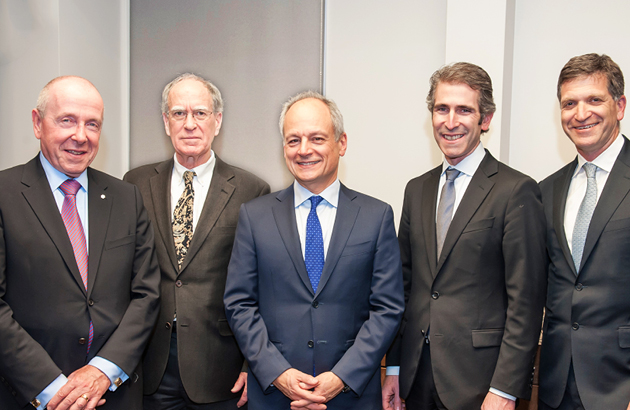 The Anne Tanenbaum Centre for Jewish Studies officially opened on November 17th, 2014.
Posted on November 20, 2014
The opening at the Jackman Humanities Building marks a major milestone in a philanthropic endeavour to foster education and research in Jewish studies at U of T. To celebrate this achievement, the Centre unveiled a donor wall, which pays tribute to the outstanding community support for Jewish studies.
Ken Tanenbaum and Larry Tanenbaum co-chaired the $18 million community campaign. The Centre was named in memory of their grandmother and mother, Anne Tanenbaum, a major supporter of U of T and a passionate champion for education.
"My mother, Anne Tanenbaum, was a tireless advocate and supporter of educational institutions. Throughout her life, for nearly a century, she strove to advance teaching in the sciences and in Jewish thought, history and culture. Our family is so pleased to see her legacy honoured with the naming of this Centre," Larry Tanenbaum told attendees at the event. "Today is a celebration of vision, leadership and partnership."
The Lawrence & Judith Tanenbaum Family Charitable Foundation and the Estate of Anne Tanenbaum made generous leadership gifts to help create a new home for the Centre and to strengthen the Centre's undergraduate and graduate programs. Building on this support, several members of the Jewish community contributed gifts of $1 million or more: Ira Gluskin and Maxine Granovsky-Gluskin, Ralph and Roz Halbert, Joseph Lebovic, Gerald Schwartz and Heather Reisman, Isadore and Rosalie Sharp, Edward and Fran Sonshine and the UJA Federation of Greater Toronto.
These donors are recognized as Founders on the donor wall, which pays tribute as well to individuals who gave $1 million or more to Jewish studies in the past, including Andrea and Charles Bronfman, Senator Jerry S. Grafstein and Carole Grafstein, Milton Shier and Family, Dorothy Shiff and Family, Chancellor Emerita Rose Wolfe and The Sam and Ayala Zacks Foundation, as well as Friends who have given $50,000 and more to Jewish studies over the years.
President Meric Gertler said: "We can proudly claim to be home to one of North America's most comprehensive Jewish Studies undergraduate programs, and we are on a trajectory to establish the Centre as one of the world's premier forums for Jewish thought, Israel studies and Jewish cultural studies."
President Gertler went on to point out that U of T is the only postsecondary institution in Canada with the resources to become a global leader in Jewish Studies. No other program comes close to matching the quality of the University's teaching and research in this discipline, as well as the impact of its public programming.
"We are here to promote, at Canada's leading university, new research into 3,500 years of history and culture of the Jewish people, and to turn that research, through education, into greater cross-cultural understanding," said Jeff Kopstein, Director of the Centre.
The Anne Tanenbaum Centre for Jewish Studies not only offers a leading undergraduate program, but it is also home to collaborative graduate programs at the Masters and PhD levels, providing a framework for training and increased scholarly dialogue across historical periods and geographical regions. Graduate students and faculty members based at the Anne Tanenbaum Centre currently work in every language of Jewish civilization, across all periods in history and in fields as varied as the production and interpretation of sacred and other canonical Jewish texts, and the context of contemporary Jewish life, drawing on diverse perspectives from cultural, gender and postcolonial studies, as well as the visual and performing arts.
President Gertler, Professor Kopstein and David Cameron, dean of the Faculty of Arts & Science, all acknowledged the critical role that community support has played in shaping the Centre's world-class programs.
"The impact of the community's support will be reflected, today and in the future, in the accomplishments and influence of the faculty, students and alumni who have the privilege to be associated with the Anne Tanenbaum Centre for Jewish Studies," David Cameron said.