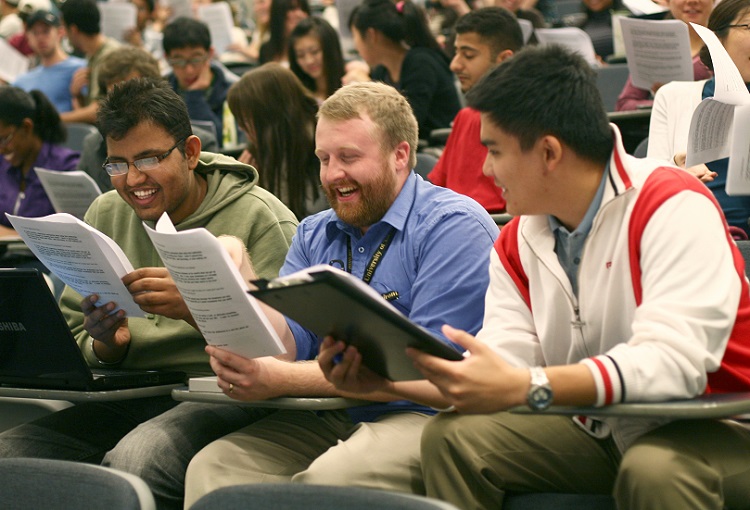 The Laidlaw Program will give undergraduates leadership training and unprecedented opportunities for self-directed research at U of T and around the globe.
Posted on June 28, 2018
The Irvine Laidlaw Foundation has donated $1.5 million to bring the Laidlaw Research and Leadership Program to the University of Toronto. Lord Laidlaw of Rothiemay established the program in 2011 to give undergraduate students an opportunity to pursue research projects of their own design and develop their leadership skills.
Since then, the program has expanded to 13 leading institutions, including U of T as well as the University of Oxford, Columbia University and the National University of Singapore. U of T's Laidlaw Program will be the first in Canada when it launches in 2019 and will be open to first- and second-year undergraduate students enrolled at any faculty or campus across the University.
"We're thrilled to be the Canadian partner in the international expansion of the Laidlaw Research and Leadership Program," says Professor Ted Sargent, Vice-President, International. "This is an amazing opportunity for U of T undergraduate students from any discipline to identify a challenge of global significance and contribute to its solution through research."
Laidlaw Scholars conduct intensive research on transformative projects around the world
Students applying to the Laidlaw Program will define a research project and secure a research supervisor, whether at U of T or another university or organization around the globe. During the selection process, U of T researchers will consider the merits and viability of the proposed research, giving helpful feedback to all applicants. The selection process will also consider the applicants' preparedness to undertake self-defined projects and their potential for leadership development.
Sample Laidlaw Scholars' topics:
•plate tectonics
•elephant ecosystems
•Zika virus
•bank policy
•Thucydides
U of T's Laidlaw Scholars will conduct their research over several weeks in two consecutive summers, during which they will receive stipends for living expenses, research costs and travel, as needed. These funds will ensure students can fully focus on their passion for research. U of T will also establish a specialized leadership training program to give the scholars opportunities to develop new leadership skills and to prepare them for success after graduation.
Along with research and leadership, the Laidlaw Program also aims to build a global network of current and past Laidlaw Scholars, creating opportunities for mentorship during and after the scholarships are complete. Networking opportunities include an annual conference for Laidlaw Scholars to meet, find common interests and exchange ideas.
The research of past Laidlaw Scholars has been extraordinary for its quality and breadth. For example, scholars have researched plate tectonics, the impact of African elephants on their ecosystems, strategies for blocking the Zika virus, how the mandates of central banks influence their policies, and the role of irony in Thucydides' notion of truth.
Conducting research has taken Laidlaw Scholars to numerous countries, including Australia, the United Kingdom, United States, Germany, South Africa and Norway. The scholars report that the experience of following a passion to design and conduct research, whether at home or across the globe, is transformative and unforgettable.
Lord Laidlaw is a champion of encouraging young scholars
The son of a mill owner, Lord Laidlaw was born in Scotland and attended Leeds University and Columbia Business School. He went on to establish the Institute for International Research, the world's largest organizer of conferences and trade shows. Lord Laidlaw's current business ventures include developing wind farms and other renewable energy projects, laying fibre optic cable, and real estate development in the U.K. and Spain.
Success is not just about talent or ability. It's also about encouragement
As a philanthropist, Lord Laidlaw has supported a wide variety of causes, including universities, schools and cultural institutions in the U.K. He has also supported community development initiatives near Cape Town, South Africa, where he and his wife, Christine, spend part of each year.
"Success is not just about talent or ability. It's also about encouragement, whether from the family, school or university, and we need to do more to nurture people's ability," Lord Laidlaw writes. "I am proud of all the Laidlaw Scholars and what they achieve."