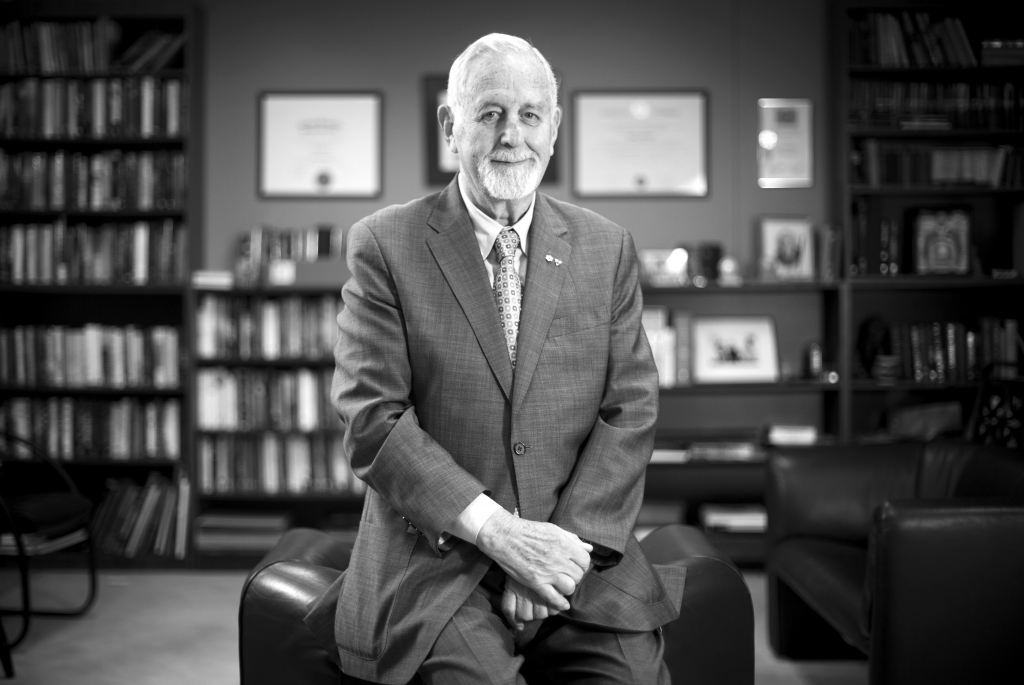 Distinguished U of T alumnus Avie Bennett passed away on June 2, 2017 in Toronto at age 89. He leaves behind a great legacy in higher education, Canadian art and culture, and business.
Posted on June 9, 2017
The University of Toronto has lost one of its most remarkable alumni and generous supporters. Avie Bennett (LLD 1995), passed away in Toronto on June 2, 2017 at age 89. A pioneering entrepreneur, philanthropist and visionary leader in Canadian business, art and culture, Bennett made a significant mark on U of T and institutions across Canada.
"Avie Bennett gave so generously and selflessly to this institution, in every way," said U of T president Meric Gertler. "I will miss his friendship, wisdom and incredible dedication, as will all those who had the great privilege and pleasure of knowing him. But his legacy will endure in the lives of the faculty, staff, students and alumni of U of T, and in the wider community in the many spheres in which he was a towering figure. On behalf of the University of Toronto community, I would like to extend my heartfelt condolences to Avie's wife, Beverly, and to their children and grandchildren."
Avie Bennett's relationship with U of T spanned 70 years. He was a student at University College in the late 1940s, and was awarded an honorary doctorate from the University in 1995. His generosity to U of T was extraordinary, selfless, and largely anonymous, and included gifts to scholarships, campus spaces, and Canadian literature research, teaching and programming. His support for scholarships was broad but in more recent years focused on Indigenous scholars and students with financial need.
Bennett's dedication to Canadian literature and authors was legendary. The Avie Bennett Chair in Canadian Literature at the Faculty of Arts & Science proudly bears his name. The Chair ensures that U of T will always have a distinguished and dynamic scholar to teach students about Canadian identity and experience through the lens of the nation's greatest novels.
"Mr. Bennett truly believed in the transformative power of literature and was deeply committed to supporting writing and writers in this country," said Smaro Kamboureli, the Avie Bennett Chair in Canadian Literature. "His generosity not only allows us to bring talented authors and scholars to U of T, it fosters a deeper understanding of Canada's literary history and the contribution we have made to the world stage."
Avie and Beverly Bennett also cared deeply about the St. George campus and generously supported efforts to revitalize Philosopher's Walk and back campus.
Bennett was also a dedicated volunteer, serving as an Honorary Chair of U of T's Boundless Campaign, a member of the Campaign Executive Closing Committee, and as a member of the University's Governing Council from 1987 to 1992.
"Avie Bennett was exceptionally generous," said David Cameron, dean of the Faculty of Arts & Science. "From classrooms and libraries to supporting thousands of scholarships, Avie helped generations of U of T students pursue their love of knowledge and become thoughtful and engaged citizens of the world."
Bennett began his career in commercial real estate in the early 1950s. His company, First Plaza Inc., pioneered the retail plaza concept in Canada, opening the nation's first strip malls in Toronto. The retail format soon become ubiquitous nationwide.
In the 1980s, Bennett began forging his legacy as a champion of Canadian culture and higher education. He purchased the struggling publishing house McClelland & Stewart in 1985, which was home to national literary icons such as Margaret Atwood, Michael Ondaatje, Alice Munro, and Leonard Cohen. In the following years, he added Hurtig Publishers, publisher of the Canadian Encyclopedia, and Tundra Books, a Montreal publisher of children's books. In 2000, Bennett donated 75 per cent of McClelland & Stewart to U of T, which operated the company until its sale in 2011.
In addition to U of T, Bennett generously donated his time and resources to many other Canadian institutions, including the National Ballet of Canada, the Art Gallery of Ontario, United Way of Greater Toronto, York University, and Historica Canada. In 2003 he was made a Companion of the Order of Canada. "One of the great altruists of our time" is how the official citation summarized his contributions to Canadian culture and education.
"Avie Bennett was a beloved and distinguished U of T alumnus who shaped so many sectors with his generosity, vision and passion," said David Palmer, U of T's Vice-President, Advancement. "His remarkable legacy will live on at U of T and in the lives of so many Canadians and organizations across the country. He will be truly missed."
The University of Toronto flew its flag at half-mast on June 9, 2017 to honour Avie Bennett.