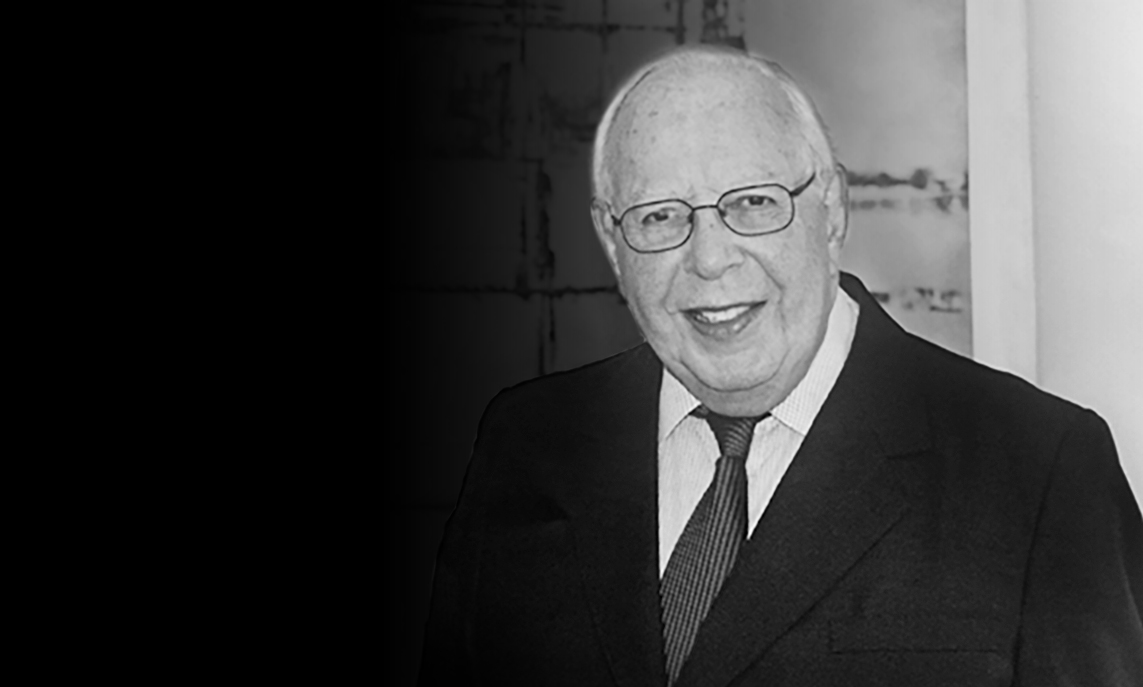 Barrie Rose transformed personal loss into dedicated support for palliative care, research and education.
Posted on July 18, 2018
Barrie Rose, one of U of T's most dedicated donors and a champion for palliative care, has passed away at the age of 88.
"Barrie Rose was a generous friend to the University of Toronto who played an important role in advancing palliative care and educating future leaders in this area," says U of T President Meric Gertler. "The comfort and kindness that his philanthropy has made possible for patients and families confronting life-threatening illness continue to be incalculable."
An accomplished businessperson, Rose supported many areas at U of T over the past 30 years. Following the passing of his first wife, Amelia, Rose made palliative care his primary focus to address the need for a better approach to caring for patients with serious illnesses.
In 1998, he helped create the Rose Family Chair in Palliative Medicine and Supportive Care. The chair, which is held by Dr. Camilla Zimmermann, focuses on developing and testing potential models for the provision of palliative care.
After the loss of his second wife, Carol, to cancer, Rose redoubled his efforts to improve palliative care by establishing the Rose Family Chair in Palliative Medicine and Complex Care at University Health Network (UHN) in 2009. The chair, held by Dr. Michael Baker, focuses on the clinical training of physicians in palliative care.
"We are grateful to Barrie Rose for his support of this important branch of medicine," says Dr. Trevor Young, the dean of the Faculty of Medicine. "Through the work of Drs. Baker and Zimmermann, he has made a powerful contribution to palliative care and established a program of research and education that will have a formidable impact on care for patients with advanced illness, in Canada and internationally."
Most recently, Rose gave an additional $5 million to U of T and UHN to support a new residency and fellowship program in palliative medicine. Approved by the Royal College of Physicians and Surgeons of Canada in 2016, the residency program marks the first time palliative medicine has been recognized as an individual sub-specialty of internal medicine in Canada. Rose's gift will support palliative medicine residents, local and international fellows, collaborative research projects and education and quality-improvement initiatives.
"Barrie Rose was not only passionate about palliative care but also about research, teaching and education," says Dr. Zimmermann. "He has established a legacy that will only continue to grow as the fellows we train in turn train others in palliative medicine."
In addition to his contributions to palliative care, Rose generously funded scholarships and research at the Jackman Humanities Institute and the Anne Tanenbaum Centre for Jewish Studies within the University of Toronto's Faculty of Arts & Science.
Beyond U of T, Rose supported many other charities, including the Toronto General and Western Hospital, the Toronto Symphony, Technion Canada, Sunnybrook Health Sciences Centre, Mount Sinai Hospital, and the Princess Margaret Cancer Centre.
In 2018, the University welcomed Rose into the Chancellor's Circle of Benefactors, which recognizes the most generous donors in U of T history. "Barrie Rose was an exceptionally compassionate individual," says David Palmer, U of T's vice-president of advancement. "He touched many lives and important causes across our community through his giving to U of T and leading organizations in education, health care, arts and culture, and other areas."
Barrie Rose is survived by his partner Karen Solomon and by his sons and daughters-in-law John and Susan, Robert, and Paul and Jenn Law.