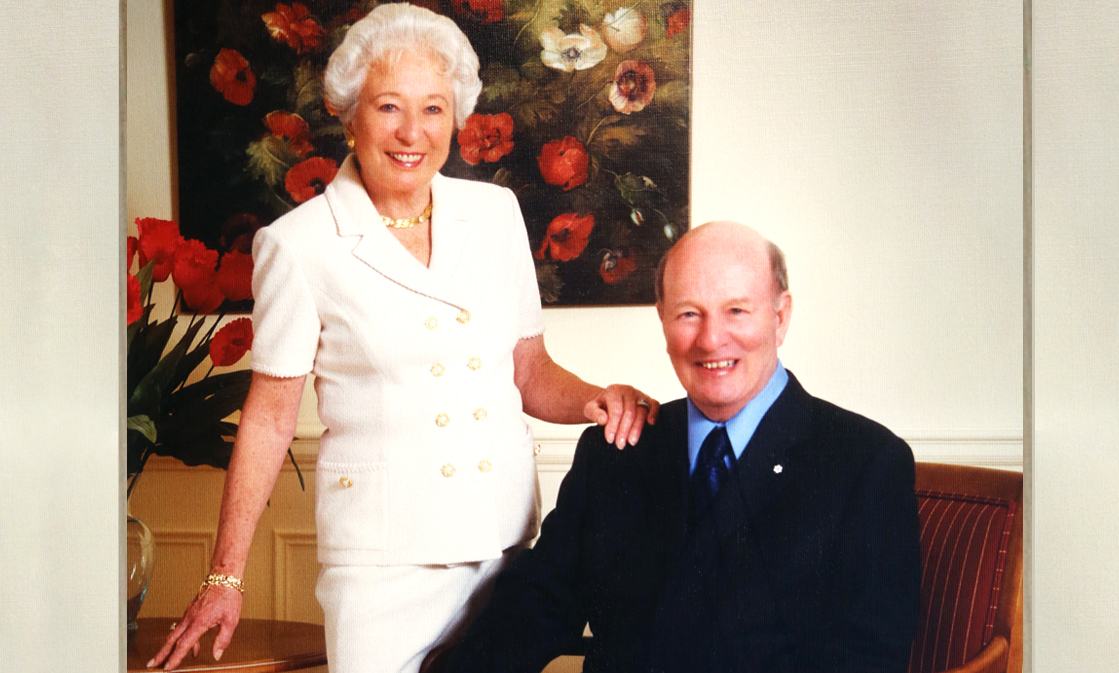 Margaret and John Bahen were both U of T alumni and strong supporters of the University. Their visionary philanthropy is seeding breakthroughs in medicine, engineering, math and computer science.
Posted on December 6, 2016
The University of Toronto has lost two remarkable alumni and supporters. Margaret and John Bahen both passed away in November, within days of one another. The couple, who met at U of T and raised three children together, leave behind many friends and family members, as well as a strong legacy at their alma mater.
The Bahens gave generously to the Faculties of Medicine and Applied Science & Engineering. Their commitment to advancing medical research and scholarship, and their lasting contributions to the campus through their support of the Bahen Centre for Information Technology, leave an indelible mark.
"The University is proud to count John and Margaret among our most distinguished alumni and champions," says U of T President Meric Gertler. "We greatly appreciate their dedication to advancing excellence in research and scholarship across disciplines, and their visionary understanding of how shared space in state-of-the-art facilities fosters innovation and collaboration."
A visionary building that fosters collaborative research
John and Margaret's legacy of philanthropy to U of T Engineering is embodied in the Bahen Centre for Information Technology. Completed in 2002, the building houses advanced research and teaching facilities, which support faculty, staff and students in the Faculty of Applied Science & Engineering, the Department of Computer Science and the Department of Mathematics.
"It is impossible to overstate the impact of John and Margaret's generosity," says Cristina Amon, Dean of the Faculty of Applied Science & Engineering. "Their support of engineering research and the visionary design of the Bahen Centre as a focal point for collaborative information-technology research will be felt by U of T and Canadians for generations to come."
Endowed chairs that strengthen engineering teaching
A 1954 graduate of the Department of Civil Engineering, John Bahen began his career at McNamara Construction, specializing in large-scale projects such as hydroelectric dams and major highways. In 1980, he was appointed President of Peter Kiewit Sons' Co. Ltd., where he directed landmark projects such as the SkyTrain light rail system in Vancouver. Upon his retirement in 1994, he and classmate Joey Tanenbaum co-established the Bahen/Tanenbaum Chairs in Civil Engineering, which focus on applications of structural engineering.
Professor Michael Collins held one of the endowed chairs for 19 years. "While engineering professors should conduct research, teach and provide service to the community and the profession, it is my belief that teaching students the basic principles of the art of engineering is the central role," says Collins. "The Bahen/Tanenbaum funds have been a significant factor in enabling me to greatly increase the number of students I teach while still maintaining very high standards."
Support that is leading to a new epilepsy medication
At the Faculty of Medicine, the Bahens' support is making a major impact on health care. "John and Margaret Bahen have left a great legacy in medical research and scholarship," says Trevor Young, Dean of the Faculty of Medicine. "Their support continues to be felt through promising work in epilepsy and occupational therapy."
The Bahens have brought us to the threshold of overcoming severe epilepsy
In memory of their late son Michael, Margaret and John Bahen created the Michael Bahen Chair in Epilepsy Research. Chair-holder Dr. Berge Minassian has discovered genetic mutations underlying several types of epilepsies, including the severest type—Lafora disease. These discoveries have led to the identification of a potential drug to counter the disease, which will soon be undergoing clinical trials. The Bahens also contributed generously to the Epilepsy Research Fund within the Clinician Scientist Training Program in the Department of Paediatrics.
"The Bahens have brought us to the threshold of overcoming severe epilepsy," says Minassian. "I am extremely grateful for their support, which has been crucial to this research and continues to push this area of medicine forward."
Student awards celebrating hope, engagement and leadership
Following her graduation with a diploma in Occupational Therapy in 1952, Margaret Bahen worked at Sunnybrook Hospital's Veterans K Wing. She created the Pamela Cowie Gray Generosity of Spirit Award in the Department of Occupational Science and Occupational Therapy, to honour her lifelong friend from the program, and remained connected to the department and to U of T's rehabilitation sector.
The Bahens were standard-bearers of philanthropy in this country and will be remembered for their thoughtful and generous vision
"We are tremendously grateful for Margaret Bahen's support," says the department's Chair, Susan Rappolt. "As an alumna of the program, she understood the value of hope and engagement as a resource for health, and was dedicated to helping future students pursue research and professional development."
In 2001, then-University President Robert Prichard and his wife Ann Wilson established the endowed Margaret Bahen Gold Medal in Occupational Science and Occupational Therapy, a convocation award given annually to a student excelling in academic courses, clinical fieldwork and overall leadership.
"John and Margaret were strong champions of our faculties of Medicine and Engineering, demonstrating their belief in the ability of academic research and higher education to transform people's lives and build better societies," says David Palmer, who is Vice-President Advancement of U of T. "The Bahens were standard-bearers of philanthropy in this country and will be remembered for their thoughtful and generous vision."