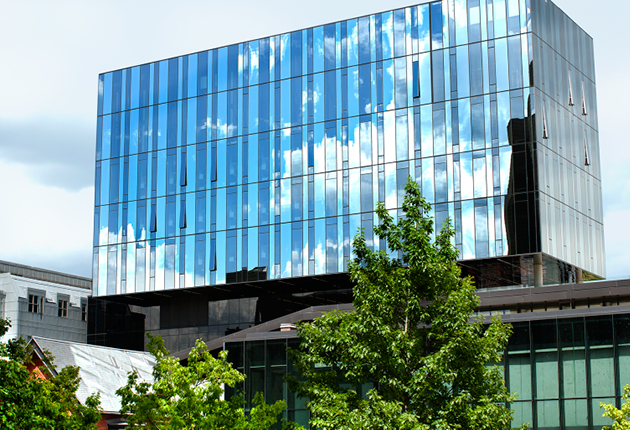 A gift from CIBC to the Rotman School of Management will help address the ongoing challenge facing the financial services industry: its ability to encourage women to take on and excel in leadership positions.
Posted on July 11, 2014
"Research shows repeatedly the value of having women present on boards, in upper management, and on trading floors. Yet, few women make it to these jobs in financial services," says Susan Christofferson, associate professor of finance at the Rotman School.
The bank has donated $1 million to Rotman with $750,000 of these funds directed to the newly-created CIBC Women in Financial Services Scholarships. These scholarships will be targeted toward female students who are excelling in the Master of Business Administration program and who demonstrate strong leadership potential. "CIBC knows the benefit of diversity in the workplace and is committed to supporting the advancement of women in leadership," says Richard Nesbitt, Chief Operating Officer, CIBC.
The scholarships will be particularly powerful because of CIBC's ongoing commitment to the program. Scholarship recipients will have the opportunity to be mentored by executives at CIBC and will be invited to the bank's networking and professional development events for women.
Christofferson said the scholarship is "a wonderful example of not only encouraging women to pursue careers in financial service but also increases the likelihood of their success through mentorship — a magical combination."
The scholarships, valued at $25,000 each, will be given to three students annually who will also be eligible for summer internships and may be offered a permanent position at the bank upon the completion of their MBA.
In addition to the scholarships, the remaining $250,000 of CIBC's gift will go to support classroom seminars focused on Diversity in Management. While still being developed, these are envisioned as a suite of activities around leadership and diversity that will include courses supported by seminars, workshops and outreach.
CIBC has been a long standing and significant supporter of the Rotman School. It hires the most Rotman alumni annually of any other recruiter and had donated a total of over $1.6 million prior to this most recent gift. Professor Peter Pauly, Interim Dean of the Rotman School of Management says: "The CIBC Women in Financial Services Scholarship initiative will provide critically important financial support to promising students completing an MBA, who will go on to become tomorrow's business leaders in Canada and around the world. This investment shows our joint commitment to advancing women in financial management and leadership positions."