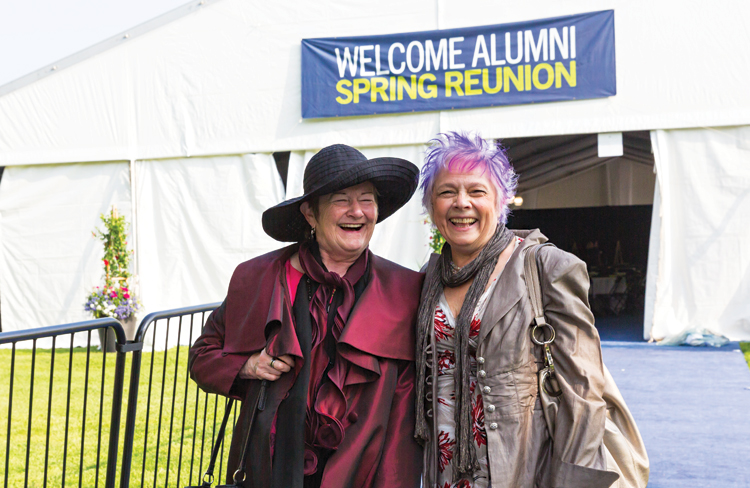 U of T's flagship alumni celebration broke attendance records in 2016.
Posted on October 6, 2016
Spring Reunion, U of T's largest annual alumni event, welcomed thousands of graduates back to campus to enjoy a variety of programs designed to inspire both nostalgia and excitement about what is happening at the University.
The 2016 reunion engaged alumni audience across all life stages and interests and included special events for younger alumni, families and LGBTQ-alumni communities – all of which broke attendance records this year. Spring Reunion connected alumni with leading faculty members and offered a variety of educational programs such as the Stress-Free Degree Lecture series and the new Kids' Passport for U of T event for U of T graduates and their families.
This year's event offered 150 divisional and flagship events and welcomed a total of 8,441 registrations across all events, representing a 13 per cent increase over the previous year.
Spring Reunion demonstrates the incredible alumni participation, pride and affinity our graduates have for their alma mater
Stress-Free Degree Lectures are a highlight of Spring Reunion, featuring 20 academic engaging and thought-provoking lectures on a wide variety of subjects appropriate to all age groups.
A popular new feature this year was the Kids' Passport to U of T family program. The program invited children and adults to "travel" to a variety of faculties and departments, where they learned exciting facts from professors and graduate students. Participants participated in an assortment of hands-on activities, from computer coding to telescope demonstrations to ancient artefacts.
"Spring Reunion is our flagship alumni celebration on campus. It demonstrates the incredible alumni participation, pride and affinity our graduates have for their alma mater," said David Palmer, Vice-President, Advancement. "This engagement grows rapidly each year, a phenomenon we are not only seeing for Spring Reunion, but at events and celebrations around the globe."