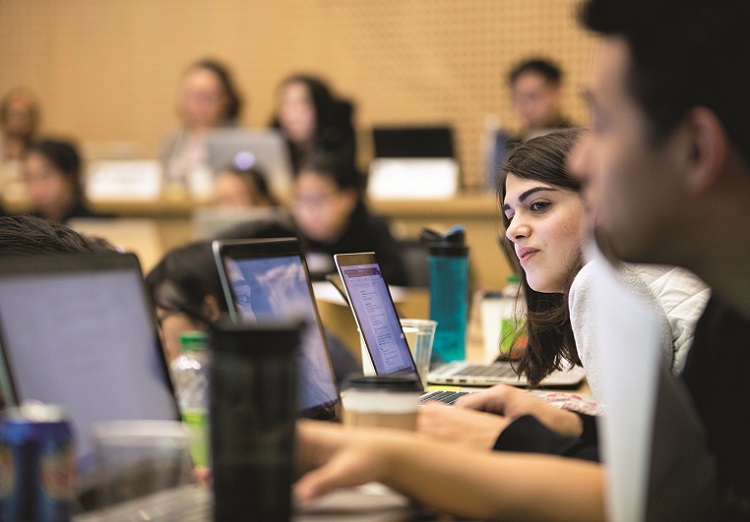 The contributions expand collaboration between Rotman and TD in the areas of data analytics applications as well as innovation in health care, and behavioural economics.
Posted on October 19, 2018
TD Bank Group (TD) has made major investments totaling $6.7 million to U of T's Rotman School of Management, boosting critical initiatives that will attract global talent, provide unprecedented opportunities for students and researchers, and have lasting impact on the Canadian economy.
TD Management Data and Analytics Lab
TD's gift includes $4 million to support Rotman's efforts to attract and develop top data and analytics talent from around the globe.
"By collaborating with TD, we are giving students the opportunity to engage in data-focused problem-solving," says Tiff Macklem, Dean, Rotman School of Management. "We know our students are eager to take on new roles in the evolving field of data and analytics and this generous investment will allow us to move more quickly to further expand our data analytics programming and opportunities."
We are looking for visionaries who can see what's possible – things we might not even have thought of yet
TD's investment will include the development and staffing of the TD Management Data and Analytics Lab at Rotman. The lab will focus on student development and engagement in data and analytics, including practical applications of data and analytics theory in the form of ongoing workshops, hackathons and guest speakers. It will foster academic collaboration, create a space that allows for research, ideation and innovation, and elevate the profession of data and analytics.
"Data and analytics are the engines powering the future of Canada's economy," says Christian Nelissen, TD Senior Vice President of Enterprise Data and Analytics. "That new reality means building talented teams that have a deep understanding of the potential of data and analytics, in financial services and beyond. We are looking for visionaries who can see what's possible – things we might not even have thought of yet."
Invaluable resources for students and researchers
The lab will serve as an invaluable resource for students and researchers at Rotman as it aims to integrate tools in prediction and analytics across all its programs and provide in-house expertise in data science, AI, and machine learning. Seed funding of $1.4 million from the Rotman Catalyst Fund launched the Management Data Lab in 2017 and attracted two data scientists with expertise in machine learning and quantum computing. This new investment and partnership with TD will greatly expand the scope and capabilities of the lab. The new TD Management Data and Analytics Lab will add expertise and resources to engage more actively in industry projects and bring cutting-edge analytic thinking to management teaching.
Boosting Master of Management Analytics and Rotman FinHub
Students in the newly launched Master of Management Analytics program will be frequent users of the resources offered by the TD Management Data and Analytics Lab. It also builds on TD's financial support and successful collaboration with The Rotman Financial Innovation Hub in Advanced Analytics (Rotman FinHub) over the past year. With a lead $1-million donation from TD and seed funding from the Rotman Catalyst Fund, the Rotman FinHub developed new classes and learning opportunities in financial innovation. This includes workshops in machine learning and blockchain for the school's MBA, Master of Finance, and Master of Financial Risk Management programs as well as supporting student engagement in industry projects and scholarship and research in financial innovation.
Innovation in health care
The second part of TD's gift is a $2.5-million investment over five years in innovation in health care within Rotman's Creative Destruction Lab (CDL).
Thanks to TD, the CDL can accelerate its programming
Launched in 2012, the CDL aims to bring aspiring entrepreneurs and technological innovations to market. TD will become a Corporate Founding Member of the CDL Health Stream, operating out of the CDL-Toronto and CDL-West (Vancouver) locations. The CDL's Health Stream focuses on biotechnology, bioinformatics, diagnostics and digital care for Canadians.
"The University of Toronto has a deep history of health-care innovation, dating back to the discovery of insulin in 1921. Thanks to TD, the Creative Destruction Lab's Health Stream can accelerate its programming and continue to build on this legacy to bring a whole new generation of medical breakthroughs to life," says Sonia Sennik, executive director of the Creative Destruction Lab.
"We know that the long-term success of our business depends upon the resilience and health of the people we serve. We're thrilled to support the CDL with this contribution, which will help accelerate advances in health care through fresh thinking and entrepreneurship," says Andrea Barrack, TD's Vice-President of Global Corporate Citizenship. "At TD, we have a history and meaningful purpose of helping to enrich the lives of customers, colleagues and communities."
Behavioural Economics in Action Research Centre
TD Bank Group also announced an agreement to bring additional behavioural finance resources and applications to TD Wealth clients through their support of the Rotman School's Behavioural Economics in Action at Rotman (BEAR) research centre. By harnessing BEAR's research, TD will be able to further examine and research the underlying emotions and behaviours that drive financial decision-making. Identified as the next paradigm shift in financial advice, behavioural finance is an area of study that looks at how personality influences financial decisions. More specifically, it explores why people sometimes make biased, unpredictable or irrational financial choices.
"Being one of the founding members of BEAR will further contribute to TD's commitment to advancing the study and real-life applications of behavioural finance," says Dave Kelly, senior vice president, TD Wealth Private Wealth Management. "The work we have done to-date with Rotman has been instrumental in enhancing the advice and services our advisors provide to our clients. Research by BEAR will enable us to better understand the underlying factors that help drive financial decision making so we can connect with our clients on a deeper, more meaningful level."
In addition to being one of the founding members of BEAR, TD Wealth and the Rotman School have been working collaboratively over the past three years to further the implementation of behavioural finance tools into wealth management
"We are thrilled with the support from TD Wealth as we conduct leading-edge research in behavioural economics," says Dilip Soman, Director of BEAR, Corus Chair in Communication Strategy and Professor of Marketing, Rotman School, University of Toronto. "This partnership with TD Wealth will allow us to further examine this important field of study and to develop research on tangible applications. Eventually, we would like a better understanding of the underlying motivations and behaviours that drive financial decision making, and how we can ensure that these behaviours do not negatively impact our financial investing habits."
Visit the Rotman School of Management for further information on the TD data and analytics initiatives and the TD health-care innovation and behavioural economics initiatives.