The University of Toronto Scarborough (UTSC) in Canada is establishing a new sports management programme, courtesy of a $1.675 million gift from alumnus and entrepreneur Tenniel Chu.
Posted on November 27, 2017
The donation from the Vice Chairman of China's Mission Hills Group is the largest ever made from an individual to UTSC's Department of Management.
Chu, a sports pioneer whose Mission Hills organisation owns and operates the world's largest golf and leisure resort in China, including 22 golf courses, is establishing the Tenniel Chu Chair in Sports Management to lead development in this growing area, as well as a fund that will support innovative programming and an annual lecture series in sports management.
"It is my pleasure to give back to UTSC, a university which gave me so much and where I started this wonderful journey into the world of business and sport," added Chu, who graduated from UTSC in 1999. "Sport is at the heart of the Mission Hills philosophy and is what enables us to bring China to the world and the world to China. This is why I am so eager to support the growth of sports management at UTSC. I hope we can create opportunities for international business students to study and work in China but also for more young Chinese people to study and work around the world."
"Tenniel Chu is an outstanding business leader and a distinguished alumnus of the University of Toronto," said Meric Gertler, President of the University of Toronto. "Through his generous and forward-thinking gift to UTSC's Department of Management, he is helping to propel us to a new level of impact in the growing field of sports management. He is also building on UTSC's wonderful record of leadership in experiential learning, by providing opportunities for our students to apply what they have learned through local and international work placements."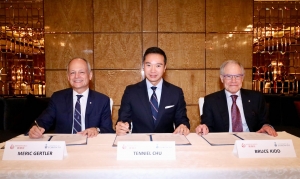 UTSC is growing in importance as a hub for sports and has significant experience in programmes that combine study with work. These assets have prompted the drive to create unique programming in sports management and now Chu's gift is making this a reality. Since the opening of the Toronto Pan Am Sports Centre in 2014, UTSC has been a training ground for many of Canada's top athletes, becoming connected to many top sports organizations, and serving as a pivot for physical activity and well being for the community.
Chu's gift will allow UTSC to recruit and retain a leading scholar in sports management – the Tenniel Chu Chair – who will lead programming that includes an annual lecture series, workshops and other innovative offerings designed to educate students and bring together academics and practitioners in the field.
"UTSC is thrilled that Tenniel Chu has chosen to champion our sports management programming," said Bruce Kidd, Vice President and Principal, University of Toronto Scarborough. "His investment in sports management makes us unique in U of T's tri-campus system as the only place to study and apply what is learned in this discipline through experiential learning."
Chu's gift will also establish the Tenniel Chu Management of International Business Awards, which will provide scholarships for Management and International Business (MIB) students so they can gain the global experience they need to excel in international business careers.  The MIB program is the only one of its kind in Canada, offering both work-abroad and study-abroad components.
About Tenniel Chu
Tenniel Chu graduated from UTSC with a BA in Economics in 1999.  In 2001 he joined the family-owned Mission Hills Group, an international powerhouse of sports, leisure and entertainment which he runs with his brother Ken.  With facilities in Shenzhen and Dongguan in southern China, and in Haikou on the international tourism island of Hainan, the two largest fully integrated luxury resorts in the world span a total of 40 square kilometres.
Over the past two decades, Chu has been a pioneer in the China golf industry, bringing Tiger Woods to Mission Hills for his first ever visit to the country in 2001; hosting five editions of the World Cup of Golf; and staging more than 100 other professional and celebrity events.  The first and only R&A member from mainland China, Chu has also created the world's largest golf development programme – with more than 25,000 juniors gaining access to the sport in the past 12 months alone – and China's first golf museum.
In other sports, Chu has negotiated groundbreaking partnerships with global brands in tennis, football and basketball.  Recently announced ventures with FC Barcelona and the NBA will see Mission Hills Haikou become a sporting centre of excellence and a hub for the development of China's next generation of sporting stars.  Chu was also behind China Sports Connects, the country's first truly international sports forum, held at Mission Hills in 2016.
In addition to his duties with Mission Hills, Chu is actively involved in charitable organizations in Hong Kong and mainland China, having helped to raise more than USD 100 million for 180 different causes.  His achievements in both business and philanthropy have seen him recognized with awards including the Most Powerful Person in Asian Golf for six years running and China's Young Entrepreneur of the Year in 2017.
Married to Carmen with two children, Chu's gift continues his family's generosity to the University of Toronto.  His father and Mission Hills founder, the late Dr. David Chu Shu-Ho helped establish the Dr. David Chu Programme in Asia-Pacific Studies in 1996, which significantly expanded the study of the region at Canada's leading university.