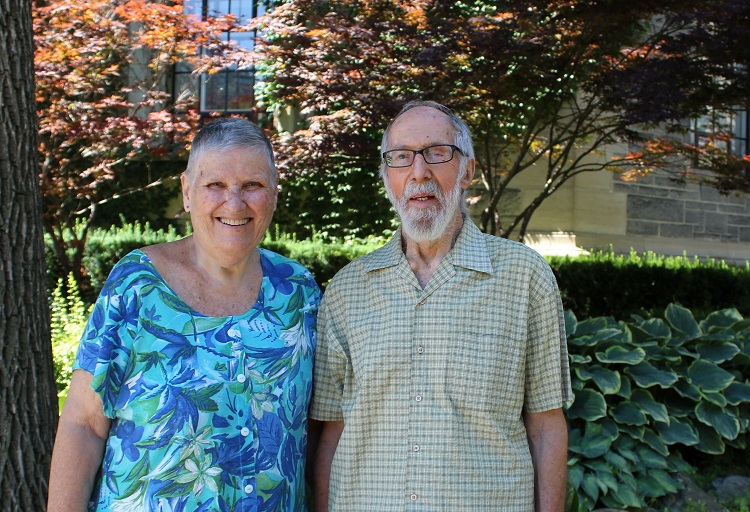 When Henry Farrugia and his partner Rosemary Hodgins were personally touched by blindness and breast cancer, they committed to advancing the potential of medicine in these areas by investing in research at U of T's Faculty of Medicine.
Posted on October 11, 2018
While travelling in Thailand in 1981, Henry Farrugia began noticing his sight seemed slightly off when reading, and he felt irritation in his left eye. One day, he tried covering his right eye, and saw only blackness.
It turned out to be a detached retina — three operations and a devastating hemorrhage later, he lost vision in his left eye permanently.
He decided quickly to move forward — and not to dwell on the loss.
"I felt there was no point in agonizing over it," he says of his vision loss. "What happened, happened. You have to face up to the facts of life."
In addition to carrying on with his own life — working, travelling and investing in real estate — Farrugia contributed to the future of vision sciences by establishing the endowed Henry S. Farrugia Ophthalmic Research Fund in 2003. With an endowment now valued at just over $1 million, the fund supports research in the Department of Ophthalmology & Vision Sciences.
"I am completely blown away by the kinds of diseases that affect the eye," he says.
He is hopeful that as U of T scientists make key insights — such as the recent finding that the eye has its own lymphatic system, thought to be involved in glaucoma — we might learn enough to treat all types of blindness.
Inspired by Farrugia's support for research, Rosemary Hodgins set up her own fund
When Farrugia's long-time partner Rosemary Hodgins recently lost a close friend to cancer, and then received her own diagnosis, she focused her own sights on the future — also recognizing the potential within the University of Toronto's Faculty of Medicine.
Impressed and inspired by the genetic research into breast cancer at the Donnelly Centre for Cellular and Biomolecular Research, she created the Rosemary Hodgins Breast Cancer Research Fund with an initial commitment of $25,000 (which Farrugia also plans to support).
If you don't have research, you don't get anywhere
"My hope is that someday we'd be able to prevent people from getting diseases like breast cancer altogether," says Hodgins, who has retired from her 39-year career as a nurse in internal medicine. "Or that we'd be able to detect it early and manage it easily."
Both Farrugia and Hodgins have also made bequests to the programs they currently support.
"If you don't have research, you don't get anywhere," says Farrugia.
By investing in new ideas and insights, the couple hopes to have a lasting impact on the future of health care.