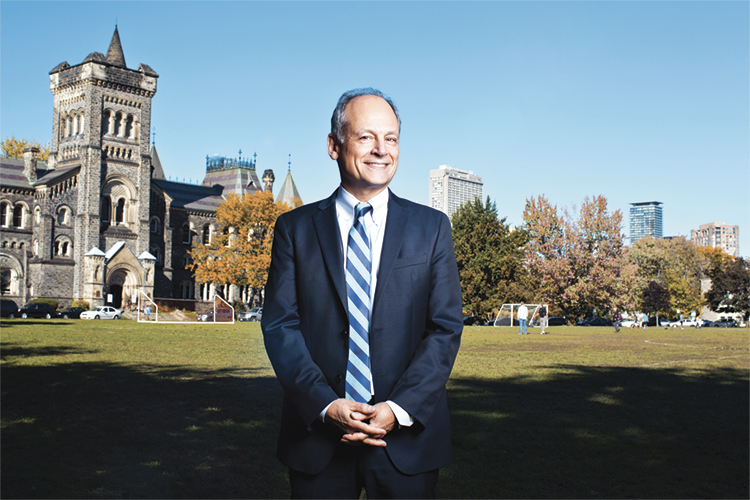 Professor Meric Gertler has been appointed to a second term as president of the University of Toronto, the chair of U of T's Governing Council announced Thursday – and will lead the university until June 30, 2023.
Posted on May 25, 2017
Professor Meric Gertler has been appointed to a second term as president of the University of Toronto, the chair of U of T's Governing Council announced Thursday – and will lead the university until June 30, 2023.
"The University of Toronto is thriving," said Shirley Hoy, who leads the 50-member council of faculty, staff, students, alumni and government appointees that oversees the university's academic, business and student affairs.
"In the increasingly competitive world of higher education, U of T is fortunate to have one of the world's leading scholars and administrators as its president," Hoy said. "The university consistently ranks among the top 10 public universities worldwide, and Meric's unwavering dedication to excellence in teaching and research plays a crucial role."
A renowned urban scholar, Gertler was installed as U of T's 16th president in November 2013. He had served as dean of the Faculty of Arts & Science – the university's largest and most diverse academic division – since Dec. 1, 2008.
During Gertler's first term, the university received the largest research grant in its history, celebrated 11 Rhodes Scholars, and launched the Vector Institute with a diverse array of private sector and public sector partners. The university has helped launch 48 startups in the past two years – and this year became the only Canadian institution named to the Times Higher Education list of universities working with the world's most innovative firms.
Read more about the Vector Institute
"The University is attracting leading researchers – faculty and students – from around the world, reversing the 'brain drain,'" Hoy said. "Our graduates are among the most employable in the world, and demand for enrolment, both undergraduate and graduate, is increasing."
University of Toronto Chancellor Michael Wilson took office the year before Gertler was installed as president. Together, they have presided over the convocation of thousands of U of T undergrads and grads.
"Meric genuinely cares about their experience at the university, and wants to know their plans for the future," Wilson said. "He's deeply committed to helping our students develop resiliency and resourcefulness – and to ensuring that future students are able to take full advantage of the range of opportunities offered by a U of T education."
Early in his term, Gertler took a public stand against carding, recognizing it was having a significant impact on U of T students. With the presidents of York University, Ryerson University and OCAD University, he organized a collaborative research initiative on public transit – an issue of increasing importance for students who face longer and more gruelling commutes to school that can restrict their course selection and co-curricular engagement. And he worked with the provost on a range of issues where the University is determined to improve:
Read about Beyond Divestment Read about U of T's response to TRC Read about sexual violence prevention and support Read about student mental health
When he accepted the appointment in 2013, Gertler acknowledged he was assuming the presidency at a time of great change in the higher education sector. As he accepted a second term, he observed that political and economic changes on a global scale have made the role of the university more important than ever.
"In some parts of the globe, we have seen a movement away from international engagement, mutual trust and sharing of information and expertise," Gertler said. "Yet the international community is increasingly facing challenges – from climate change to the international migration of refugees − that are global in nature, and whose solutions require cooperation.
"As one of the world's leading research universities, we have a crucial role to play in fostering that collaboration – and in generating the knowledge that stimulates the production of new ideas, new technologies, new products and solutions."
The author, co-author or co-editor of more than 90 scholarly publications and nine books, Gertler's academic work focuses on the economies of cities, the urban foundations of innovation, and the role of creativity, culture and diversity in urban life. That deep, research-based understanding of the importance of the city in a global economy – and the importance of the university as both a source of stability and dynamism for the city – are seen as driving forces in Gertler's presidency.
"In a world where some are turning inward, our university – located in one of the most diverse urban regions of the globe, in a country that is emerging as a beacon of stability and inclusion – has a vital role to play," Gertler said. "We will continue to open up our campuses to the city around us, convening public discussions of the most pressing issues of the day.
"And we will continue to reach across borders to connect with scholars and create opportunities for our researchers and our students to circulate ideas, solve problems and shape our understanding of the world."
At the start of his first term, Gertler outlined three strategic priorities: deepening U of T's international engagement; leveraging U of T's three locations in the most diverse urban region in the world; and enriching undergraduate education.
"I look forward to working with our students, alumni, faculty and friends to continue to pursue those priorities," Gertler said. "Our city-region is evermore significant as an economic, political and cultural centre. Our global networks and engagement are increasingly central to our success as an institution – and to the success of our community. To continue developing a truly excellent, distinctive undergraduate learning experience, we need to take full advantage of these strengths."
Read more about President Gertler
President Gertler recently received an honorary degree from Shanghai Jiao Tong University.