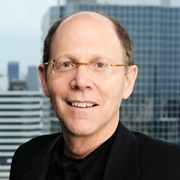 Mitchell Cohen is president of the Daniels Corporation and has managed the firm's day-to-day operations since 1984.
For almost 30 years, Cohen's leadership has carried Daniels through several real estate market cycles. Committed to community, Daniels offers innovative programs that help people achieve home ownership, and supports numerous charities and non-profit organizations.
Building a team with the ability to achieve success in all forms and tenures of residential communities is a hallmark of Mr. Cohen's leadership. Under his direction, Daniels has developed a strong brand with residential offerings for people at all stages of life.
Prior to joining The Daniels Corporation, Cohen developed co-operative housing in the not-for-profit sector in Montreal and Toronto. He brought this experience to Daniels and spearheaded the creation of 3,600 units of affordable housing between 1987 and 1995 under a range of government programs.
Under Mitchell Cohen's stewardship, Daniels developed and built the TIFF Bell Lightbox and recently completed construction of the Daniels Spectrum, a 60,000 square foot cultural hub in Toronto's Regent Park community.
Cohen is currently leading his company's efforts on the Regent Park Revitalization Project which is redeveloping nearly 70 acres of land in this area of Toronto's east end.
He has a Masters in Social Psychology from the London School of Economics, and a Bachelor of Science in Psychology from McGill University. In 2010, Cohen was honoured with an Award of Merit from the St. George's Society, and is a recipient of the Queen Elizabeth II Diamond Jubilee Medal.