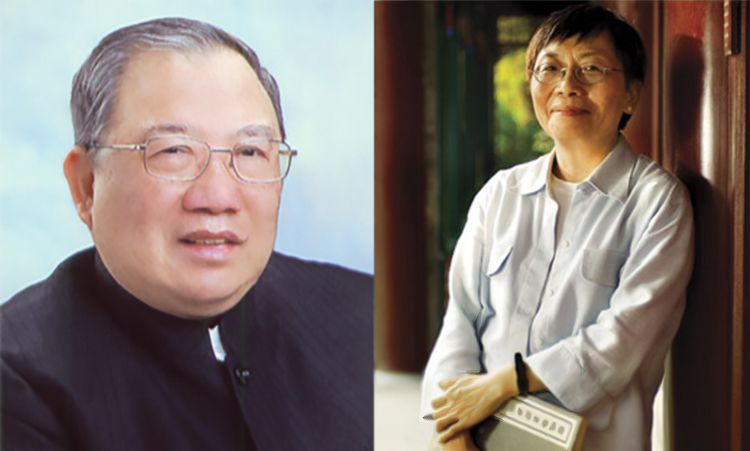 Family ties create a legacy at the Faculty of Law.
When a fresh crop of law students gathers in The Betty Ho Classroom for the first time this fall, it's unlikely any of them will be immediately familiar with its namesake. That's because Prof. Ho, LLB 1977, died suddenly six years ago—leaving not only an extremely generous financial legacy, but a deep and rich personal and professional legacy among all who knew her.
"She was a perfectionist and always aimed for excellence in everything she did," recalled her brother Gallant Ho, a respected lawyer and philanthropist who has been settling her estate in Hong Kong. "She was very dedicated to the job and her students." Those legions of lucky students existed on opposite sides of the world. Prof. Ho lived and worked in Beijing and Toronto, intent on nurturing the next generation of legal minds in China and Canada. She held dual appointments at U of T and Tsinghua University School of Law, spending the bulk of her time commuting between the two cities, much to her brother's frustration.
"Her law students became her children"
"At one point I told her, 'You're always flying between Beijing and Toronto and for what? You don't have any time to rest,'" Ho said. "I asked her why she made her life so difficult. And she said, 'I miss the students.'" Prof. Ho, who remained single all her life, never had children of her own. Her law students became her children and her townhouse in Toronto served as a second home for many of them. Gallant Ho remembers that family who visited would wonder why she had so much space, and specifically such a large dining room table, since she lived by herself.
I asked her why she made her life so difficult. And she said, 'I miss the students.'
"She said she needed the space because she would welcome the students to visit, and sometimes cooked for them. She took the students very much to heart. When friends or relatives would ask her if she had any children, she would refer to them. 'Oh, I have a number of children. My students are my children.'"
Prof. Ho's $1-million estate gift reflected her profound devotion to her charges. Half covered the renovations and updating of the classroom. The other half established the Ho Chak-Wan Scholarship to fund law students from mainland China admitted to study in the JD program at the Faculty of Law.
Family ties supporting students from around the world
Although he never attended U of T, Gallant Ho developed strong ties of his own to the university. He established the Gallant Ho Prize and the Walter R. Stevenson Bursary at the law school, as well as two separate scholarships at the Scarborough campus.
This year, he pledged more than $1.83 million to support students from Tsinghua University attending the Faculty of Law's graduate program, through the Gallant and Betty Ho University of Toronto—Tsinghua University Fellowship.
The Ho family's connection to U of T endures well beyond Betty and Gallant's philanthropy. Two of their nephews are graduates of the law school and the medical school. Ian Lee, JD 1994, is an associate professor at the Faculty of Law, and a former associate dean.
The Ho legacy: "Without U of T, she would not have become herself"
So when young law students take their seats in The Betty Ho Classroom, they might want to spend a moment thinking about the person and the family behind the name.
"I think she would have said that without U of T, she would not have become herself," Mr. Ho said after a thoughtful pause. "So, basically, it was really U of T which equipped her for her devotion to law, and to her students."
By Karen Gross / Reprinted from the Spring/Summer 2016 issue of Nexus