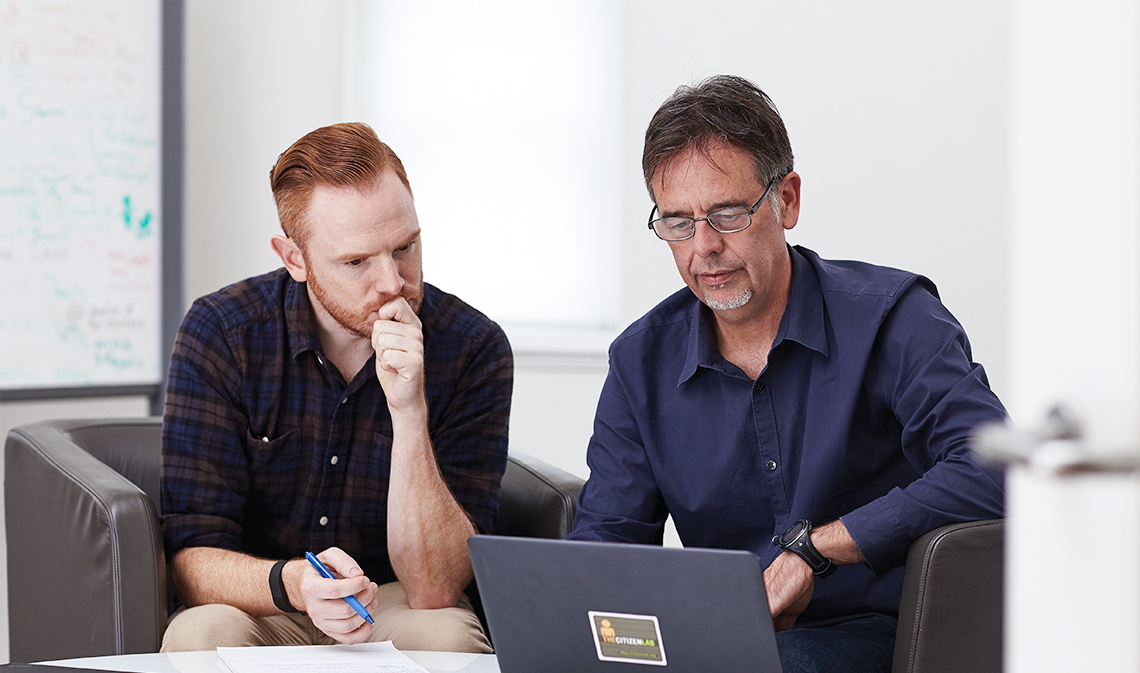 This story is one of many that reveal the extraordinary legacy of Boundless: the Campaign for the University of Toronto, which ended on December 31, 2018. Read more inspiring stories of impact and discover why more than 100,000 people came together to make the Boundless campaign an historic success.
The Munk School's Citizen Lab is a nexus for essential humanities research in tech and AI.
How might marginalized groups be put at risk as artificial intelligence is incorporated into immigration systems? When governments are given access to sophisticated spyware, who ensures they respect the rights of their citizens? How can consumers protect themselves as companies collect increasingly vast amounts of their personal data?
These and other urgent questions are researched and addressed daily at the Citizen Lab, an interdisciplinary laboratory based at the University of Toronto's Munk School of Global Affairs and Public Policy. One of the world's leading institutions focused on the intersection of information technologies, human rights, and global security, Citizen Lab's outputs are  relevant to virtually every other area of academic study.
The University of Toronto has an important obligation to protect the Internet
Since 2001, Citizen Lab has been directed by Ronald Deibert, a highly respected educator who has advised governments, international organizations, and NGOs on cybersecurity and digital rights issues "The University of Toronto has an important obligation to protect the Internet as a forum for open access to information and free expression," contends Deibert, a Professor of Political Science at U of T. "I see the mission of Citizen Lab as helping to fulfill that obligation through careful, evidence-based research."
In 2018, Citizen Lab research made the front pages of the New York Times and Washington Post, contributed to commentary on topics as varied as the security implications of smart-home devices and the role surveillance software has played in the targeted killing of journalists, and informed parliamentary debate about Canadian national security legislation.
The Citizen Lab is based in the Munk School, which was established through the unparalleled generosity of Peter Munk and Melanie Munk, whose $35-million gift in 2010 created the world-leading academic enterprise. The work of Citizen Lab in addressing the ethics and implications of surveillance in the Internet age is helping to fulfill Peter Munk's original goal for the Munk School—that it address today's most pressing issues.
Professor Deibert sees the Citizen Lab's work within a university setting as vital for "reinforcing the legitimacy of this type of research and the interdisciplinary nature of it. It is a new area of inquiry and I think it is important to promote it." Pioneering and cutting-edge, the Lab is just one of many ways the Munk School leads in relevant research with practical, meaningful applications in a fast-changing global landscape.