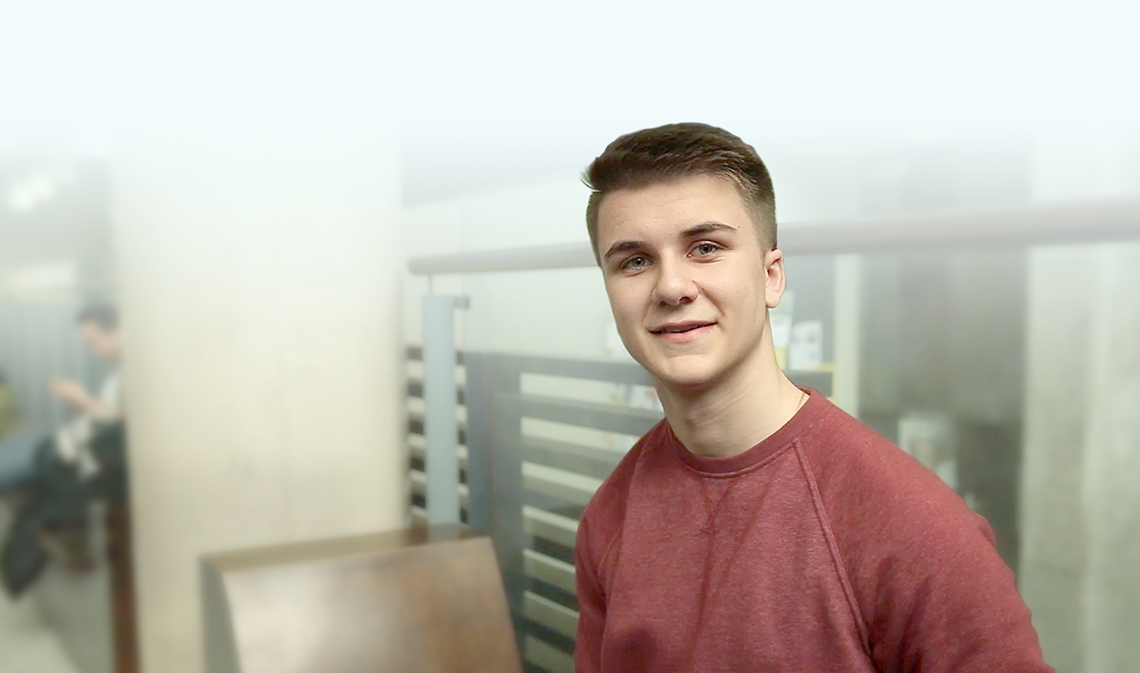 This story is one of many that reveal the extraordinary legacy of Boundless: the Campaign for the University of Toronto, which ended on December 31, 2018. Read more inspiring stories of impact and discover why more than 100,000 people came together to make the Boundless campaign an historic success.
U of T Mechanical Engineering student Daniel McInnis is at the forefront of innovation in helmet design and prosthetic development.
As an eighth-grader, Daniel McInnis suffered a serious concussion sustained in a hockey game. Suffering from blurred vision and severe headaches, he began to think about how to design a helmet that would better protect athletes from brain trauma.
From his makeshift home lab equipped with an array of accelerometers and motion sensors, McInnis conducted rigorous tests, churning out concepts before honing his ideal prototype design. The result: a helmet that offers five times more protection against linear and rotational impacts—among the leading causes of head injuries—than regular helmets. The design earned him the "Best Junior Project" award at the 2011 Canada-Wide Science Fair.
I want to be able to create products that help people
In 2015, McInnis's early promise earned him enrolment in mechanical engineering at U of T and, to get him started, a prestigious Schulich Leader Scholarship. The coveted scholarship supports entrepreneurial-minded high school graduates enrolling in a science, technology, engineering or math (STEM) program.
"I knew U of T had the top engineering program in the country," says McInnis, "but it's not just an engineering school. There's also the entrepreneurial side—the business part. It had the services I was looking for, like the Entrepreneurship Hatchery."
Founded in 2012, the Entrepreneurship Hatchery is a co-curricular program that provides students with the resources, mentoring and connections to private and public funding that are key to transforming concepts into viable prototypes. The Hatchery has spawned hundreds of invention disclosures for patents since its launch, dramatically increasing the rate at which student ideas are finally realized as viable products and businesses.
McInnis has used the Hatchery's resources to develop a groundbreaking 3D scanner that can scan an amputee's arm in order to fabricate a prosthetic that matches the missing limb. Built from common, everyday parts for as little as $500 and employing commercial 3D printing technology, McInnis's scanner has the potential to radically reshape the way prosthetics are developed—offering reduced costs and faster on-site production wherever there's a need. With a patent already in hand for his optimized helmet design and one pending for the scanner, McInnis is looking for new ways take advantage of opportunities within U of T engineering, like those he had at The Hatchery, to better his community.
"No matter what field I work in, I want to be able to create products that help people," he says. "I don't mean something that people just use a lot, but something that makes people's lives better."