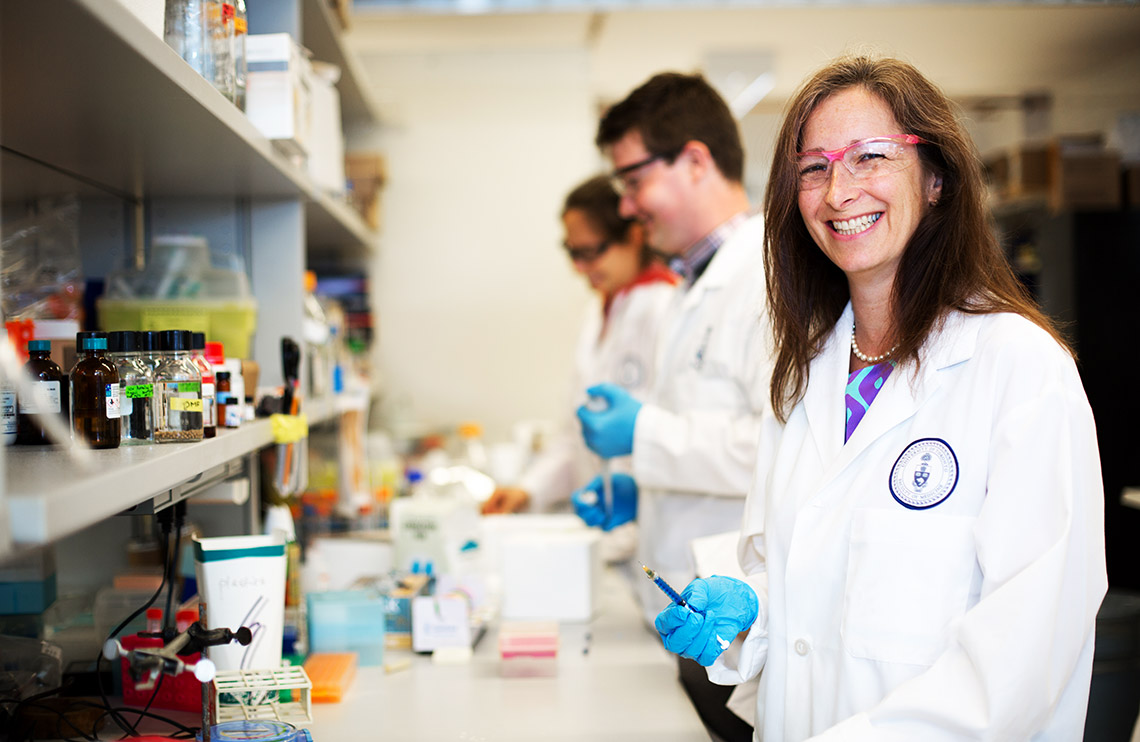 Discovering stem cells here was just the beginning. Now, the University of Toronto is pushing the frontiers of regenerative medicine even further with a $27-million investment in 20 transformative projects.
Posted on August 30, 2016
By Ann Perry
Twenty team projects in regenerative medicine, which range from attempting to improve failing eyesight in aging populations to finding better treatments for stroke and liver disease, are receiving funding through the University of Toronto's newly created Medicine by Design initiative.
"These projects are bringing together leading life scientists, engineers, doctors and computer scientists at U of T and our partner hospitals to tackle and solve some of the biggest hurdles in regenerative medicine," says Meric Gertler, president of the University of Toronto, "I look forward to seeing discoveries emerging from these projects that will transform the way we develop cures to devastating diseases."
Key research will quickly be translated into practice
The projects include innovations slated for clinical trials within a few years
"In addition to researching fundamental questions, the Medicine by Design projects include innovations slated to be ready for clinical trials within a few years, as well as enabling technologies with the potential to accelerate their cost-effective implementation," said Vivek Goel, U of T's vice-president of research and innovation.
"They will help strengthen U of T's reputation as a global centre in the growing field of regenerative medicine and cell therapy, power Toronto's vibrant biomedical ecosystem and — most importantly — lay the foundation for improved outcomes for patients around the world," he said.
World-changing discoveries, unprecedented research funding
Last summer, the federal government gave the University of Toronto the largest single research award in its history — $114 million — to support Medicine by Design, which builds on a rich legacy of U of T contributions to regenerative medicine, starting with the identification of blood stem cells by biophysicist James Till and hematologist Ernest McCulloch in 1960. This discovery was instrumental in the use of blood stem cell transplants to treat diseases such as leukemia.
The funding for Medicine by Design was the first grant announced under the government's Canada First Research Excellence Fund.
In the decades since the Till and McCulloch discovery, stem cells have come to be seen by scientists as potentially offering ways to treat — and perhaps cure — a host of devastating and costly illnesses such as cardiovascular disease, cancer, diabetes, blindness and neurodegenerative disorders.
Medicine by Design provides a framework to design the cells, materials and therapeutics to reach this goal. It harnesses the exceptional expertise at U of T and its affiliated hospitals and fosters unique multidisciplinary collaborations to generate new discoveries in regenerative medicine. Through strategic investments and partnerships, it is also creating a pipeline from research to commercialization that will enable Canada to realize the full value of its research advances and bring them to the world.
Globally, the regenerative medicine industry is expected to grow in value to tens of billions of dollars in the next five years.
Cross-disciplinary teams nurture innovative environments
The $27 million will be shared over three years by 20 teams composed of more than 75 researchers and clinicians from diverse disciplines across U of T and its affiliated hospitals. The funding marks Medicine by Design's first investment in collaborative team projects.
"These projects launch at a very exciting time in biomedical research. We are accelerating the use of engineering design principles and quantitative biological modelling to nurture innovative environments where breakthroughs will emerge. That's what Medicine by Design is all about," said Peter Zandstra, executive director of Medicine by Design, the Canada Research Chair in Stem Cell Bioengineering and a University Professor in the Institute of Biomaterials & Biomedical Engineering.
The teams were selected through a rigorous competitive process, which involved international reviewers and Medicine by Design's scientific advisory board, composed of eight global academic leaders in regenerative medicine.
A wide range of projects
Funded projects include research aimed at:
Restoring vision in patients with age-related macular degeneration, led by Molly Shoichet, a University Professor in U of T's Department of Chemical Engineering & Applied Chemistry and the Institute of Biomaterials & Biomedical Engineering, and Canada Research Chair in Tissue Engineering.
Generating functional liver cells and engineered liver tissues from stem cells to study liver disease, test new treatments and assess new drugs, led by Gordon Keller of the McEwen Centre for Regenerative Medicine at University Health Network, and U of T's Department of Medical Biophysics.
Better understanding the circuits that control brain tissue growth through computational biology to improve treatments for stroke and cerebral palsy, led by Gary Bader of the Donnelly Centre for Cellular and Biomolecular Research and the departments of Molecular Genetics and Computer Science at U of T.
Designing a new probiotic bacterium that could help the gut lining renew itself to treat inflammatory bowel diseases, led by David McMillen, a professor in the Department of Chemical and Physical Sciences at the University of Toronto Mississauga.
See the full list of funded projects.