The Anne Steacy Counselling Initiative will support on-site counselling for students.
Posted on December 15, 2015
Related Story: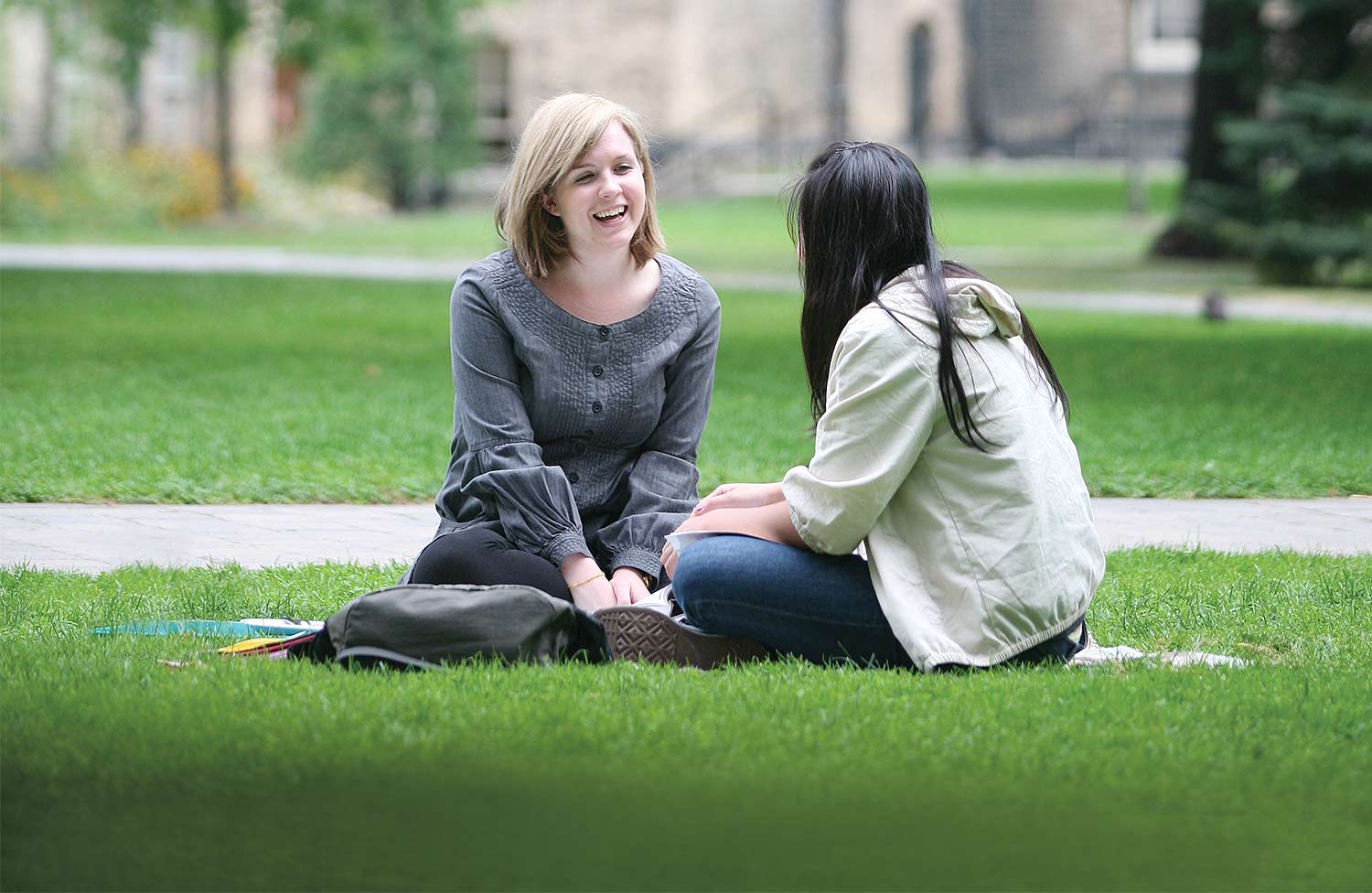 Young Um
The University of Toronto's Trinity College will be enhancing its health and wellness program and providing on-site mental health counselling and support services for students, thanks to the generous support of its alumni.
Dr. Anne Steacy, who graduated in 1976 has donated $1.5 million to establish the Anne Steacy Counselling Initiative, which will support core staffing in the area of mental health and wellness, including on-site counselling for students.
"Supporting students goes beyond providing an excellent educational experience – healthy development of the whole person is crucial if we are to enable our students to fulfill their enormous potential. Nothing is more important in this regard than mental health and wellness," said Mayo Moran, provost and vice-chancellor, Trinity College.
"Dr. Steacy identified the importance of this need and was critical to shaping the vision of the program," Moran said. "We are so grateful for her leadership and commitment to the student experience. Trinity College is fortunate to have such a wonderful partner in supporting the well-being of our students."
Steacy envisioned a counselling program as a way to provide a safety net for students.
"Not everyone can be a 'Flying Wallenda' – performing on a tightrope without a net. It can be horribly lonely up there," said Steacy, who credits Professor Pat Bruckmann being a part of her safety net when she was at Trinity.
"Through the new initiative, Trinity will be able to help students who may feel overwhelmed due to an ingrained pressure to perform perfectly all the time or have lost balance in certain aspects of their life."
Steacy inspired other alumni to lend their support; Michael Royce and Sheila (Northey) Royce, who both graduated in 1968, have committed $250,000 to Trinity's Health and Wellness program.
"We recognize that, if Trinity is to remain the centre of true excellence it has long been, it must provide comprehensive support to its students to allow them to take full advantage of the Trinity experience. We believe this initiative will constitute a central pillar of that support," the Royces said.
Financial support from these alumni "will allow the College to develop unique and ambitious programming in the area of health and wellness," Moran said. "Implementing this program will be one of the most important things we do at Trinity College, and it never would have happened without the generous support from our alumni."
Research from U of T's Report of the Provostial Advisory Committee on Student Mental Health and the Centre for Addiction and Mental Health (CAMH) confirms the urgency of mental health needs among university students. In recent years, Trinity students have also identified the need for more robust health and wellness supports, particularly counselling, and they have taken action.
During the last academic year, the student body approved a self-imposed levy to raise approximately $9,000 annually to help support the Health and Wellness program at the College.
Fourth-year Trinity student (and recently announced Rhodes Scholar) Kaleem Hawa knows how important on-site counselling services will be for students.
"When Trinity's students authorized an annual student fee to help the College pay for an embedded counsellor, it sent a strong message that this is incredibly important to our community," said Hawa, who served as chair of the College's student government in 2014-2015 and as undergraduate representative on U of T Provost Cheryl Regehr's Mental Health Committee.
"This is an amazing example of how the student voice can work in conjunction with administrative champions like Provosts Moran and Regehr to serve as a catalyst for improving mental health service delivery on campus. This will have an impact on Trinity's students for years to come."
The Anne Steacy Counselling Initiative will enable the College to hire a full-time person to provide one-on-one support and mental health and wellness education and training. This professional will work with College, U of T and community resources, including Trinity's embedded on-site clinical counsellor, registered psychologist Christine Cabrera, who joined Trinity in September. Cabrera is a specialized, U of T health and wellness-trained counsellor.
Ongoing support from leaders of U of T's division of Health and Wellness has also helped shape Trinity's new health and wellness programming.
"Placing the counsellor outside of the clinical setting and into the community will increase access for students who may otherwise not seek out the professional support they need and help to de-stigmatize the act of asking for help," said Janine Robb, executive director of health and wellness at the downtown Toronto campus.
"Supporting students' needs by pairing prevention and capacity-building with counselling services, Trinity's new program will serve as a model for other colleges and faculties to adopt across the U of T campus."