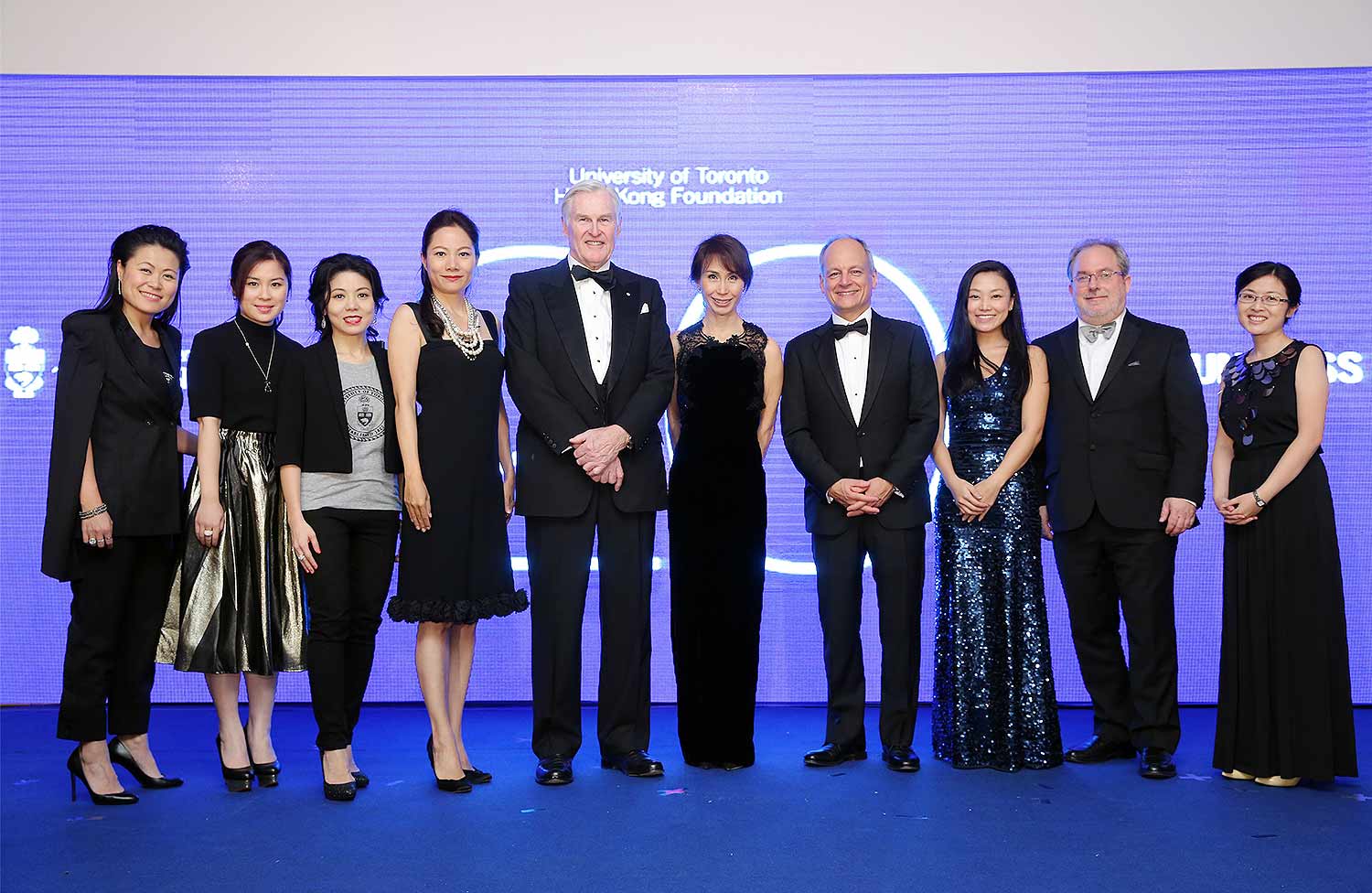 The University of Toronto (Hong Kong) Foundation celebrated its 20th anniversary with a gala event in Hong Kong on November 28, marking 20 years of opening doors for exceptionally talented young people from Hong Kong.
Posted on December 16, 2015
The University of Toronto (Hong Kong) Foundation celebrated its 20th anniversary with a gala event in Hong Kong on November 28, marking 20 years of opening doors for exceptionally talented young people from Hong Kong whose families lacked the financial resources to send them overseas to study at Canada's leading university.
The event took on an elegant, energetic and emotional feel as alumni, friends, families, academic leaders and dignitaries gathered to celebrate the Foundation's impact and the bonds between U of T and the region. "Over the past two decades, the University of Toronto (Hong Kong) Foundation has greatly strengthened the bonds between our cities and societies," said U of T President Meric Gertler. "Through generous scholarships, the Foundation has made it possible for talented young students to attend one of the world's top universities and embark on a path of lifelong achievement and fulfillment. The University of Toronto is honoured to celebrate the Foundation's remarkable vision and impact on the occasion of the Foundation's 20th anniversary."
The gala convened more than 350 of the University's closest alumni and friends, including current and past Hong Kong Scholars and their families, dignitaries from Hong Kong and Canada, and U of T senior administration. Recent and more distant graduates in attendance exuded warmth and camaraderie as they reconnected with old classmates and also with some of the faculty and Deans who attended the event.
The celebration featured some uniquely Canadian touches including a simulated curling competition run by the Hong Kong Curling Association. A silent and live auction offered guests a chance to bid on a number of U of T and Canadian themed items. Guests were also shown a special tribute video produced for the gala in which new and past scholars were profiled and board members past and present spoke emotionally about the Hong Kong foundation's impact over the past two decades. In all, the gala celebrated the achievements of the past 20 years, but also provided an opportunity to galvanize new support for the foundation, which saw several new members join the Chair's Circle this year.
20 Years of Transforming Lives
It was 1995 when a visionary group of University of Toronto alumni and friends established the University of Toronto (Hong Kong) Foundation to give families of limited financial means an opportunity to send their children to U of T. Registered as a charity in Hong Kong, the Foundation awarded its inaugural scholarship in 1996.
Dr. Rosanna Wong Yick-ming, JP (MSW 1979, Hon. LLD 1999) was the first Chair of the Foundation board, and worked with a sub-committee to assist the University in selecting scholarship recipients.
At the time, the Foundation Scholarship was the most comprehensive scholarship for Hong Kong students at any Canadian university. Thanks to the generosity of alumni, parents and friends in Hong Kong who contributed to the Foundation's endowment, the scholarship supported the total cost of each year of study, placing it on par with support offered by Harvard, MIT, Oxford, and other highly respected universities.
By 1998, hundreds of students responded to the Foundation's annual promotion of the scholarships. The establishment of the scholarship program inspired friends and alumni to create additional endowed awards. With their generous gifts, Dr. Patrick Fung (BASc 1971, MBA 1973, Hon. LLD 2005) named the Fung Yiu King Memorial Scholarship and Dr. Yu-Tung Cheng (Hon. LLD 1987) named the Cheng Yu-Tung Scholarship, both of which contribute toward a selected student's overall scholarship.
U of T alumna Daisy Ho (MBA 1990), a key champion of U of T in Hong Kong, has chaired the Foundation since 2007 and oversees the Scholarship Committee. She is also a member of the University of Toronto's Boundless Campaign Executive, and a member of the Dean's Advisory Board at U of T's Rotman School of Management.
"This evening is a wonderful opportunity for all those connected to the U of T Hong Kong Foundation to be inspired by its achievements, by its future aspirations, and by the many students who have benefited from its work," said Ho. "During their time in Toronto, scholarship recipients build lasting friendships, expand their horizons, and develop a global viewpoint. When they return home, they bring back new knowledge and perspectives that benefit Hong Kong."
The Foundation has become an invaluable connection between the University of Toronto and Hong Kong. To date, scholarships have been awarded to 70 promising young leaders, who have demonstrated ability and need, and expressed the desire to experience life abroad.
Recipients have graduated from U of T and become successful professionals, with careers in finance, law, education, engineering, government, research and other fields, contributing significantly to civil society in Hong Kong, Canada and elsewhere.
Stephanie Cheung (BA 1997), a 2003 Foundation Scholar, is just one example of a scholar who wished to expand her understanding of global affairs. "This skill is increasingly important in today's highly complex world," she said. Stephanie went on to receive a BA in anthropology and international development studies in 2007 and is now employed by the World Wildlife Fund in Hong Kong.
"The extraordinary legacy of the U of T (Hong Kong) Foundation is a central reason U of T has been so successful in maintaining and growing ties between alumni, students, faculty in the region" said David Palmer, Vice-President, Advancement. Palmer noted that in the 20 years of its existence, the Foundation has raised $7.4 million in donations and matching support for students and today offers four annual scholarships. Combined, the support forms an integral part of the more than $291 million that U of T has received towards the Student Experience since the start of the University's Boundless Campaign.
"The vision and generosity of the University of Toronto (Hong Kong) Foundation is nothing short of life-changing for our students," said President Gertler. "The foundation is deepening the bonds between our cities while strengthening the University of Toronto's position as a leading, global institution. On behalf of the entire U of T community, I look forward to the next 20 years and beyond with great excitement."
20th Anniversary Gala
See photos from this elegant evening.
If you like these photos, view or download more on our Flickr page.